SBG Custom Katana 3.0
SBG Custom Katana 3.0
8
Average rating:

(8)
Batch 46 - ON HOLD

Batch 46 of the SBG Custom Katana is on hold until at least mid June 2019 while the forge works on making the previous batch.
$

429.99
$479.99
You Save $50.00
preorder
Click the thumbnails pics to bring up a larger image in a new window

To create your Custom Katana, select your customizations from the drop down menu, add any optional extras and we will take care of the rest!

"An SBG Exclusive - design your own custom Katana!"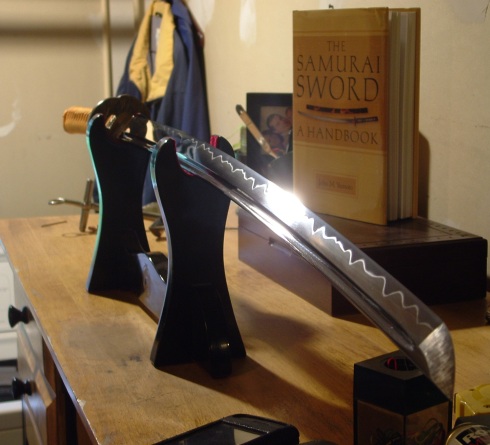 Now in it's third generation, the SBG Custom Katana by the SBG Black Dragon Forge has been in production and continually refined since 2008. What you will receive is the most current, up to date, upgraded version - the custom Katana 3.0 - taking advantage of all those years of experience to deliver the very best possible quality product, your way.
How it works

The premise behind the custom katana project is simple - we make several large batches of katana with the Black Dragon forge throughout the year and you get a chance to include your own order for a unique combination of components and blade types (your custom katana) along with all the others - essentially a quality guaranteed group buy under the protection of the SBG umbrella.
In all cases the basic blade your design will be built upon is a high quality differentially hardened and traditionally clayed T-10 Tool Steel blade (my personal favorite steel for differentially hardened Katana). However YOU select the length of the blade, whether or not you want it fullered, choose the fittings (either iron tsuba and a matching fuchigashira that you like, or upgrade for free to an elite hardened copper based, gold and silver plated pre-matched set), select the color and texture of the ito, choose black or white same (rayskin) and the finish it up with your saya of choice to create your own unique personalized design! - all for one flat rate..!

But it gets even better, because rather than shipping direct from the forge and hoping for the best - we send each sword to a warehouse in the USA where it is pre-inspected for quality and then shipped out to you ANYWHERE in the world, with the whole process from your order to final shipping usually taking approx. 90 days (sometimes slightly more, sometimes slightly less, but 90 days is the working average - though we keep you in the loop as much as possible).


Getting Started
To get started, simply have a look through the various component choices at the top of the page, add the custom katana to the cart and from inside a drop down menu that appears select the customizations you would like, hit the order button and one of the SBG team will be in contact with you to confirm your choices.
From a few days to a couple of weeks later (once all the orders are "batched up" behind the scenes), we'll fire up the forge and begin work on your own unique, one of a kind custom made Katana!
PLEASE NOTE: While we will do our very best to create your sword as close as humanly possible to that you design you come up with, please note that because we are using stock photos of the components and that computer monitor colors are different depending on the settings, some MINOR variations between the colors and designs seen above and the final product are to be expected.

Component Information
* Blades are available in 3 lengths. You can choose on personal preference or referenced to height and reach. As a general guide, 27" is good for people under 5'3", 28" suits most other people and 29" is best for the taller practitioner. Please note, our swords are measured in the TRADITIONAL way (nagasa) from the tip of the kissaski to the batch notch of the habaki. Some sellers measure from the TSUBA, which adds an extra inch to the length they say the blade is. So please bear that in mind when deciding on the total length. Available with a traditionally finished and correctly shaped bo-hi termination for a faster, lighter blade (emphasis on speed) or solid bodied for a more durable, forceful cutter (emphasis on cutting power) as per your preference.

* Tsuba's on the Custom Katana 3.0 use only premium grade tsuba made from either iron or hardened copper with real gold and silver plating. Naturally, the blackened iron fittings are very solid, even the more delicate designs are surprisingly strong. If you prefer something more ornate, traditional hardened copper pre-matched sets are also available in a number of very unique and popular combinations at no additional charge. Iron tsuba are automatically matched to a neutral (black) solid iron fuchigahsira set. Menuki are included with all swords, but selected by the forge to match the set. They cannot be specified, what you get is the luck of the draw but they will be premium grade brass or copper.

* Ito is available in either cotton or synthetic silk (rayon). Both are hard wearing and tightly wrapped in the traditional alternating style. The option to purchase premium leather ito is also available (see below)

* The rayskin is real and available in either white (natural) or black. All swords are double pegged with bamboo mekugi. Tsuka is 11" long (minor variations of 0.3" either direction, optimized by the forge).

* The saya are wooden and available in a wide range of glossy and sparkling lacquer options as well as a textured black.

* Version 3.0 of the SBG Custom Katana comes with a premium kissaski with real geometric yokote ridge line, boshi and the same level of reflective polish as the blade itself.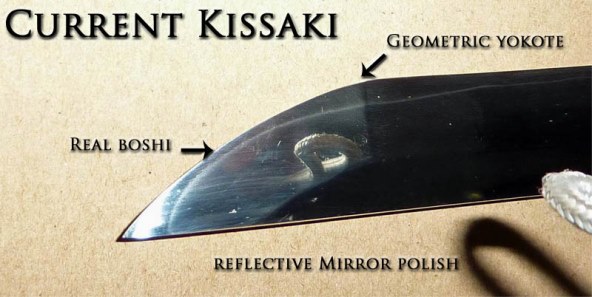 Ordering Procedure and Example
Step 1: The first step is of course to design your sword and place your order, reserving your spot in the current batch. Because we need to pay the forge in advance, you also need to pre-pay in full (as we operate on low margins, we are unable to finance your custom sword for you) and once work has begun at the forge we cannot accept cancellations except in extreme circumstances. We need you to commit to us and in return we commit to deliver you your product as ordered, made to the highest possible standard.

For the sake of example, let's say you want to make a sword you will call the 'Crimson Tiger'. So you select a 28" standard length blade with the solid bodied option (as you want a forceful cutting sword), pick the G35 Tiger Spirit Elite Set, select black cotton ito with standard white rayskin and finish it all off with a crimson saya. Satisfied with the design, you submit your order to the batch.

Please provide a daytime contact telephone number when you order in case we need to check something with you and also to provide to the courier in case there is any trouble at the time of delivery.

Step 2: We will check your order and send you an email within 1-2 business days confirming your customizations along with a rough computer generated mock up image of what your color combinations will look like. So in the case of our Crimson Tiger example above, we'd send you a picture that looks like this.

This picture is more a general 'color scheme' check for you (it doesn't take into account details like the bo-hi or blade length or any optional upgrade options you may purchase). But it at least gives you a rough idea of how the various components will 'gel' and come together.

Step 3: While we are batching up all the orders together and making the necessary arrangements with the forge - a process that usually takes around 2-3 weeks, you can make a few changes or tweaks if you like. Just email me and it will be modified accordingly (once we submit to the forge though, that's it –your order is locked in for the duration – so if you do want to make a change, this is the only chance).

Step 4: After around 2-3 weeks once we opened on new orders, we batch them all up, send all the payments through to the forge, and get them to work on all the designs.

Step 5: The hardest part – waiting while the forge does their thing. Wait time varies, but as we take quality very seriously, we won't rush it. On occasion the process may be delayed due to seasonal holidays, customs or shipping issues but on average it usually takes around 3 months from placing your order until your custom sword arrives (some swords will come in earlier than others – luck of the draw I am afraid). I'll update you by email at least a couple of times while the sword is in production to try and make it bearable, but you can always email at ANY time for an update if you are getting antsy. But please, try to be patient. Until recent times, any kind of customized sword would take YEARS to produce and arrive – we have shaved all that down to a few months and at a fraction of the price it would normally cost, so while I'll do my best to try and make it bearable, please do your best to be patient. It will be worth it in the end..

Step 6: Once all the swords are ready, they are sent in boxes of 10 via airfreight to my agent in the USA who will quality check them, ensure no errors have been made and then repackage your sword and sent it out to you along with the relevant tracking information and then all you need to do is enjoy your new custom designed blade! (Note: if during the wait time you change address please let us know in advance as soon as you can so we can ensure your sword is sent to your new address accordingly).
QUALITY GUARANTEE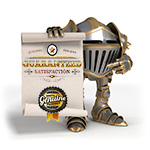 Unlike ordering direct from ebay or from a forge in China, if there is something wrong when you receive your order (and we go the extra mile to make sure this is RARE) – we'll work with you to ensure a happy outcome.
The forge knows that SBG batch orders are special, and THEY want OUR repeat business, so they do put more effort into our batch than they would if you were to order a single sword by yourself. But at the end of the day: if you aren't happy when it comes in, we will do what it takes to make it right for you.

Happy designing – the forge and I look forward to bringing your final design to life!


PREMIUM UPGRADE OPTIONS
We have deliberately kept the number of options streamlined to only the best and most popular options. So for people want something just a little bit more special – so we have narrowed it down to 3 optional upgrades that can be purchased at the same time along with your sword – A Folded Blade Option, Rayskin Wrapped Saya and/or premium leather ito wrap.

To add these to your design, add each one as a 'separate' product to the cart and it will be applied to your base sword design accordingly.
Premium Optional Extra # 1: Folded T10 Blade
Premium Optional Extra #2: SanMai Laminated Blade
Premium Optional Extra #3: Kobuse Laminated Blade
Premium Optional Extra #4: Special Tsuba/Koshirae
Premium Optional Extra # 5: Leather Ito with Hishigami
Premium Optional Extra #6: Premium Saya with Buffalo horn and full rayskin wrap
---
Naturally none of these options are necessary to create a fantastic personalized design, but after so many requests for them they are worth adding just in case one of these elements is the missing touch your personalized sword requires. Simply make your selection at the top of the page as normal, order the basic sword, and then pick and choose any extras like a smorgasbord before submitting your final order.
Have fun with process - and if there are any questions feel free to
drop me a line
!
SPECS AT A GLANCE
Blade: Sharpened Differentially Hardened T-10 High Speed Tool Steel with natural hamon.

Blade Length: Select from 27-29" (measured from back notch of habaki – if measuring from tsuba for comparison to other swords, add 1").

Weight: From 2lbs 2oz to 2lbs 10oz depending on if a bo-hi is selected or not (bo-hi is lighter) and style of fittings selected.

Point of Balance: 4.5 to 5.5" from the tsuba depending on bo-hi/no-hi and style of fittings selected. Thicker fittings and a bo-hi will create a very fast sword. Light fittings and no-hi will create a sword with a strong cutting action. Balance and design to your personal taste.

Tsuka: standard 11" (give or take .3" of an inch in either direction – optimized by forge). Real rayskin panel wrap. Available in 11 colors with cotton or synthetic silk (rayon) tightly alternating ito wrap.

Fittings: Select either solid iron or work hardened copper with real gold and silver plating. Strongest fittings available on the market.

Saya: Matches blade length, available in 12 lacquered colors including high gloss, sparkling and textured black. Sageo cord will match the ito wrap selected (default black for leather wrap upgrade option).

*Please note: As the swords are hand made some small variations are to be expected.
How to Use
Designed for traditional cutting practice. Also suitable as a high quality display sword or family heirloom.
Sharpened Differentially Hardened T-10 High Speed Tool Steel with natural hamon. High quality iron or work hardened copper fittings. Authentic rayskin panels. Tightly wrapped cotton or synthetic silk ito in 11 colors (optional upgrade to leather with hisigami also available). Premium polished kissaki with real geometric yokote (rare).
Average lead time 90 days after each monthly batch closes. FREE SHIPPING to the USA and Canada from our Canadian warehouse based in Manitoba, Canada. You can check on the current status of the batch anytime by clicking here or just contact us with your order number and the batch details to request an update and we will get back to you asap. Tracking information is emailed automatically after final inspection and shipping.
Warranty Info
We guarantee if you keep it well oiled and maintained, the blade of any sword sold from the SBG sword store will hold up to a LIFETIME of reasonable usage without breakage. If it breaks during the course of reasonable and intended usage we will replace it with either the same (or if unavailable, a similar) model completely free of charge. If you abuse it, like try to cut down a tree, attempt to replicate the destructive testing vids on you tube or otherwise use it in any way outside of traditional cutting techniques, we will do our best to help but the warranty is void. This warranty applies to the original purchaser (proof of purchase required) and remains in effect for as long as SBG is around to honor it.
Return Policy
Satisfaction Guaranteed.
We proudly stand behind every product we sell. If you are not absolutely pleased with your purchase you can return it to us within 30 days of purchase in original condition for your choice of an exchange or refund (excluding shipping fees).
Click here for more info on our guarantees
Featured positive reviews:
SBG Custom Katana 3.0

Overall Good Value But A Few Flaws
10/26/2017
My sword as ordered:
Solid bodied blade. 051 elite koshirae. Extra options I bought were leather wrapped tsuka, folded blade, and rayskin wrapped saya.

Sword was mostly correct upon receipt. The kashira wasn't as pictured but still matched the theme of the tsuba and I liked it just as well. The menuki used ended up matching the lion dog theme of the rest of the koshirae too so I was very pleased with that. So for this part of the review I give the sword "coming as ordered" a 5/5 with a point taken off for the kashira not being exactly as pictured but a point gained for the extra effort of using a matching menuki (which they have clearly stated that you "get what you get").

The Wait:
Sword arrived just over 4 months after purchase. Paul was very good about keeping me informed of the progress and it arrived in new condition. 5/5 here too.

Now on to my opinions of the sword itself. I'm going to do my best to compare it to swords at a similar price point. Here we go.

Blade: The blade is very nice. I feel that its a very big "bang for your buck" and definitely the star of the show on the SBG katana. The polish is exactly as described and the blade seems well forged. I opted for the folded blade and it really is stunning for the price. 5/5

Saya: I opted for the textured rayskin wrapped saya and the look turned out great. The quality of the saya itself is about on par with a dojo pro saya. A big con for me on my particular saya is that it doesn't fit well. It's very tight and is pretty difficult to draw. The blade feels bound up in the saya even 2 inches up from the habaki. So it doesn't "let go" and draw smoothly until I force it out about 4 inches from the tsuba. The habaki seems to fit the koiguchi well, so it's almost like the saya is rubbing the blade somewhere. I can't quite tell. I have had this problem with other katana in this price range so it's not uncommon but still disappointing. 3/5

Fittings: The tsuba, fuchi and kashira are pretty nice. The gold inlay is pretty well done. Especially for the price. I think my fuchi was installed backwards as all of the detail and design is on the ura side and the omote side is blank. The habaki has some pretty large gaps between it and the blade. A fingernail could slide in between them toward the edge end. Everything looks nice but 3/5 because of the fuchi and habaki not really having the attention to detail that I would expect even at this price.

Tsuka and Ito: I opted for the leather ito and black rayskin. The rayskin nodes are very small but there isn't any exposed wood or anything so I'm happy with the panels. The ito is tight and with the hishigami it has nice, even diamonds. However, the wrap covers up about half of both of the mekugi on both sides. Because of this, I don't think I would be able to remove the tsuka without unwrapping it (which I have no experience with). I don't generally take my swords apart anyway but it's nice to have the option. 4/5 here only because of the mekugi peg issue.

Handling the sword: Sword feels great in the hand. Everything is tight with no rattles or pops when swung or when I hit my hand against the tsuka. I haven't cut with it yet but from what I see I think it would handle common targets such as tatami quite well. The saya being extremely tight (in a way that I don't think will ever loosen) keeps me from properly drawing the sword and takes a lot away from the overall experience of handling the sword. 3.5/5

Overall 4/5. If this is one of your first katana I think you will be quite impressed and I doubt you'll find much fault with it. The look and quality at first glance are both superior to other options at this price. The blade is especially nice and I think even the most picky collector or practitioner would be impressed with the blade. However, if issues like the habaki not being flush with the blade or the saya not fitting well are common, then I think calling this an "heirloom piece" is a bit of a stretch. I'm happy with the purchase overall and recommend it. Picking your koshirae is fun and it is a very reasonable price. I got the options I selected and the issues I had with my katana are pretty common in the production sword world. Sometimes it's a dice roll and it seems every sword has at least one flaw. At least that's been my experience.
Our response
Great review - just wanted to make a quiet comment on the Saya. Saya are of course made from wood, and there can be huge and sudden changes to the temperature, humidity and atmospheric conditions from where the sword is made, where it is inspected, and where it finally ends up - and the wood can either shrink or expand slightly - creating an overly tight or overly loose fit. Over time, as the seasons change and the wood adjusts, it should gradually begin to revert to the correct fit (the inspection team check for this kind of thing, in the whole batch we had one with a slightly loose saya, all others were perfect at the time they were shipped). If it is stubborn, you can manually adjust the fit with some minor filing of the mouth of the Saya, but it should also become easier to draw over time as well. Its quite frustrating for us, but could be worse (I have heard some horror stories of custom guitars made by world famous artisans arriving completely warped from atmospheric changes in transit) - the only way around it would be to make the saya from plastic, but of course, no one wants a plastic Saya.. So it is just one of those things, 95% of the time its okay. But the other 5%, we just don't know the environmental conditions a given sword will be subjected to when in transit, so despite our best efforts, slightly loose or slightly tight fitting Saya are just part and parcel of sword shipping I am afraid.