How to Ship Swords Internationally
Currently, we don't ship many items at all internationally from our official online store.
So, if you come from outside of the US, you may be disappointed that your country does not appear in the drop-down menu or if we list entire series of swords as US orders only. But do not despair, there is a way how you can get almost ALL of our swords and accessories shipped to you.
In cooperation with Planet Express - our top recommended sword forwarding service, we would like to share with you, how does the international shipping of swords work, how much does it costs, and how you can take advantage of it.

SBG 5 Star recommended sword forwarding service
---
Table of Contents
How Does International Shipping Work?
How Much Does It Cost To Ship Sword Internationally?
Swords Shipping FAQ
Conclusion
---
How Does International Shipping Work?
As you know, we don't or cannot provide international shipping on many if not most of our product lines, and have become very limited as to where we can actually ship to. However, there is a way you can get access to swords that are only available to a US address by using a so called package forwarding service. We have quite a few recommended on our main website here - but there is one that stands out above all the others, because not only do they ACCEPT sword shipments, they actually reached out to us to try and help what was becoming an impossible situation for sword collectors and enthusiasts outside of America.

The service we recommend, and the company who provided much of the information in this article is Planet Express Package Forwarding Company.
The process is simple:
You sign up with them and get the US address (they offer 2 addresses – one in California, and the second in Oregon that is completely sales-tax-free*)

Once you have the address, you place the order at our online store with your Planet Express address, and we ship your order there.

When they receive your package, you will get a notification email. After that, you complete the customs declaration form online (very simple) and select the delivery method from the US to your country.
*Note: Their Oregon address is available for premium members only. The fee for their Premium Mail Box is $10 per month or $50 per year.
How Much Does It Cost To Ship Sword Internationally?
Of course, the shipping costs are a very important part of the final price. For your better idea, below are some examples of the shipping costs to various countries.
Package details
Dimensions 40×10×5 inches
Weight 5 lbs
Value $449.99
Estimated shipping costs from the USA, CA to various countries. The prices were calculated on the Planet Express website on the 29th of July, 2020.
EXAMPLE - BUYING A MEDIEVAL SWORD AND SHIPPING IT TO GERMANY
Let's say you want to order the limited edition Harriet Dean RK Euro Model 3 sword from the USA to Germany.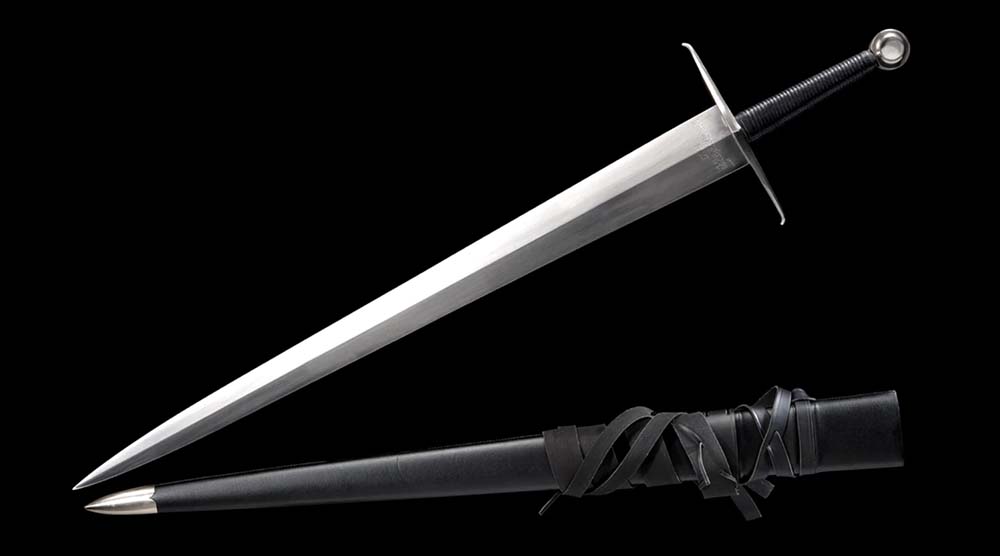 We include the price breakdown below. Please note, that import duties vary depending on the country and is not something we charge or money we receive, import duties are your responsibility and we will show you how to calculate them too. Anyway, the price of the shipping was calculated with the Planet Express postage calculator.
Package details
Dimensions 40×10×5 inches
Weight 5 lbs
Value $449.99
Address details
123 Any Street, Berlin, 10178 Germany
| | |
| --- | --- |
| Item | Price |
| RK Euro Model 3 sword price | $450 |
| Internal US shipping cost | $20 |
| International shipping cost | $60* |
| Import duties (duty + VAT) | $90 (estimate made with Simply Duty) |
| Final price estimation | $620 |
Price estimation of shipping sword from the US to Germany
*We selected FedEx International Priority, the shipping costs vary between $40-90 depending on delivery method.

Swords Shipping FAQ
How much does it cost to ship a sword outside of the USA?
The shipping costs depend mainly on the weight and dimensions of the package, the country of delivery, and the shipping method you choose. Shipping costs of 36x7x3 inches sword in its box costs around $50 with Planet Express. Feel free to read our price breakdown section.
Do I have to pay for duty and taxes?
Yes, usually, countries collect duty and taxes on imported goods. To get more info about the customs duties, contact your local customs office.
Can I import swords to my country?
We can't cover the rules for every country, so when in doubt first do some internet research (like the information provided below) and if still in doubt, call your local customs office and ask! In the meantime, here are a few examples.
Most of Asia prohibits imports of swords (i.e. Indonesia, Malaysia, Cambodia, Vietnam, etc) and no-one can be of any help at all as they are in many cases also illegal to own – the only exceptions are Singapore (requires special permits), but both Thailand and the Philippines are laissez-faire. Swords also cannot be shipped to China (though currently Hong Kong is exempt) which can make returning defective items purchased and shipped from the mainland impossible to return.. Japan in particular is EXTREMELY strict about sword importation and ownership. Up in until a few years ago, their customs declaration forms specifically asked if you have any swords in your baggage! To own a real sword in Japan requires it to be registered with the local police station, updated immediately if you move, and must be stored in a lockable safety box.. And it has to be a Nihonto made in Japan, no other type of real sword is permitted under any circumstances. India allows the EXPORT of unsharpened swords, but does not allow imports of any type.

In Australia swords are legal to own and import in every state except Victoria, where a special permit is required. Global Gear, an Australian retailer of swords, has an excellent guide to Australian sword and knife ownership on their website here - but generally, apart from concealable cane swords and double edged concealable daggers - there are no serious restrictions other than in Victoria. Across the Tasman, New Zealand has no special restrictions.
Europe is a mixed bag, though for the most part sword ownership is not a problem. Only Russia outright blanket bans the possession or importation of swords - most other states within the EU and in Europe generally are simple to ship to, but only by courier - which is where this kind of service will save you hundreds of dollars..

The only real exceptions, Germany requires a LOT of paperwork, commercial invoices, etc and it can take some time to process an incoming shipment, but swords are legal there and do eventually make it to you if you jump through all the hoops. Indeed the only real exceptions are Greece (though they actually do not seem to enforce the import prohibition they have in place) and Italy, which can only ship to a business address.
Recently Denmark has required a special permit to own and import a sword and they can ONLY be sent by courier, never by mail. The permit (Våbentilladelse) can be obtained from the police station in your home "state" (hjemme kommune) after a basic background check (yes, their Viking Ancestors would be turning in their graves).
South America as a whole has no special restrictions, but they do have extremely high import duties, especially Brazil.
Quite often the legislation relating to knives is the same as it is for swords, so while it should be taken with a grain of salt, the knife legislation page on Wikipedia covers a lot of countries laws and has many useful links to follow: https://en.wikipedia.org/wiki/Knife_legislation
CONCLUSION
International shipping of swords may sound complicated and almost impossible at a first glance. But the truth is it is relatively simple! We explained the shipping in detail and we also provided you with price estimations. Feel free to email us or call us on +1 (424) 529-6998 if you have any questions.
(link opens in a new window)
© 2006-2022 Sword Buyers Guide Limited