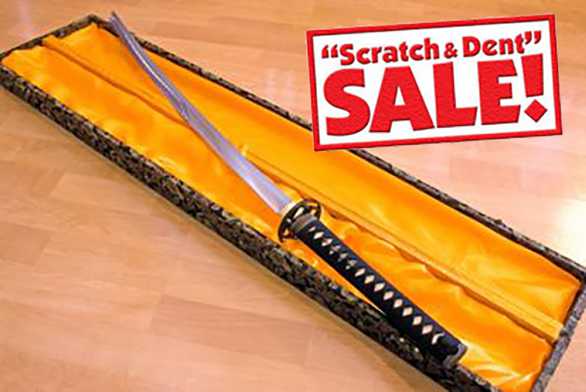 Scratch and Dent - Cheness 9260 Differentially Hardened - "Kaze" Katana

Be the first one to write a review
SOLD
Cheness Cutlery Kaze Katana - a differentially Hardened Blade with REAL Hamon. Black Ito version.
Scratch and Dent Issue: Some dings on the saya, used handle and blade with a few marks from cutting. Was returned but not in original condition - hence the massive discount.

$

179.99
$329.99
You Save $150.00
SCRATCH AND DENT ITEM - returned and used sword. Some damage to the saya and matting to the ito. Blade has a few marks from cutting practice - thus the MASSIVELY reduced price.
Hand clayed and differentially hardened, what makes the Kaze unique is the use of the revolutionary 9260 Spring steel: a perfect combination of age old art with cutting edge modern metallurgy giving it a beefy but extremely sharp blade.

Unlike just about every other production sword on the market in this price range, the Kaze has a totally authentic, unenhanced Hamon temper line (other production swords typically all have acid etching or wire brushed hamon). While the hamon is subtle (as the polish to bring it out to its full potential would double the cost of the sword) the 9260 Spring steel results in a very distinct pooling of the nie crystals, making for a nicely defined hamon line.

The fittings include a blackened steel replica of an actual antique tsuba, one brass menuki peg for additional tsuka structural reinforcement over the full tang and thick tsuka with real rayskin panels housing the blade that cuts traditional targets like a laser, which is why I have nicknamed it 'the Tatami Killer'.

For more information and test cutting results on the Kaze, check out the full review here on SBG.

Great value, one customer described it as "One third of the price of a Hanwei Great Wave ($945) but just as good"
How to Use
Cheness Cutlery Swords are designed for tameshigiri in a dojo setting and are very much 'diamonds in the rough' and are not generally attractive enough to be used for decorative display purposes.
Blade Length: 28" Handle Length: 11" Overall Length: 42.5" (includes Saya) Weight: 2lbs 9oz
Materials and Construction
Differentially hardened 9260 Spring Steel sharpened blade with real hamon. Cotton ito wrap over authentic rayskin handle. Brass Fittings.
Shipping from the Cheness Cutlery Warehouse in California within 1-2 business days. $15 flat rate USA shipping for up to 2 swords via UPS ground, FREE shipping if 3 or more swords ordered at the same time. International shipments currently unavailable due to local shipping regulations. Please note due to lack of integration with the carriers, tracking is not automatically provided with Cheness Cutlery orders.
Click here for more information
Warranty Info
We guarantee if you keep it well oiled and maintained, the blade of any sword sold from the SBG sword store will hold up to a LIFETIME of reasonable usage without breakage. If it breaks during the course of reasonable and intended usage we will replace it with either the same (or if unavailable, a similar) model completely free of charge. If you abuse it, like try to cut down a tree, attempt to replicate the destructive testing vids on you tube or otherwise use it in any way outside of traditional cutting techniques, we will do our best to help but the warranty is void. This warranty applies to the original purchaser (proof of purchase required) and remains in effect for as long as SBG is around to honor it.