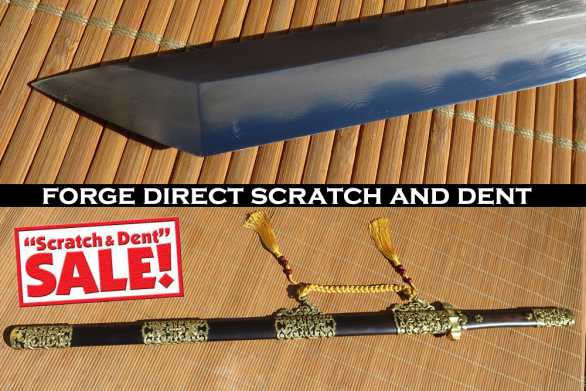 Scratch & Dent Forge Direct Yi Dao 20788

Be the first one to write a review
SOLD



The Tang Dynasty Yi-Dao by Forge Direct Chinese.

Scratch and Dent Issue: This one should NOT have passed QC, with multiple minor issues that should never have been present on a sword valued at close to $2000 (primarily, an inferior blade polish) - hence the stupidly deep discount (see description for the full details).

$

499.99
$1,650.00
You Save $1,150.01
This is a sword that SHOULD never have passed QC..
In our efforts to get these swords by the Baojian Forge out before Christmas 2019, this sword was rushed and missed the usual inspection and QC process that the Baojian Forge is famous for. Thus, the sword arrived with multiple cosmetic issues and the Forge itself was extremely surprised and saddened to see this piece go out like this..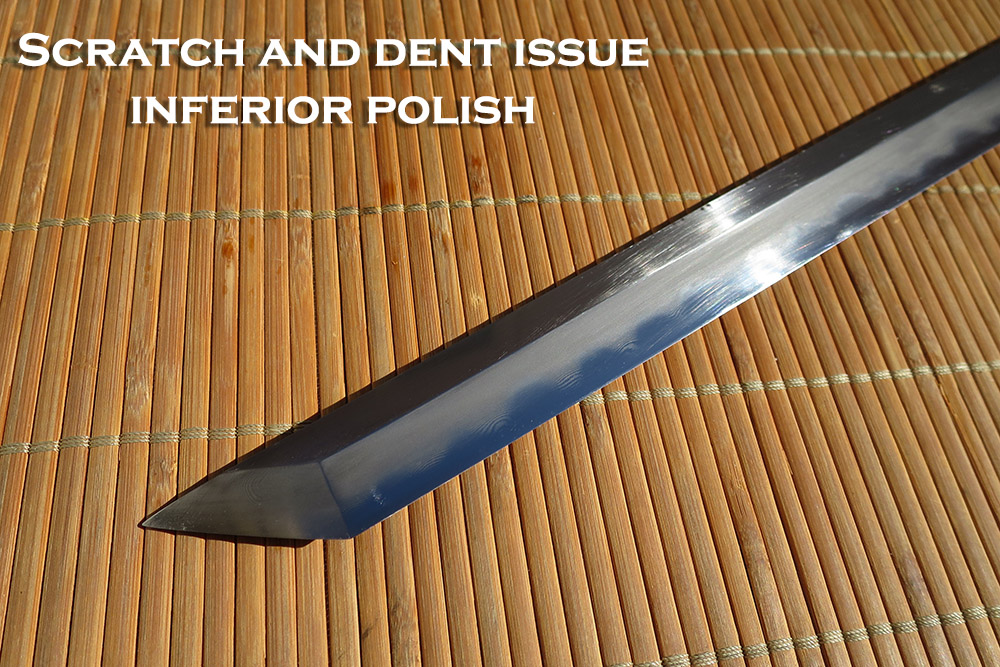 In short, it failed to meet the standards expected - and so, is being liquidated off for pennies on the dollar for someone who can see past the cosmetic imperfections and just wants a total bargain..
Click here for the original product listing - as you can see it is an expensive, premium piece, but this particular one (for which some people actually lost their jobs over) is simply not up to either our or the forges standards.
How to Use
Designed for frequent cutting practice and/or display. Premium quality cutting sword.
Overall length: 39.3" (100cm), Blade length: 28.3" (72cm), Blade thickness: 700-500mm, Blade width: 1.25"-1.1" (3.2-2.8cm), Handle length: 10.5" (27cm), Weight: 2.75lbs (1.25kg), POB: 3.93" (10cm) from the blade collar
Materials and Construction
Mastersmith Forged, Folded, Differentially Hardened and Sharpened 1095 Carbon Steel blade with art finish polish. Handmade brass fittings on handle and scabbard with premium quality black ebony wood..
Shipping from Texas within 1-2 business days. $15 flat rate USA shipping for up to 2 swords via USPS, FREE shipping if 3 or more swords ordered at the same time. International shipping via USPS, $30 to Canada. Sorry, no other international shipping options available at this time.
Click here for more shipping information
Warranty Info
Each sword is guaranteed to be as described and 100% genuine product. Each sword is also covered by in full by the Manufacturers Warranty PLUS our extended LIFETIME Warranty against blade breakage.
Click here for detailed warranty information
Return Policy
Scratch and Dent Sales are final and sold as is at a heavy discount. No returns unless DOA.