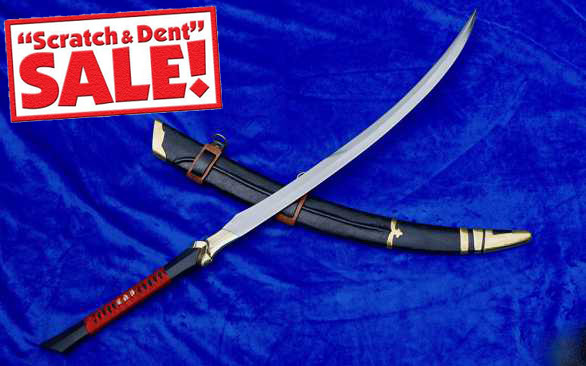 Scratch and Dent - BCI - Legendary Swords - the Castir

Be the first one to write a review
SOLD



The very last Castir 5160 Spring Steel blade by Blade Culture International.

Scratch and Dent Issue: Minor pitting of brass fittings and tip damage from shipping.

$

379.99
$799.99
You Save $420.00
SCRATCH AND DENT SALE
Left: Damage to tip, needs minor re-profiling. Right: Some minor pitting to brass fittings.
ABOUT THE SWORD
The blade of the Castir is hand made from 5160 High carbon steel, selectively tempered with a differentially hardened edge to withstand daily use and maintain edge retention. The false edge is also sharpened 1/4 of its length, though not to the same degree as the cutting portion of the blade. Fittings are blued steel with a cotton Japanese style 'itomaki' battle wrap - and the blade and handle are mated together by a large heavy counterbalancing brass blade collar and guard.
The designer, Sevicler, did a full review on the SBG Sword Forum here and describes the handling of the Castir in some detail.
Here is a brief except:
A local martial arts practitioner I personally know (the owner of Thai Boxing Bandung, Joko Setiawan) held the Castir and used it like a Katana, a Machete, and an oversized Cavalry Sabre, transitioning between forms, stances and using both edges in mock attacks without skipping a beat. He had this to say:
"If I'm in a battlefield, I want this thing on my side. This is better than a Katana."
High praise indeed, so while this is a fantasy weapon, it is fully functional - THIS IS NOT A TOY.
BLADE CULTURE INTERNATIONAL
As BCI is a traditional sword forge, they do not mass produce their blades - so the time between restock can be many months. As these swords are in very limited supply and priced well below usual industry markups, it is highly recommended that if you want to secure one and they are in stock, you order as soon as possible to avoid disappointment.
How to Use
Extremely fast and well balanced fighting sword - great for backyard cutting
Overall Length: 40″ (101.6cm), Blade Length: 28″ (71.2cm), Handle Length: 12″ (30.48cm), Weight: 2.54lbs (1154g), Point of Balance: 6″ from handle (15.24cm) PLEASE NOTE: As these swords are hand made specs will vary slightly from piece to piece.
Materials and Construction
5160 Spring Steel Sharpened Blade with selective tempering and a very subtle barely visible differentially hardened edge (suguha style hamon) for maximum sharpness and edge retention. Wood Core handle with hand crafted brass blade/handle interface, blued steel fittings and cotton wrapped 'ito' bound in the traditional Japanese style. Includes free wood core, leather lined and brass bound scabbard.
Each sword is guaranteed to be as described and 100% genuine product. Each sword is also covered by in full by the Manufacturers Warranty PLUS our extended LIFETIME Warranty against blade breakage.
Click here for detailed warranty information