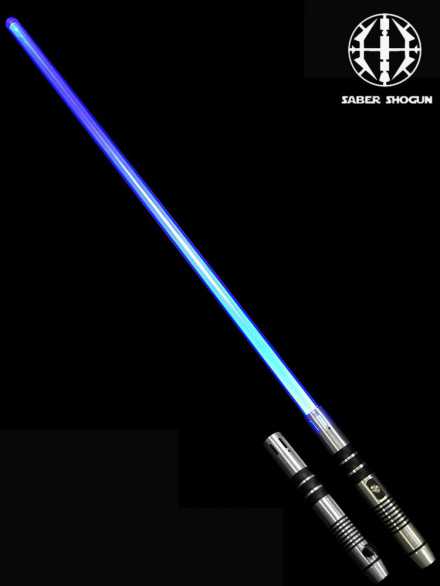 Saber Shogun Light Sword (Soundless) - Blue Jedi Guardian

Be the first one to write a review
DISCONTINUED/UNAVAILABLE

Battle Ready Light Saber - Blue Blade, soundless version.

Patent pending almost indestructible synthetic polycarbonate alloy tubing - easy re-charging, 2.5 hrs continuous use. Can withstand blows from a Machete and even being run over a car! Simply the most affordable, best value for money battle ready light saber on the market designed for frequent heavy contact. Competition level quality without the expensive price tag or confusing ordering process.

$

79.99
$120.00
You Save $40.01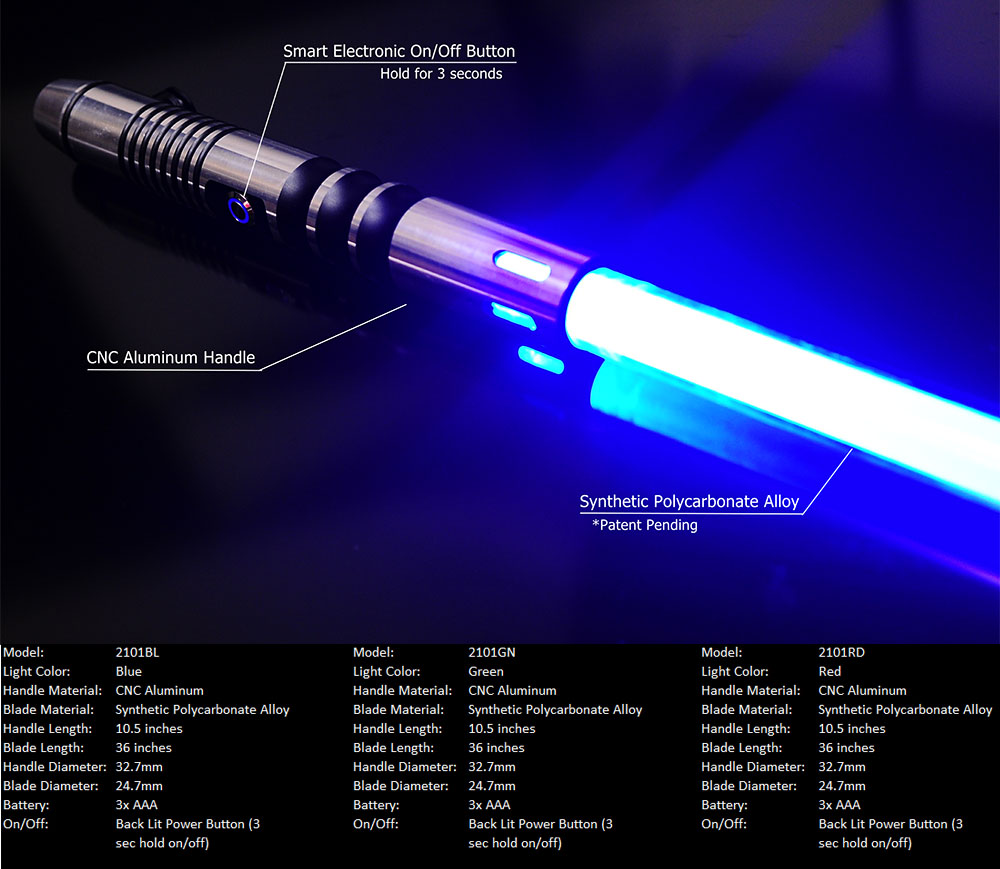 Finally a decent battle ready light saber that almost ANYONE can afford in the Saber Shogun Light Sword series - brought to you by the same people behind the Ryujin Custom Katana
The goal of this project was simple, to create the most affordable and tough 'Bokken' sparring sword grade quality around. And this budget version without sound effects makes these swords even more affordable without any distraction or messing around trying to get the sounds to match your movements (a common issue on even the most elite and expensive light saber replicas doing the rounds these days).
The 'blade' is a hollow tube made from a patented synthetic polycarbonate alloy and is so tough it can handle being hacked at with a machete and run over by a car - so has no problems repeatedly clashing with hardwood Bokken or any type of HEMA waster (wood or synthetic).
While many other battle ready light sabers on the market several times the price are secured with either a friction fitted screw on clamp or two allen keys (included), the Saber Shogun Light Sword series are all secured with BOTH friction fit and TWO allen keys so it will not loosen or come flying out no matter how hard you use it..
With the almost unbreakable blade, secure fastening to the handle and - despite its amazing durability - weighing only 1.4lbs, the Saber Shogun Light Sword is fast, flexible, strong and perfect for competition use. Just make sure you wear some armor as getting whacked full force by one of these tubes is extremely painful. Can also be used for safe high speed training and is so much fun to use, constant dry handling will help to develop the muscles needed for swordsmanship and help muscle tone and weight loss at the same time.
The best 'beater' light saber on the market hands down - normally $120 but available at special introductory pricing of just $79.99 and includes a FREE LIFETIME WARRANTY against breakage during sparring or competition.
How to Use
Hold Power Button for 3 seconds to turn on/off. Screw on and then secure tubing with two allen screws (allen key included). Can withstand hundreds of hours of heavy contact - competition level quality. Uses 3XAAA batteries. Note: Frequent deliberate bending of the blade may cause microcracks - to preserve durability, avoid excessive flexing.
Overall length: 46 1/2" (inch), "Blade" length: 36", Handle length: 10.5", Point of Balance: 4.5" from handle, Weight: 1.4 lbs
Materials and Construction
Patented Synthetic Polycarbonate alloy tubing with powerful LED light. Polished CNC aluminum handle. 3xAAA batteries.
Shipped from the Saber Shogun warehouse in Los Angeles within 2 business days. $20 flat rate USA shipping for up to 2 swords via UPS or USPS, FREE shipping if 3 or more swords ordered at the same time. International shipping via USPS, $30 to Canada per sword.
Click here for more shipping information
.
NOTE:
Due to air shipment policies we are unable to send this item overseas. We apologize for any inconvenience.
Warranty Info
Each light sword is guaranteed to be as described and 100% genuine product. Each sword is also covered by in full by the Manufacturers Warranty PLUS our extended LIFETIME Warranty against blade breakage.
Click here for detailed warranty information
Return Policy
Satisfaction Guaranteed.
We proudly stand behind every product we sell. If you are not pleased with your purchase you can return it to us within 30 days of purchase in
original, unused condition
for a full refund minus shipping and 10% restock fee.
Click here for more info on our guarantees