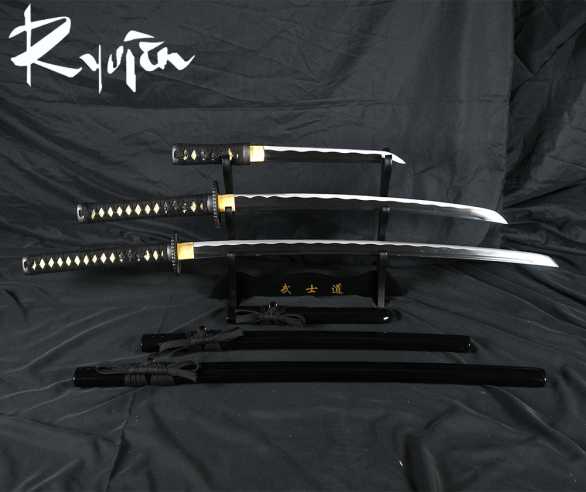 Ryujin 1045 Carbon Steel Samurai Daisho Sword Set - Black Saya

Be the first one to write a review
UNAVAILABLE/DISCONTINUED

"Art Should Hurt" - 3 pc Budget Daisho Set (black saya)

Engraved Monotempered 1045 Carbon Steel Blade set (Katana, Wakizashi and Tanto) with black saya. Great as a display piece and light to medium backyard cutting (fully tempered blade). Includes FREE three tier sword stand. Now on FINAL CLOSEOUT SALE (Sold at or below cost price) and only available while stocks last.

$

99.99
$179.99
You Save $80.00
ART SHOULD HURT
All too often the more ornate and affordable Katana designs out there are let down by stainless steel (read: purely decorative) blades. But these are no mere ornaments..
While all the Katana swords in the Ryujin Art Sword series are primarily designed for display purposes - the 1045 carbon steel blades are well tempered and surprisingly strong (a well tempered 1045 carbon steel blade like this one is only slightly less durable than a 1060 carbon steel blade) so that the end result is a true piece of sword art. Something that isn't just 'bark' - but actually has some serious 'bite' to it if ever needed (after all, a purely decorative sword just doesn't have the same presence as a live blade, and the first question anyone who spies a decorative sword will ask 'is it real?'..)
In this case, you get not just one but a full set of THREE blades to make a classically themed Daisho Set (including FREE 3-tier sword stand and a matching Tanto). But unlike most other Daisho sets on the market with stainless steel blades, this set has the real thing. And not only that, each blade is designed to be fast and lightweight, with the flagship Katana weighing only 2.1lbs yet balanced 5 7/8" from the tsuba, making it a popular choice for those martial artists who like a super quick and nimble Katana rather than a 'powercutter'.
The Katana and the Wakizashi are engraved with Japanese characters that translate as 'throughout time, God respects the ambitious' and both of these blades also feature a bo-hi to decrease the blades weight even further, also amplifying the Tachi-Kaze (sword wind sound) while the Tanto has a solid bodied blade for maximum durability.
Decked out in all black fittings and a classic Chrysanthemum themed tsuba on the Katana and Wakizashi no matter which way you look at it, this Daisho set offers exceptional value for money and is suitable for both display and occasional light cutting practice (water filled milk jugs, cardboard boxes, river cane, etc).
How to Use
Primarily designed for display, but have functional monotempered 1045 carbon steel blades so can be used for light backyard cutting.
Katana - Overall (with saya) : 40", Blade length: 27 1/2", Handle length: 10 3/4", Weight (without Scabbard): 2.1 lbs, Point of balance: 5 7/8" Wakizashi - Overall (with saya) : 33", Blade length: 20 1/2", Handle length: 9 3/4", Weight(without Scabbard): 1.9 lbs, Point of balance: 4" Tanto - Overall (with saya) : 17", Blade length: 10 3/4 inch", Handle length: 5 1/4", Weight(without Scabbard): 0.7 lbs, Point of balance: 1 3/4"
Materials and Construction
1045 Hand Forged and Factory Sharpened Blades. Zinc alloy fittings, black rayon ito tsuka over synthetic rayskin. Glossy Black Saya with black sageo.
Shipped from the Ryujin workshop in Los Angeles within 2 business days. $20 flat rate USA shipping for up to 2 swords, FREE shipping if 3 or more swords ordered at the same time. International shipping via USPS, $60 to selected international destinations by USPS.
Click here for more shipping information
Warranty Info
Each sword is guaranteed to be as described and 100% genuine product. Each sword is also covered by in full by the Manufacturers Warranty PLUS our extended LIFETIME Warranty against blade breakage.
Click here for detailed warranty information
Return Policy