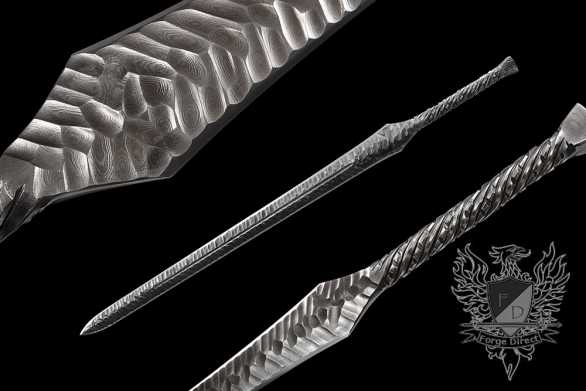 Forge Direct Damascus Fantasy Warsword - Sword of the Ancients
(2)
PERMANENTLY DISCONTINUED

No Longer Available
Imagine for a moment a sword forged from folding and twisting the purest steel to create a blade and handle made as one unit with no weak points and so thick and well tempered that it is almost impossible to bend or deform.
Imagine on an ancient battlefield of bronze age weapons how devastating a steel sword like this would be - cutting through the enemies blades, shields and armor like butter and delivering powerful cuts and thrusts as the hapless enemies are scattered to the four winds, falling over each other trying to get out of this swords path of destruction.
Well, imagine no longer - because with the Sword of the Ancients you can feel the power of steel in your own hands with this imposing and unique blade.
Designed by the keen mind of Master Swordsmith Michael Ye - this sword is certain to stand out in anyone's collection. The half inch thick blade is available in two sizes - either 31.1" or 26.7" depending on your preference, and NEEDS two hands on the 8.6" handle to deliver a powerful, fight stopping blow. Make no mistake, this is no graceful ballerina - and with no weak points, can deliver every once of power to its target.
Folded to perfection, it is roughly hammered to create a unique finger print like pattern - no two swords are the same.
Do not be fooled by cheap and nasty imitations, this sword is the real deal. Almost never seen out of China due to the uncertain market demand and high expense of production. However, with Forge Direct, you have a rare opportunity to order one of your own with FREE worldwide shipping right here at the SBG Sword Store!
How to Use
Designed for frequent cutting practice and/or display. Heirloom quality.
Overall length: 39.76"/36.22" (101/92cm) options, Blade length: 31.1"/79cm or 26.7"/68cm Blade, Blade width: 2.4" (6.1cm), Handle length: 8.66" (22cm), Weight: 4.4lbs (2kg)
Materials and Construction
Mastersmith Folded Damascus 1095 Carbon Steel blade. Forged from one piece of folded and pattern welded steel, including the handle. Includes leather sheathe.
FREE SHIPPING direct from the forge in Longquan, China via SF Express or UPS, typically within 6-8 weeks (though please allow for unexpected delays)..
Warranty Info
Each sword is guaranteed to be as described and 100% genuine product. Each sword is also covered by in full by the Manufacturers Warranty PLUS our extended LIFETIME Warranty against blade breakage.
Click here for detailed warranty information
Return Policy
Satisfaction Guaranteed.
We proudly stand behind every product we sell. If you are not pleased with your purchase you can return it to us within 30 days of purchase in
original, unused condition
for a full refund minus shipping and 10% restock fee.
Click here for more info on our guarantees
Featured positive reviews:
Super Cool!
06/25/2021
Arrived much earlier than expected, and it is B.E.A.- utiful! The knapping is amazing and you can tell many man hours went into this sword. It is balanced much better than expected and does not feel as cumbersome as I originally thought.

I may wrap the handle to help with edge alignment and increase comfortability of the grip, but the bluing of the handle was an extra surprise, which I may not want to hide.

The scabbard is pretty generic, but functions as it should. Maybe down the road, Master Michael Ye can design a scabbard to match the aesthetics of this stunning fantasy sword.

It would have been really cool to have Master Michael Ye's signature or symbol/stamp somewhere on the pommel to add a little extra zing, but the damascus pattern resonating throughout the blade is exquisite.

Overall, SUPER COOL, and I may need to grab the shorter leaf blade style sword to complete the set.

Great job!