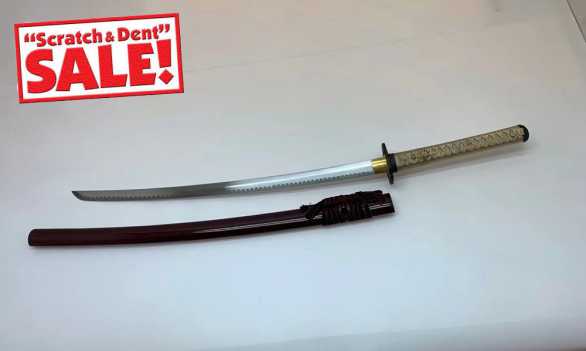 Scratch & Dent Forge Direct "Muramasa" Laminated Katana 21361

Be the first one to write a review
SOLD



Innovative, T10/1065/1045 steel laminated Master Smith blade with golden silk tsuka, subtle iron dragon tsuba, black saya and attractive red and black silk sageo. (valued at $729.99).

Scratch and Dent Issue: None. The order was rejected by the customer due to Covid related issues in 2020.

$

579.99
$729.99
You Save $150.00
This was a Forge Direct "Muramasa" Laminated Katana that was sadly abandoned by the customer during extensive delays caused from Covid related shutdowns..
As we have already paid the forge, we are now looking to try to at least recover some of the investment made to create this blade as cancellations like this really do leave us in the lurch and threaten all of our custom sword projects, so it being listed here for sale as a 'scratch and dent' sale item (even though it is NOT technically a scratch and dent item).
The Muramasa has a unique laminated blade with a hamon created by metal extraction to reveal the T10 tool steel edge supported by 1065 carbon steel sides and a shock resistant 1045 carbon steel core (click here to read more about the Muramasa Katana 3.0 that this sword was created from).
The original order details as ordered by the customer are presented below:
i5 Iron & Gold Fittings (Cloud Dragon themed tsuba)
M5 - Gold Silk Ito
White Rayskin Panels
Red and White Sageo
S10 Red and Black Speckled Saya
If you are not familiar with Forge Direct Japanese from which this product was created from, click here for all the background info on this project over in the store blog or here to see the Muramasa product listing in the store (links open in a new window).
How to Use
Designed for frequent cutting practice and/or display. Premium quality cutting sword.
28" Blade measured from Munemachi to Kissaki. Handle length 11". Weight: 2lbs 8oz
Materials and Construction
Master Smith Hand Forged, Laminated (1065, T-10, 1045, T-10, 1065) and Sharpened blade. Silk ito with real rayskin tsuka. Glossy Saya with silk sageo.
FREE SHIPPING direct from the forge in Longquan, China via SF Express or UPS.
Warranty Info
Each sword is guaranteed to be as described and 100% genuine product. Each sword is also covered by in full by the Manufacturers Warranty PLUS our extended LIFETIME Warranty against blade breakage.
Click here for detailed warranty information
Return Policy
Scratch and Dent Sales are final and sold as is at a heavy discount. No returns unless DOA.