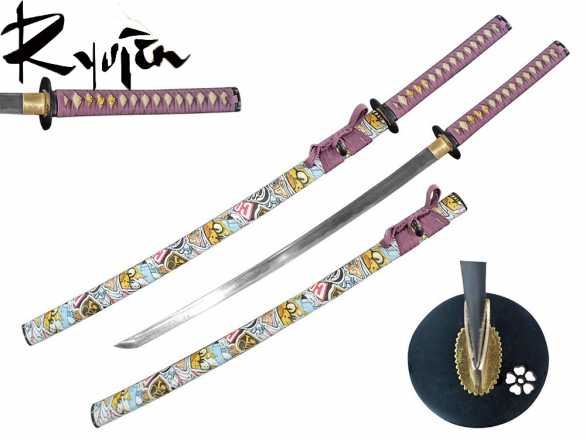 Ryujin 1045 Carbon Steel 'Popping Pink' Art Sword

Be the first one to write a review
SOLD OUT

"Art Should Hurt": PVC Plastic Saya Series

Monotempered 1045 Carbon Steel Blade with highly artistic fittings and hard wearing next generation PVC plastic saya. Great as a display piece and light to medium backyard cutting (fully tempered blade).

$

69.95
$150.00
You Save $80.05
"ART SHOULD HURT"
All too often the more ornate and affordable Katana designs out there are let down by stainless steel (read: purely decorative) blades. But these are no mere ornaments..
While all the Katana swords in the Ryujin Art Sword series are primarily designed for display purposes - the 1045 carbon steel blades are well tempered and surprisingly strong (a well tempered 1045 carbon steel blade like this one is only slightly less durable than a 1060 carbon steel blade) so that the end result is a true piece of sword art. Something that isn't just 'bark' - but actually has some serious 'bite' to it if ever needed (after all, a purely decorative sword just doesn't have the same presence as a live blade, and the first question anyone who spies a decorative sword will ask 'is it real?'..)
For this particular piece, the focal point is the attractive and durable pop art decorated saya (sheathe). Unlike most saya at this price point (which are made from the cheapest, usually poorly fitting, wood available), the next generation of PVC plastic saya fit like a glove, do not shrink or expand with changes in temperature and barometric pressure and are scratch and crack resistant - making these saya head and shoulders above any other saya on a sword at this kind of price point (not to mention, allows for a super clear and vibrant image that makes the art sword line even more alluring!).
While it is an attractive package, it is important to remember that this is functional art - not a purely decorative blade. All in all, it's simply a great looking piece - and is functional enough for some good old fashioned light backyard cutting (water filled bottles, soft wood saplings, light bamboo, etc) in fact a well tempered 1045 carbon steel blade is often passed off as 1060, 9260 or whatever is the 'super steel' of the month because it's stronger than you might think. If you weren't told they were mass produced, it could be all to easy for unscrupulous sellers to present these swords to you at considerably higher prices (we have seen the exact same swords for sale on Amazon for $125 plus shipping - most charge $100-150 or more!).
Great value no matter which way you look at it - sword art priced so that ANYONE can afford it.
How to Use
Primarily designed for display, but has a functional monotempered 1045 carbon steel blade so can be used for light backyard cutting.
Blade length: 28", Handle length: 10 7/8", Weight: 2.3 lbs, Point of balance: 6.5" from tsuba
Materials and Construction
1045 Hand Forged and Factory Sharpened Blade. Iron tsuba, zinc alloy fuchigashira, pink/light purple rayon ito tsuka over faux rayskin. Highly detailed, hard wearing next generation PVC pop art themed plastic saya.
Shipped from the Ryujin workshop in Los Angeles within 2 business days. $20 flat rate USA shipping for up to 2 swords, FREE shipping if 3 or more swords ordered at the same time. International shipping via USPS, $60 to selected international destinations by USPS.
Click here for more shipping information
Warranty Info
Each sword is guaranteed to be as described and 100% genuine product. Each sword is also covered by in full by the Manufacturers Warranty PLUS our extended LIFETIME Warranty against blade breakage.
Click here for detailed warranty information
Return Policy
Satisfaction Guaranteed.
We proudly stand behind every product we sell. If you are not pleased with your purchase you can return it to us within 30 days of purchase in
original, unused condition
for a full refund minus shipping and 10% restock fee.
Click here for more info on our guarantees