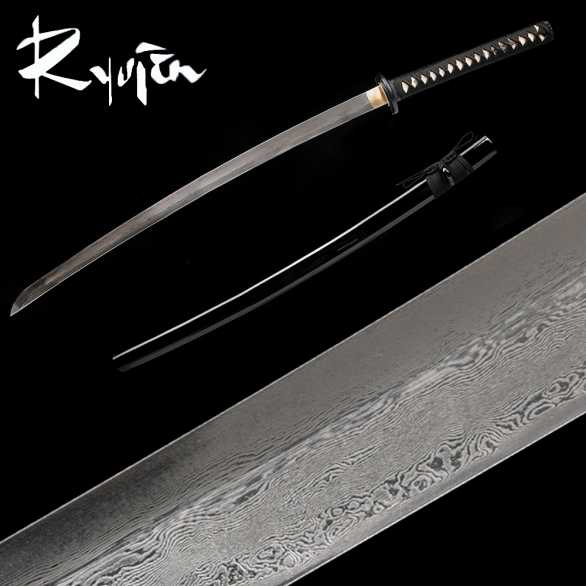 Ryujin Folded Steel Damascus 'Hadakirei' Katana

Be the first one to write a review
UNAVAILABLE/DISCONTINUED

"Art Should Hurt"
Prominently folded pure Damascus Steel blade with premium quality fittings. The one sword to set aside in your collection to appreciate the sheer art and beauty of an expertly folded Katana sword.. MSRP $399.99

FINAL CLOSEOUT SALE
Before the advent of modern steel almost entirely free of imperfections, ancient swordsmiths would create a superior sword by evening out the impurities by folding the blade. While it is no longer necessary to fold a blade to even out impurities, when done properly a folded steel sword is the pinnacle of blade art..
This sword is one such example - all attention is drawn to the complex swirling 'Mokume' patterned folding lines of the 'Hadakirei' Katana by Ryujin Swords.
The fittings are simple but fully functional - Iron 'C' Ring Musashi tsuba, iron fuchigashira, black cotton ito and real rayskin with a glossy black saya. But the blade truly comes alive and really does need to be seen first hand to be appreciated..
How to Use
Designed primarily for display purposes, though blade and fittings are fully functional (Decorative replica with bite)
Overall length (without saya): 40", Blade length: 28 1/2", Handle length: 11", Weight: 2.3 lbs, Point of balance (from Tsuba ): 6 1/2"
Materials and Construction
Folded Damascus Steel Factory Sharpened Blade. Solid Iron fittings. Tightly wrapped cotton ito over authentic rayskin. Lacquered Glossy Wooden Saya with cotton sageo.
Shipped from the Ryujin workshop in Los Angeles within 2 business days. $20 flat rate USA shipping for up to 2 swords via UPS or USPS, FREE shipping if 3 or more swords ordered at the same time. International shipping via USPS, $60 to selected international destinations by USPS.
Click here for more shipping information
Warranty Info
Each sword is guaranteed to be as described and 100% genuine product. Each sword is also covered by in full by the Manufacturers Warranty PLUS our extended LIFETIME Warranty against blade breakage.
Click here for detailed warranty information
Return Policy
Satisfaction Guaranteed.
We proudly stand behind every product we sell. If you are not pleased with your purchase you can return it to us within 30 days of purchase in
original, unused condition
for a full refund minus shipping and 10% restock fee.
Click here for more info on our guarantees