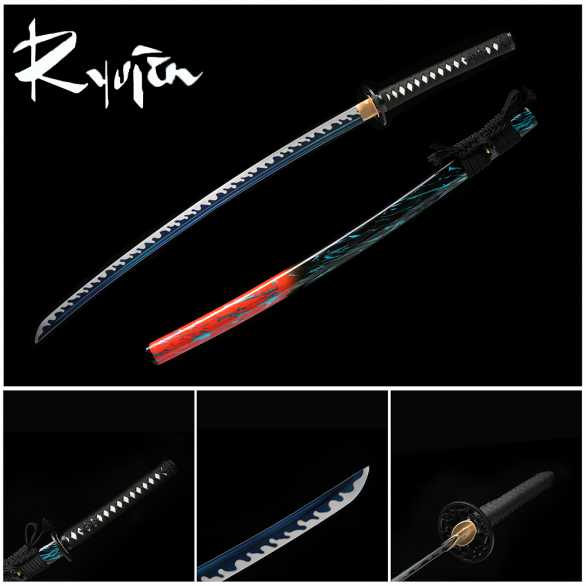 Ryujin Five Elements 65mn Spring Steel Art Katana

Be the first one to write a review
SOLD OUT

"Art Should Hurt"
Monotempered 65mn Spring Steel colored blade (blue and silver) with wild wave pattern etching. Iron fittings. Highly detailed saya, modern take on the ancient 'five elements' theme..

$

179.99
$249.99
You Save $70.00
All too often the more ornate and affordable Japanese sword and blade designs out there are let down by stainless steel (read: purely decorative) blades. But these are no mere ornaments..
While all the blades the Ryujin Art Sword series are primarily designed for display purpose, they all use well tempered carbon or spring steel in the blades - and make an excellent canvas for further refinement and customization, or are perfect as they are - an ornament with real bite..
In this case, the product in question is a 28.5" long monotempered 65mn Spring Steel blade, a truly functional and very tough blade - decorated with a unique, wild looking faux hamon that serves as the dividing line between the exposed steel edge and the colored flat and spine of the blade. Add to this an iron tsuba, solid - but basic - fittings, and a wild looking wooden lacquered saya that interprets the traditional five elements of Feng Shui (earth represented in the tsuba, fire and water in the saya and the blade itself, air in the Tachi-kaze of the bo-hi, and space by the black ito and black coloring in the saya).
Make no mistake - it might be highly decorated but this is no mere ornament..
How to Use
Designed primarily for display purposes, though blade and fittings are fully functional (Decorative replica with bite)
Overall length: 39 1/4 ", Blade length: 28 1/2", Handle length: 10 1/2 ", Weight: 2.6 lbs, Point of balance: 6 1/4"
Materials and Construction
Monotempered 65mn Spring Steel blade, blued with silver edge. Iron tsuba and fuchigashira fittings. Brass seppa, habaki and Black Rayon ito over synthetic rayskin. Rayon sageo. Wooden saya with highly detailed design.
Shipped from the Ryujin workshop in Los Angeles within 2 business days. $20 flat rate USA shipping for up to 2 swords via UPS or USPS, FREE shipping if 3 or more swords ordered at the same time. International shipping via USPS, $60 to selected international destinations by USPS.
Click here for more shipping information
Warranty Info
Each sword is guaranteed to be as described and 100% genuine product. Each sword is also covered by in full by the Manufacturers Warranty PLUS our extended LIFETIME Warranty against blade breakage.
Click here for detailed warranty information
Return Policy
Satisfaction Guaranteed.
We proudly stand behind every product we sell. If you are not pleased with your purchase you can return it to us within 30 days of purchase in
original, unused condition
for a full refund minus shipping and 10% restock fee.
Click here for more info on our guarantees