Ryujin 9260 Spring Steel - Yokaze Series DH Katana

Be the first one to write a review
UNAVAILABLE/DISCONTINUED

Differentially hardened 9260 spring steel swords are BACK with the Ryujin 'Yokaze' (night wind) Katana series. Real Hamon, premium quality brass fittings with your choice from 5 different koshirae sets. As serious, dojo grade traditional cutting sword.

$

374.99
$599.99
You Save $225.00
Amazing Value - 9260 Spring Steel Steel Blade with Natural Hamon

Finding a genuine 9260 Spring Steel Katana these days can be a real challenge. It is a notoriously difficult steel to work with - but due to rising demand and almost no supply, there have been several 'boutique forges' claiming to make 9260 Spring Steel swords - but to date none of them have been telling the truth, telling their customers they can buy it when in fact they are using 1060 carbon steel (and in some cases, 1045! If it sounds too good to be true..)
To put and end to this nonsense, industry innovators Ryujin Swords have released the 'Kaze' Series - true 9260 Spring Steel blades, differentially hardened with a real hamon temper line, at the best price they can be made for these days..
While differentially hardened 9260 blades are not designed to flex and spring back to true (the harder edge and softer spine mean that the edge and spine bend at different rates) the overall effect is a very SOLIDLY BUILT Katana that performs and cuts like the historical originals. Available with 5 different choices of fitting sets.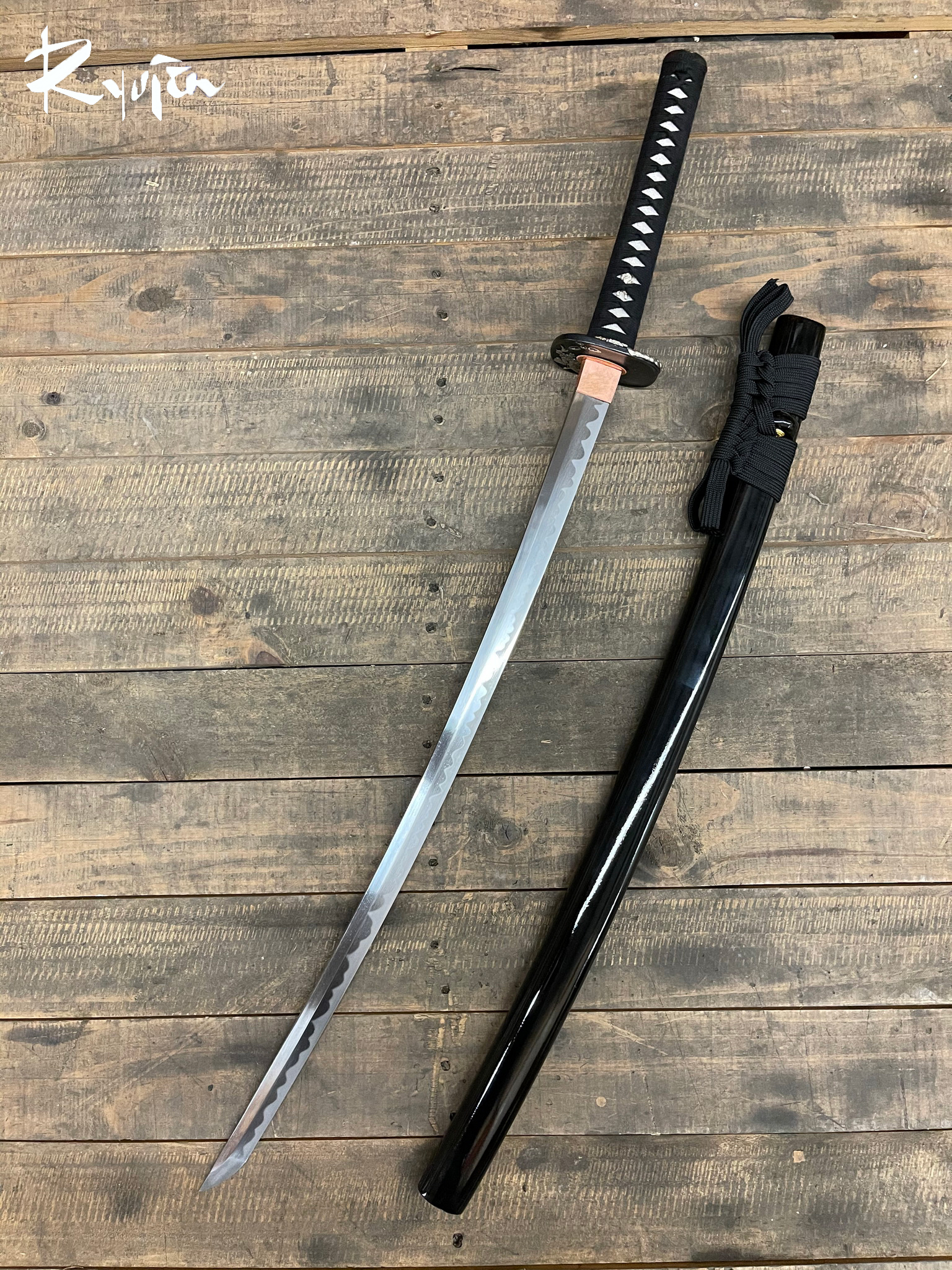 How to Use
Suitable for frequent backyard or dojo cutting. Traditional blade. Display box and cleaning kit included.
Blade length: 28 1/2", Handle length: 10 5/8", Weight: 2.6 lbs, Point of balance: 4 1/2"
Materials and Construction
Differentially hardened fully sharpened 9260 Spring Steel blade with prominent real hamon. Premium quality brass fittings with your choice of 5 different themes. Brass Habaki, Seppa and Menuki. Single bamboo peg with friction fit wooden handle. Glossy Black Saya, Black cotton ito wrap over real rayskin. Includes Display box and cleaning kit.
Shipped from the Ryujin workshop in Los Angeles within 2 business days. $20 flat rate USA shipping for up to 2 swords, FREE shipping if 3 or more swords ordered at the same time. International shipping via USPS, $60 to selected international destinations by USPS.
Click here for more shipping information
Warranty Info
Each sword is guaranteed to be as described and 100% genuine product. Each sword is also covered by in full by the Manufacturers Warranty PLUS our extended LIFETIME Warranty against blade breakage.
Click here for detailed warranty information
Return Policy
Satisfaction Guaranteed.
We proudly stand behind every product we sell. If you are not pleased with your purchase you can return it to us within 30 days of purchase in
original, unused condition
for a full refund minus shipping and 10% restock fee.
Click here for more info on our guarantees