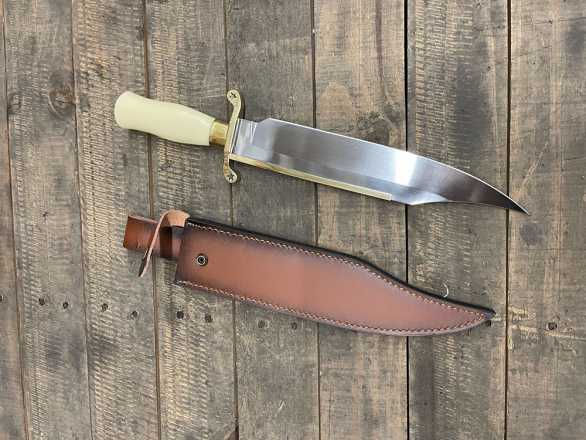 5cr15mov Stainless Steel White Handled Classic Bowie Knife

Be the first one to write a review
IN STOCK & ON SPECIAL

5cr15mov stainless steel, low maintenance high impact Bowie knife with POM handle and leather sheathe included.
$5 SHIPPING to the USA. FREE if two or more knives of any type are ordered at the same time. Sorry, US Orders Only.
$

69.99
$79.99
You Save $10.00
The legend of the Bowie knife is clouded in myth and hyperbole - it's origins traced back to the infamous James Bowie who it was said first brought this design to bear in the equally infamous Sandbar brawl on the Mississippi in 1827. But while its origins and even the defition of exactly what form a Bowie knife should take, there can be no mistaking its utility..
In many ways, the Bowie knife is the final and most modern incarnation of contemporary 19th century Sabers. Touted by an 1847 newspaper article: "[the] Bowie knife was originally designed to fill the need for a wearable, convenient, close-combat weapon - a short sword much shorter than the saber or other swords of the day, yet still possessing a heavy blade" and was balanced and weighted in such a way that its actual use was very similar to cut and thrust sword fighting techniques, essentially resulting in a kind of sword/knife hybrid that is still as practical now as when it was first created.
This low maintenance fully functional replica is made from 5cr15mov stainless steel, which while is not a good idea on blades over 12", is perfect for this 11 3/4" blade. The iconic Bowie cross guard is made from solid brass, and features a modern Bowie innovation of a brass covered spine to catch an opponents blade and reduce shock from blocking with the spine against an incoming attack. Instead of wood, the handle is made from ultra durable, heat and moisture resistant POM (Polyoxymethylene) and it is completed by an attractive dyed leather sheathe.
How to Use
Suitable for backyard cutting - zombie apocalypse ready
Blade length: 11 3/4", Handle length: 4 7/8", Weight: 1.6 lbs
Materials and Construction
5cr15mov steel Factory Sharpened Blade. Solid brass fittings with white Polyoxymethylene handle and leather sheathe.
Shipped from the Ryujin workshop in Los Angeles within 2 business days. $20 flat rate USA shipping for up to 2 swords, FREE shipping if 3 or more swords ordered at the same time. International shipping via USPS, $60 to selected international destinations by USPS.
Click here for more shipping information
Warranty Info
Each sword is guaranteed to be as described and 100% genuine product. Each sword is also covered by in full by the Manufacturers Warranty PLUS our extended LIFETIME Warranty against blade breakage.
Click here for detailed warranty information
Return Policy
Satisfaction Guaranteed.
We proudly stand behind every product we sell. If you are not pleased with your purchase you can return it to us within 30 days of purchase in
original, unused condition
for a full refund minus shipping and 10% restock fee.
Click here for more info on our guarantees