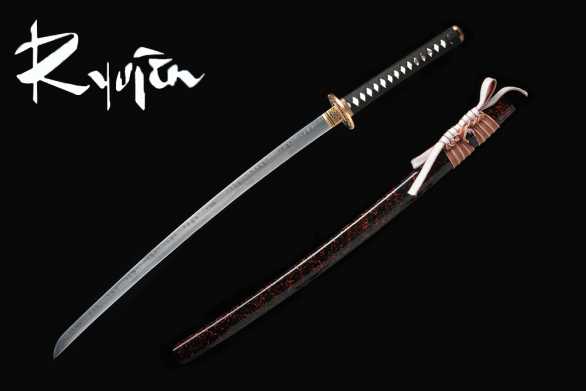 Ryujin 65mn Spring Steel Choji Tsunami Katana

Be the first one to write a review
DISCONTINUED/UNAVAILABLE

Differentially hardened 65mn Spring Steel blade with enhanced choji style hamon temper line and solid brass fittings. MSRP $259.99
$

149.99
$189.99
You Save $40.00
The Choji Tsunami Katana by Ryujin Swords is an attractive, fully functional cutting sword with attractive brass fittings in a classic 'tsunami' theme suitable for the dojo, display or the backyard.
Made from 65mn Spring Steel (a hard wearing manganese steel), the blade of this sword has been differentially hardened to produce a genuine hamon. It is then hand polished and carefully acid etched to bring out the detail that is normally only possible using Japanese fingerstones. The end result is a lively Choji hamon pattern that highlights the interplay between the yakiba (the hardened part) and the rest of the blade - giving it the hard and sharp cutting edge the Katana is well known for as well as the shock absorbing qualities necessary to survive the heat of battle.
The sword is complimented by a saya with Tsumakure (red accent) finish on glossy black with two toned sageo.
How to Use
Suitable for frequent backyard or dojo cutting. Traditional blade.
Blade length: 28 3/4", Handle length: 10 1/2 ", Weight: 2.6 lbs, Point of balance: 5 1/2 "
Materials and Construction
Differentially hardened 65mn Spring Steel Katana with enhanced choji hamon. Solid brass tsuba and fittings, black rayon ito tsuka over faux white rayskin. Glossy Black Saya with red accents and two tone rayon sageo.
Shipped from the Ryujin workshop in Los Angeles within 2 business days. $20 flat rate USA shipping for up to 2 swords, FREE shipping if 3 or more swords ordered at the same time. International shipping via USPS, $60 to selected international destinations by USPS.
Click here for more shipping information
Warranty Info
Each sword is guaranteed to be as described and 100% genuine product. Each sword is also covered by in full by the Manufacturers Warranty PLUS our extended LIFETIME Warranty against blade breakage.
Click here for detailed warranty information
Return Policy
Satisfaction Guaranteed.
We proudly stand behind every product we sell. If you are not pleased with your purchase you can return it to us within 30 days of purchase in
original, unused condition
for a full refund minus shipping and 10% restock fee.
Click here for more info on our guarantees