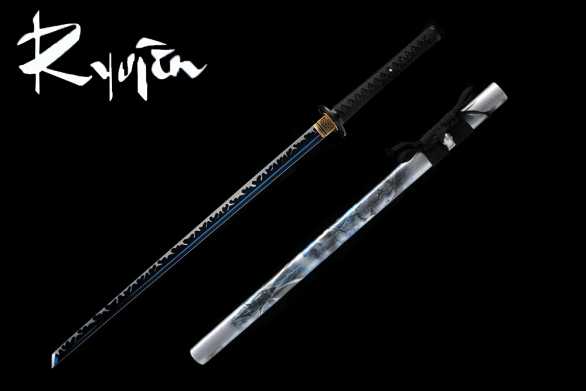 Ryujin 65mn Spring Steel Shishi Ninjato Art Sword

Be the first one to write a review
SOLD OUT

"Art Should Hurt"

Monotempered 65mn Spring Steel (blue and steel colored) full Katana length Ninja sword (Ninjato/Ninto) with highly artistic 'Lion Spirit' fittings. Great as a display piece and light to medium backyard cutting (fully tempered blade).

$

129.99
$189.99
You Save $60.00
ART SHOULD HURT
While there is a lot of speculation and debate about the historical accuracy of the so-called 'Ninjato' (also known as a 'Ninto' or 'Shinobigatana') this style of blade was popular in East Asia and Japan over 1000 years ago and is a tried and tested battlefield design. Terminating with a classic 'Tanto tip', these swords are both fast and versatile, optimized for the thrust but no slouch in the cutting department either.
The Shishi Ninto (Lion Spirit Ninja sword) is no exception, with the strong and well tempered (through hardened) blade enhanced by attractive and fierce 'lightning hamon' pattern. Unlike most other Ninto, this is a full length sword (28.5" blade length) that when sheathed almost looks like a Katana.
Completed with an iron tsuba, black on black handle and an attractive glossy silver lacquered saya depicting a warrior guided by his Lion spirit totem.
Great value no matter which way you look at it - sword art priced so that ANYONE can afford it.
How to Use
Primarily designed for display, but has a functional monotempered 65mn Spring Steel blade so can be used for light to medium backyard cutting.
Blade length: 28 1/2", Handle length: 10 1/2", Weight: 2.2 lbs, Point of balance: 6 "
Materials and Construction
Monotempered 65mn Spring Steel Hand Forged and Factory Sharpened Blade (blued and silver finish). Iron tsuba with Zinc alloy fittings, black rayon ito tsuka - faux rayskin. Glossy, detailed wood core silver lacquered saya with black sageo.
Shipped from the Ryujin workshop in Los Angeles within 2 business days. $20 flat rate USA shipping for up to 2 swords, FREE shipping if 3 or more swords ordered at the same time. International shipping via USPS, $60 to selected international destinations by USPS.
Click here for more shipping information
Warranty Info
Each sword is guaranteed to be as described and 100% genuine product. Each sword is also covered by in full by the Manufacturers Warranty PLUS our extended LIFETIME Warranty against blade breakage.
Click here for detailed warranty information
Return Policy
Satisfaction Guaranteed.
We proudly stand behind every product we sell. If you are not pleased with your purchase you can return it to us within 30 days of purchase in
original, unused condition
for a full refund minus shipping and 10% restock fee.
Click here for more info on our guarantees