Scratch & Dent Forge Direct Elite Muramasa Katana 27583

Be the first one to write a review
SOLD



A laminated 5 steel Katana, the Forge Direct Muramasa - with red Dragon saya, black silk sageo and red rayskin. Normally $999.99 and several months wait, available at a $300 discount with direct shipping.

Scratch and Dent Issue: Issue Free, being sold at a discount due to a customer cancellation.

$

599.99
$1,093.00
You Save $493.01
Every now and again we get a customer who, despite our best efforts, loses patience and threatens the entire forge direct project by cancelling halfway through their custom sword order, and that is what happened with this particular sword - a custom Muramasa Laminated Katana (as the lamination process is quite difficult and the forges QC at the highest possible level, it often takes several attempts to forge the perfect sword - which can and often does cause an additional delay of a few weeks or more).
While such customers are naturally banned from the store if they choose to abandon a custom project halfway through, we are still left with the nearly completed sword - so in this case we finished up the order and we are now offering it to one lucky person at a massive discount.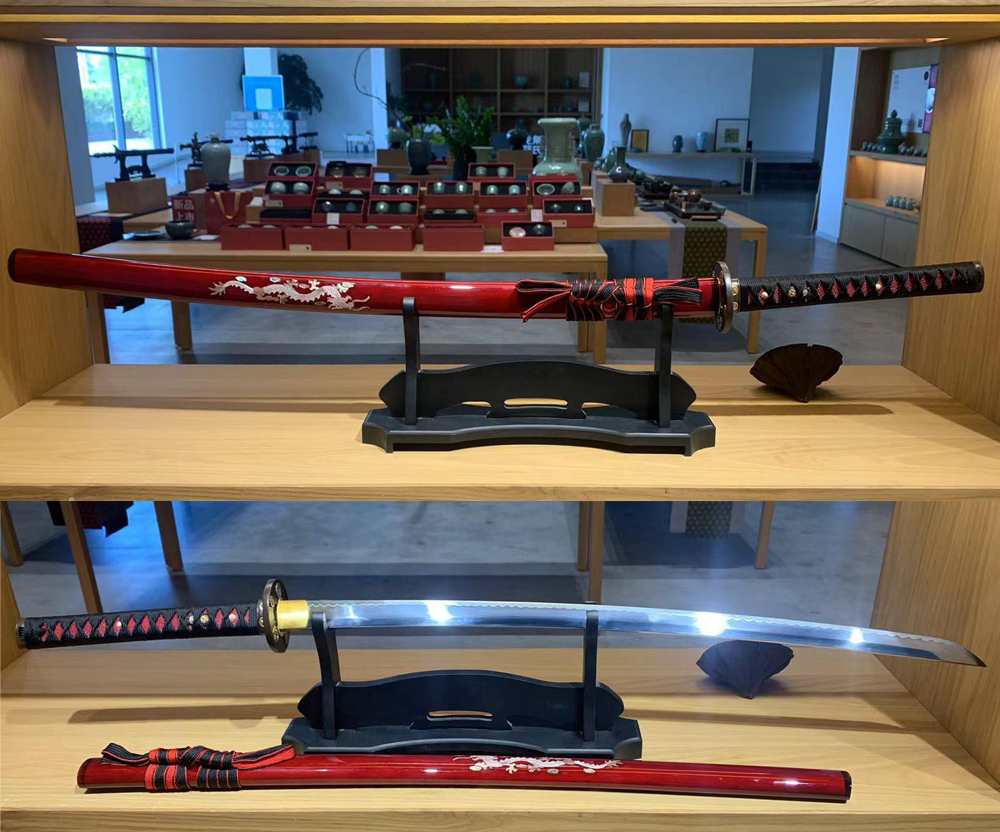 Above is the sword in question which has the following custom options selected which cost a total of $1083 to produce:
Optional Upgrade to Elite Fittings - Set T0008
M1 - Black Silk Ito
Red Rayskin
Muramasa Red & Black Sageo
S5 Saya - Burgundy w/Mother of Pearl Dragon (+$65)
The sword itself is not in scratch and dent condition, but only being sold as such beause we need to liquidate it as quickly as possible.
If you are not familiar with Forge Direct Japanese, click here for all the background info on this project over in the store blog or here to see the Muramasa custom katana product listing (links open in a new window).
How to Use
Designed for frequent cutting practice and/or display. Premium quality cutting sword.
Length in saya: 44.4 inches Total katana length: 39 inches Blade + habaki (nagasa): 28 inches Width: 1.2 inches Handle: 11 inches Weight in saya: 3lbs 4 oz weight of sword: 2lbs 8oz
Materials and Construction
Master Smith Hand Forged, Laminated (1065, T-10, 1045, T-10, 1065) and Sharpened blade. Silk ito with real rayskin tsuka. Custom choice of saya with an additional choice of special choice red/white or red/black high quality sageo.
FREE SHIPPING direct from the forge in Longquan, China via SF Express or UPS.
Warranty Info
Each sword is guaranteed to be as described and 100% genuine product. Each sword is also covered by in full by the Manufacturers Warranty PLUS our extended LIFETIME Warranty against blade breakage.
Click here for detailed warranty information
Return Policy
Scratch and Dent Sales are final and sold as is at a heavy discount. No returns unless DOA.