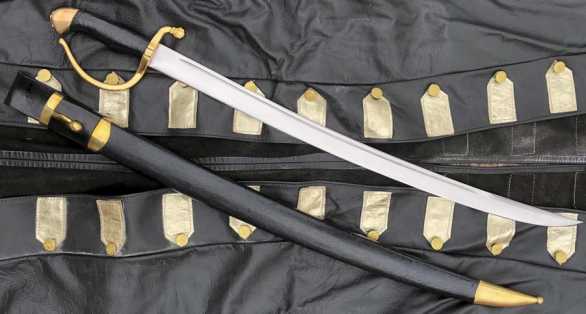 Kingdom of Arms Pirate Captain's Cutlass

Be the first one to write a review
SOLD OUT/DISCONTINUED

FREE SHIPPING IN THE USA
5160 Spring Steel Hanger Sword with solid brass furniture and wood core leather scabbard. Fast like a deadly whisper in the hand. Designed by and part of the Bruce Brookhart collection. Only 10 pcs made. MSRP $820.00

Hand Forged Pirate Captain Cutlass with solid brass furniture - The Bruce Brookhart Collection from Kingdom of Arms
This form of cutlass, known as a hanger, saw wide use throughout the western world both in the hunt and in war. With its short blade it was ideal for use in crowded shipboard conflicts but was also prized for it's ease to carry as it was small and light and allows for freedom in movement when running or riding. This example would be at home at a sea captain's side or beneath a gentleman's overcoat.
This sword is like a whisper in the hand and extremely fast and well balanced. Parts from polished brass feature seashells in the design and are effective hand protection.
Wood grip covered in rich black glove leather. Wood covered in leather scabbard with belt frog is included. Blade is tough 5160-carbon steel.
About the designer, Bruce A. Brookhart
Hello my name is Bruce Allen Brookhart and I have actively been researching edged weapons for the last 50 years.
During that period I worked with Hank Reinhardt for over 17 years and consulted with Ewart Oakeshott for about 10 years until shortly before his passing. I am proud to be able to say that these two late, great gentlemen were my friends and I have gleaned, I felt, a lot of knowledge about the subject from this association and my own research.
For the past 30 years I have made literally hundreds of prototypes of edged weapons both exact replicas of museum pieces and pieces from private collections along with my own Fantasy designs. The weapons in this collection are all my own designs that are heavily related to weapons that were used in history but are all "of a type known" and not per say replicas of any certain weapon.
Cheers,
Bruce A. Brookhart
How to Use
Fully functional sword designed for frequent test cutting practice
Overall length: 31 ½" Blade: 3/16"x 1 3/8"x 25 ¾' Point of balance: 4 ½'' below guard Weight: 1.77 pounds
Materials and Construction
5160 Spring Steel Sharpened Blade. Solid Brass fittings with leather wrapped handle. Premium Quality Construction.
FREE SHIPPING in the USA direct from the Kingdom of Arms warehouse in Jackson, Tennessee. International shipping currently unavailable (
click here
for the workaround).
Click here for more shipping information
Warranty Info
Each sword is guaranteed to be as described and 100% genuine product. Each sword is also covered by in full by the Manufacturers Warranty PLUS our extended LIFETIME Warranty against blade breakage.
Click here for detailed warranty information
Return Policy
Satisfaction Guaranteed.
We proudly stand behind every product we sell. If you are not pleased with your purchase you can return it to us within 30 days of purchase in
original, unused condition
for a full refund minus shipping and 10% restock fee.
Click here for more info on our guarantees