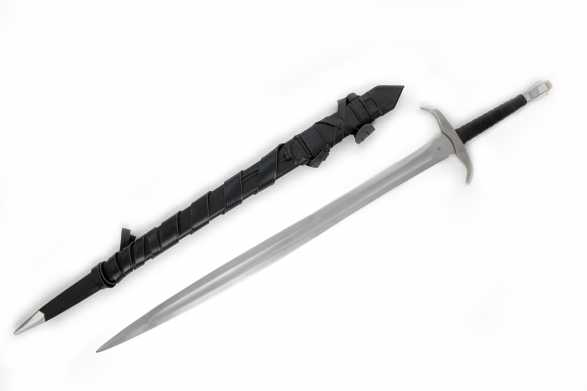 Darksword 1522 - Flame of The Angels (sharpened)
(1)
DISCONTINUED AND UNAVAILABLE

FREE SHIPPING IN CANADA AND THE USA!
Leaf shaped two handed Paladin's Holy Sword. One of the winning entries from the SBG/DSA design a sword competition.
This Paladin's Holy Sword is NOT for the faint of heart..

With a massive 36" leaf shaped 5160 spring steel blade (dual tempered with a harder HRC 60 edge and HRC 50 core) and weighing in at 3lbs 3oz, this is a whole lot of high quality, eminently durable steel for your money designed by SBG member, Adam Sharp.
The hilt itself is extremely attractive, with a solid steel crossguard and genuine leather wrap handle.

To ensure that the entire assembly is exceptionally durable, the blade is firmly PEENED to the pommel, allowing you to unleash the blades full power.

Surprisingly well balanced, it is capable of delivering truly awe inspiring blows. Hold it in your hands and you can easily imagine crashing through the ranks of an army of darkness, scattering them to the four winds, breaking their blades in half and wreaking absolute havoc!
Unlike Darksword blades we sold in the past, the sword is automatically also given a thorough sharpening until it is paper cutting sharp (normally costing an extra $35) and is also shipped FREE in North America - giving you the very best deal possible.
This sword comes with a wood core scabbard as standard with the option to upgrade it to include a premium quality sword belt with suspension system - allowing it to be worn or for an extra flourish when not in use hung on the wall (see below for a comparison).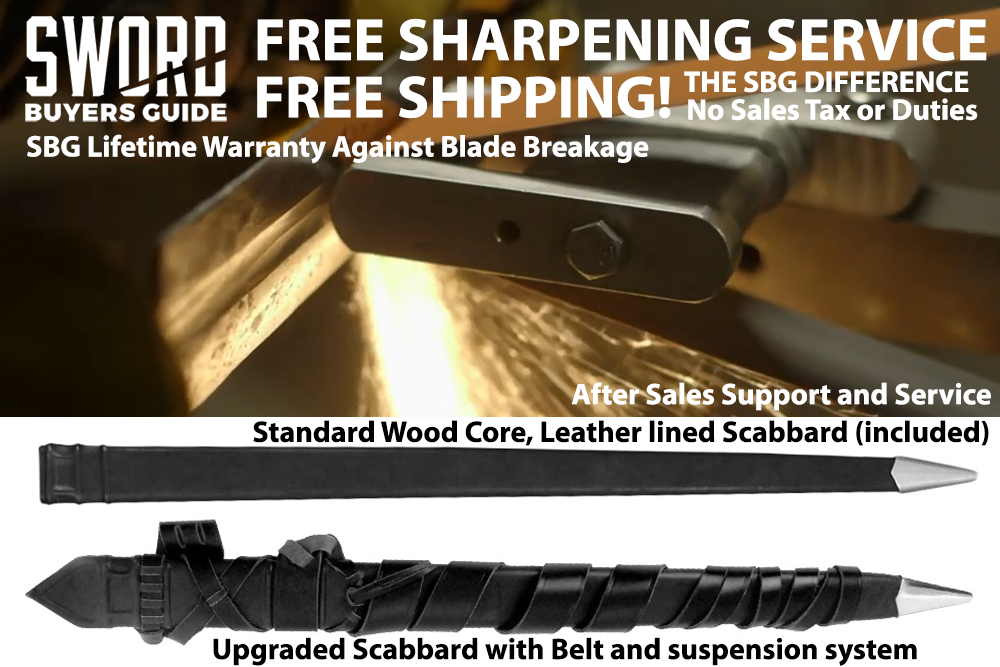 How to Use
Sharpened and Battle Ready - suitable for heavy duty backyard cutting and display.
Blade Length: 36" Handle Length: 10" Point of Balance: 6" Weight: 3lbs 3oz
Materials and Construction
5160 Hand Sharpened Spring Steel Blade, Dual Tempered with an edge HRC of 60 and core HRC of 50. Mild Steel Fittings. Wood core leather wrapped handle and scabbard with optional upgrade to wearable belt and suspension system.
IMPORTANT NOTE: A recent increase in orders has resulted in wait times of 3-4 weeks to process and ship new orders on top of standard processing time.
FREE SHIPPING to the USA and Canada from Manufacturers warehouse in Quebec, Canada via Fed Ex. Please allow up to a week for sharpening and shipping. We apologize for the inconvenience, but due to the extreme shipping costs Darksword Armory swords can no longer be shipped to non USA or Canadian addresses.
Warranty Info
Each sword is guaranteed to be as described and 100% genuine product. Each sword is also covered by in full by the Manufacturers Warranty PLUS our extended LIFETIME Warranty against blade breakage.
Click here for detailed warranty information
Return Policy
Satisfaction Guaranteed.
We proudly stand behind every product we sell. If you are not pleased with your purchase you can return it to us within 30 days of purchase in
original, unused condition
for a full refund minus shipping and 10% restock fee.
Click here for more info on our guarantees
Featured positive reviews:
Paladins Sword
03/19/2016
I have been playing D&D for 20 years with the same character and was looking for a good replica of a Paladins Holy sword. This sword caught my eye and I am really impressed with it. It feels really well made and as I usually host our games, sits on the wall behind me when I play. Could not have asked for a better Paladins sword if I had designed it myself.