SBG Black Dragon Katana- bohi variant
SBG Black Dragon Katana- bohi variant
3
Average rating:

(3)
SOLD OUT

Dragon themed, black fittings Katana with bo-hi for extra speed.
$

359.99
$399.99
You Save $40.00
in stock
The original SBG Black Dragon Katana is based on a popular configuration of our original SGG custom Katana that, despite having thousands of possible component combinations, would be selected by at least 3-4 customers every time we made a custom Katana batch...

So just for the sake of experiment - we decided to have a few made as a stocked item, but they were so popular that they sold like hotcakes and - like with this small shipment - are only available for a few short weeks at a time...

You can see one of the original customer created Black Dragons listed at the top of the SBG Custom Katana Gallery - from the Gallery
---
TEXT FROM GALLERY: "First up we have one of our custom Katana with a very dark theme; black rayskin, black cotton ito wrap (A5) a P2 Dragon themed tsuba and the matching C10 Dragon fittings as well as black textured saya (S11).





"You might think it's a little too dark, but the "all black" look is very unique and popular and personally I think this particular design came together extremely well".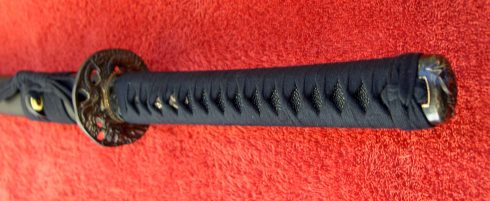 ---
An affordable, stylish and extremely popular design - this is a unique chance to own one of our forges famous differentially hardened blades without the wait and additional cost.

Brass Dragon themed fittings with all black cotton ito over real blackened rayskin, its a mean, lean cutting machine. But as demand is high and stocks limited, if you want one dont delay. While this is the 4th run of these swords margins have become so tight that there is no guarantee there will be another...

Available in Solid Bodied and bo-hi configurations (solid bodied blades tend to be better cutters due to the extra weight in the tip, those with bo-hi are generally faster and great for formwork and trick cuts).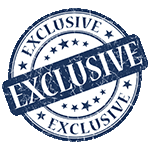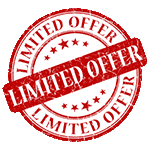 How to Use
Designed for frequent martial arts cutting practice and display.
Blade length: 28" from Muromachi/Habaki (29" from tsuba) Handle length: 11" Weight: 2lbs 6oz POB: 6" from tsuba
Materials and Construction
Differentially Hardened T10 Tool Steel Sharpened Blades with Real Hamon and bo-hi. Cotton wrapped ito with real black dyed rayskin. Brass fittings. Textured Black Saya.
FREE SHIPPING to the USA and Canada from our Canadian warehouse based in Manitoba, Canada. Non US and Canadian orders can only be shipped using the services of a third party shipping service. Some recommendations are available on our shipping policies page.
Warranty Info
Each sword is guaranteed to be as described and 100% genuine product. Each sword is also covered by in full by the Manufacturers Warranty PLUS our extended LIFETIME Warranty against blade breakage.
Click here for detailed warranty information
Return Policy
Satisfaction Guaranteed.
We proudly stand behind every product we sell. If you are not absolutely pleased with your purchase you can return it to us within 30 days of purchase in original condition for your choice of an exchange or refund (excluding shipping fees).
Click here for more info on our guarantees
Featured positive reviews:
SBG Black Dragon Katana- bohi variant

Best blade I've ever owned
11/15/2014
I'm new to collecting nice katanas but I've had a Cheness ko katana and a Hanwei katana that has the tsuba (I think?) And copper fittings of the practical series but there are other blade and detail refinements that make me believe it's a nicer one in that series, and I know it's several years old. Anyway having said all of that this SBG Black Dragon katana is their superior in every way. Handling / balance / fittings and finish are head and shoulders above. All of the fittings are solid / no slop anywhere. My favorite aspect is the balde. Wow... I'm in love. Nearly mirrored polishing, visible and gorgeously so clay heat treatment line (hamon ?). I will buy another and now am struck with the unquenchable desire to get a ko katana and tanto to match. This is the nicest katana I've ever seen in person let alone owned for my self.