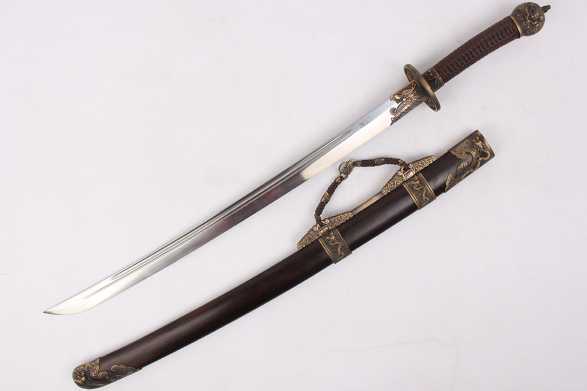 FD Willow Leaf Dao (discontinued)

Be the first one to write a review
PERMANENTLY DISCONTINUED

No Longer Available
The Willow Leaf "Liuyedao" saber by forge direct is a stunningly beautiful and incredibly effective sword based on historical swords common to the infanty and cavalry during the Ming and Qing Dynaties (1368-1911) and the most common style of Dao used in Chinese martial arts practice.
This ornate version is no common footsoldiers sword however, but a blade fit for a General. The blade is folded and differentially hardened to enchance its sharpness and cutting power - balanced to deliver fast and terribly effective cuts but also capable of delivering sudden, deep thrusts. Fittings are made from high quality brass featuring a traditional dragon theme - especially striking is the dragon mouth blade collar from which the blade pours out like liquid steel fire.
Do not be fooled by cheap and nasty imitations, this sword is the real deal. Almost never seen out of China due to the uncertain market demand and high expense of production. However, with Forge Direct, you have a rare opportunity to order one of your own with FREE worldwide shipping right here at the SBG Sword Store!
How to Use
Designed for frequent cutting practice and/or display. Heirloom quality.
22cm handle, 68.4cm blade, blade width 3.6cm, weight 1.4kg
Materials and Construction
Master Smith Hand Forged, FOLDED and Sharpened 1095 carbon steel blade with real hamon. Rosewood Scabbard and Handle with intricate traditional wrapping. Solid Bronze fittings with traditional assembly.
FREE WORLDWIDE Shipping direct from the forge in Longquan, China via EMS (please allow 4-6 weeks for sword production and shipping)
Warranty Info
Each sword is guaranteed to be as described and 100% genuine product. Each sword is also covered by in full by the Manufacturers Warranty PLUS our extended LIFETIME Warranty against blade breakage.
Click here for detailed warranty information