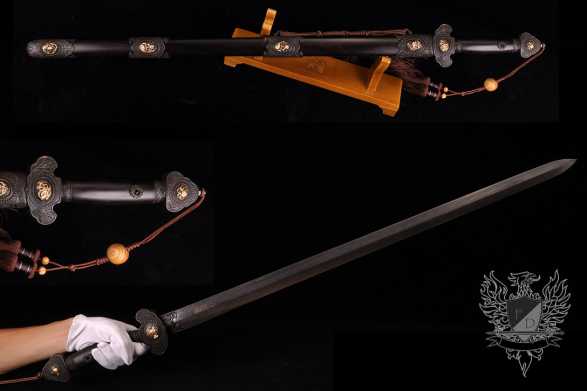 Forge Direct Golden Peony Jian
(1)
PERMANENTLY DISCONTINUED

No Longer Available
The fastest of the Forge Direct Jian offered to date, the Golden Peony is the perfect balance between looks and raw functionality. The 1095 carbon steel, mastersmith forged blade is folded in the traditional style to give the steel an attractive, damascus pattern and then professionally polished to bring out the detail and sharpen the edge until it is paper cutting sharp.
Designed primarily for precision thrusts the blade is also capable of shearing cuts and is balanced for true martial arts applications.
The scabbard and the hilt is richly decorated with brass peony themed fittings - the Peony symbolizing opulence, beauty, honor and status in traditional Chinese culture. The scabbard and the handle are both made from thick, black ebony wood - both strong and attractive, with subtle but beautiful flashes of real gold on the darkened brass.
Do not be fooled by cheap and nasty imitations, this sword is the real deal. Almost never seen out of China due to the uncertain market demand and high expense of production. However, with Forge Direct, you have a rare opportunity to order one of your own with FREE worldwide shipping right here at the SBG Sword Store!
How to Use
Designed for frequent cutting practice and/or display. Heirloom quality.
Blade length: 30.3" (77CM), Handle: 7.1" (18CM) Weight without sheath: 2.86lbs (1.3KG)
Materials and Construction
Mastersmith Forged, Folded and Sharpened 1095 Carbon Steel blade with art finish polish. Premium black ebony and hand sculpted brass fittings.
FREE SHIPPING direct from the forge in Longquan, China via SF Express or UPS, typically within 6-8 weeks (though please allow for unexpected delays)..
Warranty Info
Each sword is guaranteed to be as described and 100% genuine product. Each sword is also covered by in full by the Manufacturers Warranty PLUS our extended LIFETIME Warranty against blade breakage.
Click here for detailed warranty information
Return Policy
Satisfaction Guaranteed.
We proudly stand behind every product we sell. If you are not pleased with your purchase you can return it to us within 30 days of purchase in
original, unused condition
for a full refund minus shipping and 10% restock fee.
Click here for more info on our guarantees
Featured positive reviews:
Perfect
10/24/2018
Quick bit of background. Not a sword collector but 43 years of martial arts, 17 in Chinese soft style boxing, trying a number of others before 13 in Wado Ryu Karate and then immersed in Tai Chi. First the 'buying experience' - I had a few questions all of which were answered in 24 hours courteously, informative and with no sense of being 'sold' anything. Buying online is always anxious but took the plunge and placed an order through the website. Exactly 4 weeks later this sword arrived at my home in the UK well packaged and totally safe inside its unexpected light wood (?) case with a sword bag included.
For me it is perfect. I wanted a sword that I could use for Tai Chi Sword forms and of a similar quality to my katana. I wanted to practice with a traditional Jian not a 'Tai Chi Sword' and some might find it a little heavy but this is a fast traditional blade and really no problem to use. It is sharp - not 'razor sharp' - but since I have no intention for using this for cutting even though I am sure it would cut superbly - that would be like using a Porshe 911 in 'demolition derby'. The degree of sharpness will encourge disciplin in form whilst protecting parts of my body I would quite like to keep attached. Some will find this sword a little plain - I disagree - it is subtle, elegant and understated. I doesn't shout 'look at me' it just sits quiet and functional as a good sword should. The quality of the blade is superb - not much more I can say - the photos on the site are accurate but it is slightly lighter in 'tone' than in the pictures - and will look even better when I remove the packing oil coating.
The scabbard fittings are accented in gold - it just hi-lights the fittings without being 'bling' - don't expect 'gold fittings' - it's as if someone with gold on a finger had just gently rubbed over the surface. I hope this wears okay - we shall see. The overall construction is really good and somehow even though there are no flaws you can feel it is hand made not mass produced. The fittings overall seem excellent. This was a lot of money for me to justify especially to a sceptical wife and I am grateful that SBG really live up to their reputation.