Ryujin T10 ELITE Choji Midare Hamon Custom Katana - Musashi

Be the first one to write a review
LIMITED TIME SPECIAL OFFER: $569.99 NOW $379.99

Available until end of May or until sold out!

Iron Musashi Tsuba on ELITE level Choji Midare Hamon blade (no-hi only) with your choice of 5 different ito wrap colors and 5 different saya options. Assembled and shipped within 1 week! Amazing Value, but only for a limited time..

$

379.99
$569.99
You Save $190.00
in stock
LIMITED SPECIAL OFFER -

$569.99

NOW $379.99!
- Assembled and Shipped within 1 week from Los Angeles!
(CLICK ON the THUMBNAILS FOR MAXIMUM SIZE, FULL DETAIL RESOLUTION PICS)
A big step up in blade quality and beauty from the entry level version, this ELITE version has the same customization options as the standard SBG Ryujin custom katana but features a much more visually appealing blade with active choji midare hamon line and traditional reverse hadori finger polish to bring out the rich detail and as such as the more traditional of the two.
YOU choose from 5 tsuka (handle) and 5 saya (sheathe) combinations and make it uniquely your own..
And the best part, it is all assembled for you at the Ryujin workshop based in Los Angeles within 7 days of ordering!
The original concept was developed by Mr. Sam Sung, one of the co-founders of Musashi Swords and with the modular assembly system he has developed, keeping a large variety of parts in stock and YOU select what design best suits your unique style WITHOUT breaking the bank..!
The ONLY difference between this sword and the others in this series is this one has slightly less customization options and comes with an iron, Musashi tsuba. That and the price of course, being $70 less than the full custom option.
Don't make the mistake of thinking these swords are just pretty ornaments - these are serious, practical blades that are surprisingly robust yet traditionally constructed and at our special introductory price, are some of the best cutting swords available anywhere near this price point. The ability to customize them is indeed just a very special free bonus!!
Click here to read the full review on SBG
Click here for a gallery of the customization options
Whatever you do, do not pass this one by.
ABOUT MIYAMOTO MUSASHI AND HIS TSUBA
Miyamoto Musashi was arguably Japans most famous and skilled swordsman, having fought his first duel to the death at age 13 against a much older and experienced Samurai who was challenging all comers. According to historical records, Musashi threw the bigger man to the ground and beat him to death with a wooden stick! By end of his life, having retired to a cave at age 60 to write his famous treatise on strategy "Go Rin No Sho" (A book of five rings) he had fought at least 60 duels (though more likely double this number), several major battles and remained undefeated, earning him the title 'Kensai' (Sword Saint).
An eccentric character who defied social norms and lived his own way, without a master and upsetting the establishment who tried on many occasions to kill him without success, he was also a talented painter, writer and designed the tsuba you see on this particular sword, which depending on how you count them, has 5 'rings' and, like everything his life represented, is eminently practical - the iron construction being as strong as any other tsuba, bt lighter, subtly shifting the blades balance away from the handle to give it additional cutting power, which is further enhanced with the solid bodied/no-hi blade.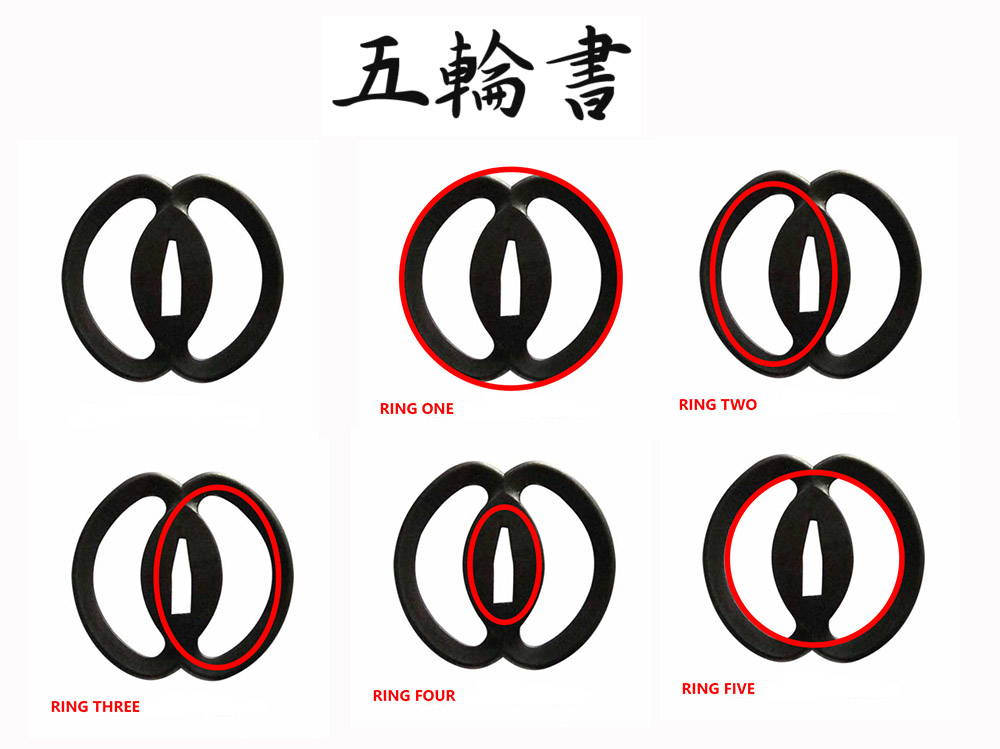 How to Use
Suitable for frequent backyard or dojo cutting. Traditional and extremely attractive blade.
27.5" blade with 11" handle. 2.5lbs (no-hi/solid bodied blade)
Materials and Construction
Differentially hardened fully sharpened T10 Tool Steel blade with real choji midare style hamon and elite polish. Solid iron fittings with iron Musashi tsuba. Colored Rayon wrapped ito over authentic rayskin in 5 different styles. Wooden lacquered saya in your choice of 5 colors and styles. Display Box Not Included.
Your sword design is assembled and shipped from the Ryujin Los Angeles based workshop within 1 week. $15 flat rate USA shipping for up to 2 swords via UPS or USPS, FREE shipping if 3 or more swords ordered at the same time. International shipping via USPS, $30 to Canada and $60 to other international destinations.
Click here for more shipping information
Warranty Info
Each sword is guaranteed to be as described and 100% genuine product. Each sword is also covered by in full by the Manufacturers Warranty PLUS our extended LIFETIME Warranty against blade breakage.
Click here for detailed warranty information
Return Policy
Satisfaction Guaranteed.
We proudly stand behind every product we sell. If you are not absolutely pleased with your purchase you can return it to us within 30 days of purchase in original condition for your choice of an exchange or refund (excluding shipping fees).
Click here for more info on our guarantees