Forge Direct Special Edition Prototype Katana Recreation #1

Be the first one to write a review
LIMITED EDITION PRODUCT WITH SPECIAL PRICING: Available from 1st to 14th September ONLY!
FREE WORLDWIDE SHIPPING!
Master Smith Forged, Optimally Balanced Design. Exact Limited Edition Recreation of the Prototypes.
$

699.99
$1,400.00
You Save $700.01
in stock
An exact recreation of the Prototype Designed, Tested and Reviewed by Paul Southren
OPTIMALLY BALANCED - Master Smith Forged Blade and Premium Fittings
To test out the quality and cutting ability of our Forge Direct Custom Katana back in 2016, I used the customization system to design two Prototypes based on and inspired by the legends of the most famous Japanese Sword Smiths, the polar opposites that are Muramasa and Masamune..
This is the tribute to the sinister Muramasa..
27" Nagasa, T-1o Tool Steel blade with partial bo-hi for balance optimization
Real choji midare hamon
geometric yokote
beautifully polished kissaki
All black, real silk fittings over real rayskin
Forged by Certified Master Smiths
SPECIAL LIMITED EDITION PRICING
Normally to make this design from our custom katana series would cost you around $1,400 (comparable quality swords are all at this price point or above) but at SBG the full custom option is discounted to just $899.99. However, due to a seasonal slow down in sales - the forge has agreed to lower our costs - and lower theirs - by making these swords as a batch with only minor customization options. By doing this, we are able to pass on another $200 off - but only in the slow season until the 14th of September 2017, when this product will be discontinued and unavailable to purchase.
Highlights from the Review: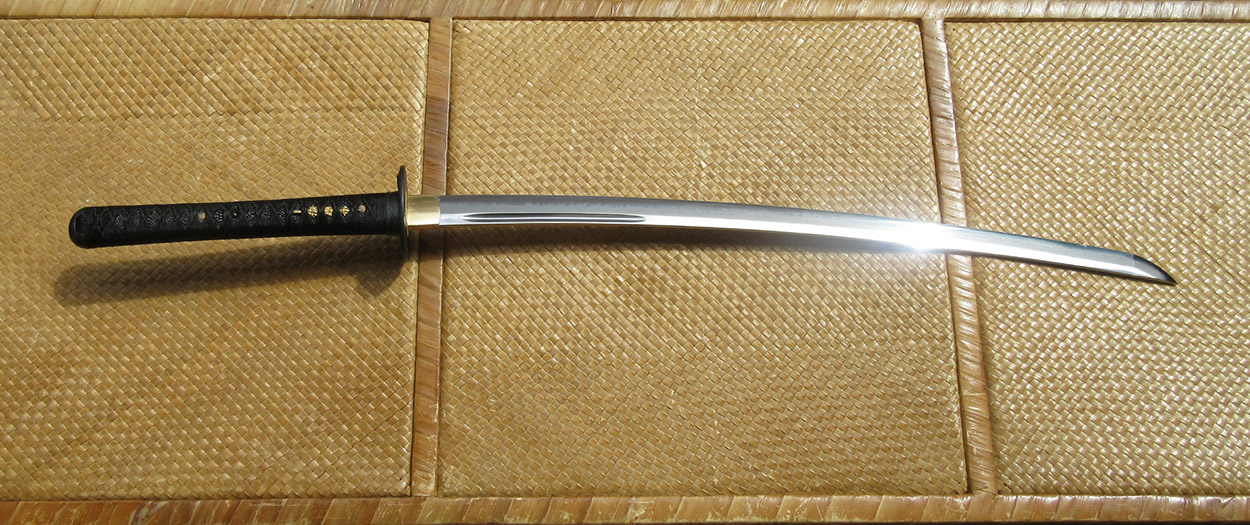 "I can only guess how many hours went into polishing the tip alone (polishing a kissaki is almost as time intensive as polishing the length of the rest of the blade due to its irregular shape)."
"The shorter Muramasa inspired Katana is one of the fastest, most agile blades I have had the pleasure of using....This gave it amazing speed and makes it one of the best Samurai Swords I have played around with for sheer responsiveness by far."
"The hamon on these swords is up there with the best Samurai swords anywhere in the world, I showed the pictures to some Japanese sword friends without telling them where the swords were made and they thought they were real Shinken made in Japan (one even thought he knew the smith!).."
"I guarantee you will agree that these are the best Samurai swords you can get hold of for this price point, and know you will not be disappointed.."
ABOUT THE FORGE DIRECT CUSTOM KATANA PROJECT
A Forge Direct Exclusive, this is the pinnacle of the various custom katana projects we have been involved with since 2008..
The concept is simple, we take the most attractive, Master Smith Forged T10 High Speed Tool Steel blades with a stunning unenhanced, natural Hamon available, you select your customization options, and 4-6 weeks later, it all comes together and is shipped to you anywhere in the world for FREE.
Do not be fooled by cheap imitations, these swords are head and shoulders above any other custom sword we have ever brought to the table.
Click here for the full review and test cutting results
How to Use
Suitable for frequent backyard or dojo cutting. Traditional blade.
27" Blade measured from Munemachi to Kissaki. Point of Balance: 5" from tsuba. Weight: 2lbs.
Materials and Construction
Differentially hardened fully sharpened Master Smith T10 Tool Steel blade with real Choji Midare hamon and elite polish. Solid iron fittings with iron tsuba with REAL gold inlay. Black Silk Ito hineri maki wrapped tsuka over authentic dyed black rayskin. Black Glossy saya with hard wearing black sageo.
FREE WORLDWIDE Shipping direct from the forge in Longquan, China via EMS (please allow 4-6 weeks for sword production and shipping)
Warranty Info
Each sword is guaranteed to be as described and 100% genuine product. Each sword is also covered by in full by the Manufacturers Warranty PLUS our extended LIFETIME Warranty against blade breakage.
Click here for detailed warranty information
Return Policy
Satisfaction Guaranteed.
We proudly stand behind every product we sell. If you are not absolutely pleased with your purchase you can return it to us within 30 days of purchase in original condition for your choice of an exchange or refund (excluding shipping fees).
Click here for more info on our guarantees