Scratch and Dent Forge Direct Haiyantang Sword

Be the first one to write a review
SOLD
FREE WORLDWIDE SHIPPING!
Scratch and Dent Custom Pommel Haiyantang Sword - tip was not properly polished, great for a project sword - save $300 and no waiting time..
$

700.00
$1,000.00
You Save $300.00
in stock
This Haiyantang Sword was specially custom made for our customer who requested a different pommel than what we usually offer on this particular sword. Unfortunatley though, somewhere along the line the very tip of the blade was left unsharpened, detracting from its overall beauty and making thrusts less effective that what they should be..
Here is a picture of the flaw close up that saves you $300 and a 4-6 month wait time (all the other pictures are of THIS particular sword, so what you see is what you will get)..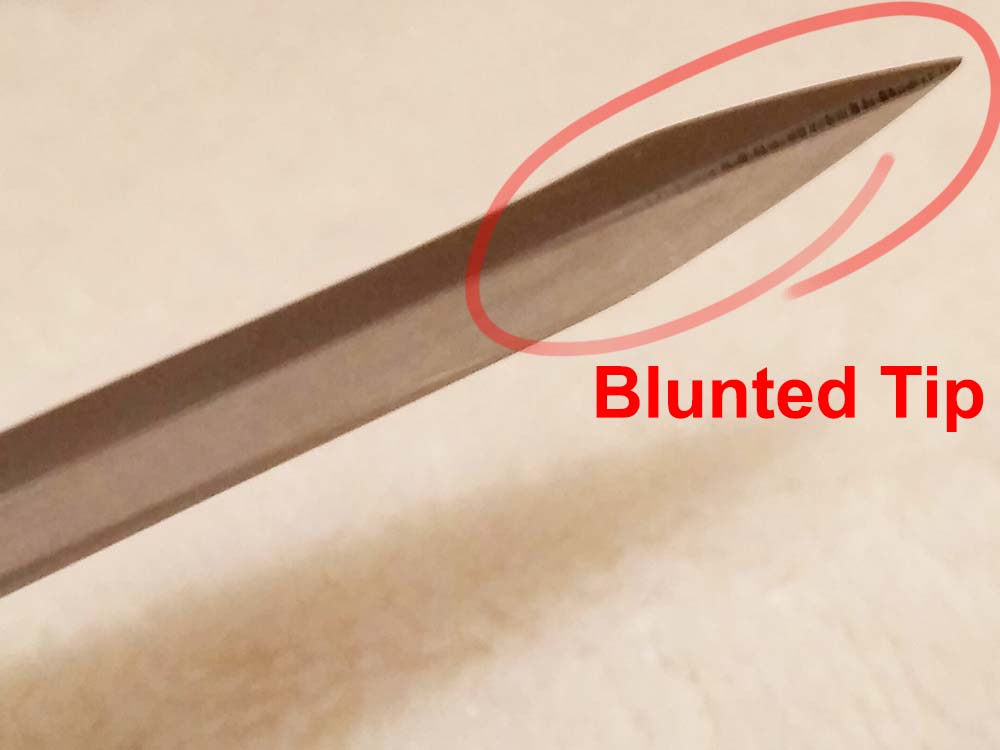 Apart from this, the rest of the sword is in pristine condition. So if you don't mind or are able to clean up the flaw and repolish the blade, this is the sword for you!
ORIGINAL DESCRIPTION
The blade is 1095 carbon steel, forged by a master smith and folded with a distinctive Damascus pattern. Fittings are made from high quality, darkened brass with handle and scabbard made from hand carved ebony.
How to Use
Designed for frequent cutting practice and/or display. Great Project Piece.
21" (55cm) blade, blade width 1.45" (3.7cm), 5.8" (15cm) handle, weight 2.2lbs (1kg)
Materials and Construction
Master Smith Hand Forged, FOLDED and Sharpened 1095 carbon steel blade with minor unsharpened area at the tip. Ebony Scabbard and Handle with solid brass fittings. Special Custom Pommel.
FREE WORLDWIDE Shipping from the Ronin Katana warehouse in Texas.
Warranty Info
Each sword is guaranteed to be as described and 100% genuine product. Each sword is also covered by in full by the Manufacturers Warranty PLUS our extended LIFETIME Warranty against blade breakage.
Click here for detailed warranty information
Return Policy
Scratch and Dent Sales are Final, no returns unless DOA.