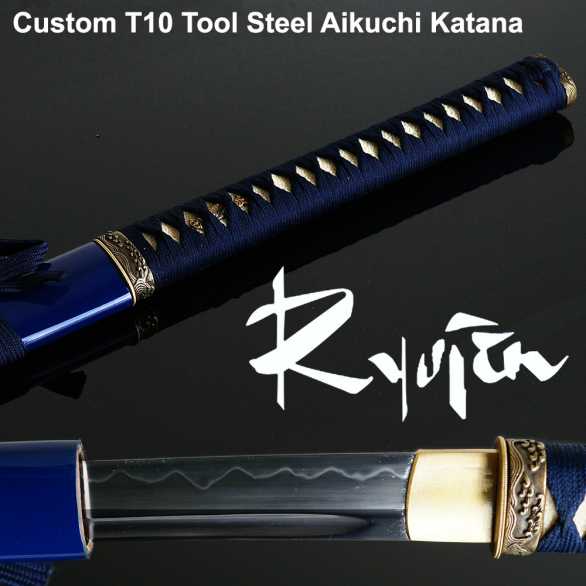 Ryujin T10 Custom Katana - Aikuchi
(3)
AVAILABLE NOW
Sleek Aickuchi Design Custom Katana with Solid Brass Tsunami Fittings and your choice of solid bodied blade or bo-hi (blood groove), 8 different ito wrap colors with brass fitting sets and 5 different saya options. Assembled and shipped within 1 week.

$

249.99
$279.99
You Save $30.00
Limited Edition Aikuchi Brass Tsunami Custom Katana

- Assembled and Shipped within 1 week from Los Angeles!
(CLICK ON the THUMBNAILS FOR MAXIMUM SIZE, FULL DETAIL RESOLUTION PICS)
Affordable, traditional and with some cool custom options - the entry level Ryujin T10 Aikuchi Custom Katana takes the standard high quality T10 tool steel blade with real hamon as the full custom option sword and lets YOU choose whether or not you want it with bo-hi (for a faster sword) or no-hi (for a more powerful cutter) and then lets you select from 8 tsuka (handle) and 5 saya (sheathe) combinations to make it uniquely your own.
And the best part, it is all assembled for you at the Ryujin workshop based in Los Angeles within 7 days of ordering! (usually much faster actually, but please allow 7 days from ordering in case the workshop is especially busy).
The original Ryujin Custom Katana concept was developed by Mr. Sam Sung, one of the co-founders of Musashi Swords and with the modular assembly system he has developed, keeping a large variety of parts in stock and YOU select what design best suits your unique style WITHOUT breaking the bank..!
The ONLY difference between this sword and the others in this series is this one is a sleek lined Aikuchi Katana without a tsuba, but has instead high quality tsunami wave themed brass fuchi and kashira and slightly less customization options. That and the price of course, being $30 less than the full custom option makes it an especially good deal if you like this style of sword.
Don't make the mistake of thinking these swords are just pretty ornaments - these are serious, practical blades that are surprisingly robust yet traditionally constructed and at our special introductory price, are some of the best cutting swords available anywhere near this price point. The ability to customize them is indeed just a very special free bonus!!
HISTORY OF AIKUCHI UCHIGATANA
The Aikuchi (meaning 'meets at the mouth') style of Japanese sword mounting was quite common on Tanto and Wakizashi, but was also historically seen on Katana. It was most popular during the Kamakura Jidai (1185-1333) as it facilitated wearing the sword closer to the armor than what was possible with a tsuba. In later periods it was favored by the nobility - in particular the Daimyo Uesugi Kenshin (1530-1578). This style without a tsuba was also called koshigatana koshirae.
In recent years Australian designer Mark Newson teamed up with traditional swordmakers in the Tohoku region devastated by the 2011 earthquake to make a luxury AikuchiKatana that sold for over $300,000....
How to Use
Suitable for frequent backyard or dojo cutting. Traditional blade - select bo-hi/no-hi and your own tsuka and saya option.
27.5" blade with 11" handle. Weight 2.1lbs (with bo-hi) 2.3lbs (no-hi version).
Materials and Construction
Differentially hardened fully sharpened T10 Tool Steel blade with real hamon. Solid brass fittings cast with tsunami wave theme. Colored Rayon wrapped ito over authentic rayskin in 6 different styles with brass tsunami themed fittings. Wooden lacquered saya in your choice of 5 colors and styles.
Shipped from the Ryujin workshop in Los Angeles within 2 business days. $20 flat rate USA shipping for up to 2 swords via UPS or USPS, FREE shipping if 3 or more swords ordered at the same time. International shipping via USPS, $60 to selected international destinations by USPS.
Click here for more shipping information
Warranty Info
Each sword is guaranteed to be as described and 100% genuine product. Each sword is also covered by in full by the Manufacturers Warranty PLUS our extended LIFETIME Warranty against blade breakage.
Click here for detailed warranty information
Return Policy
Payments made on custom orders are non refundable and cannot be cancelled once work has commenced as they are made to order to YOUR personal tastes and the expenses incurred making it are non refundable to us as well. If there is a problem with your custom order we will work with you to provide a fair and satisfactory outcome, up to and including remaking the sword and in general going the extra mile to ensure that at the end of it all, you are pleased with your purchase.
Click here for more info on our guarantees
Featured positive reviews:
Respectable Sword at a Great Price
04/19/2019
This sword was purchased as a gift for a friend. The package arrived on time and was delivered by UPS in good condition. Opening the package, I was happy with the Sword Bag (Koi). The Ryujin Logo is on the bag, made of wire, but the bag is two ply with a gold inner cloth. As for the sword itself, the Saya seems darker than the picture would indicate. Nothing drastic, just noteable. The mekugi closest to the tsuba does seem to be buried into the sting ray panels, this is my reason for 4 stars and not 5. I would have perfered a flush pin and I always find something like this spooky when it comes to cutting. The saya does have a very small imperfection but with it being the size of a pinhead, I only mention it to help others know what to possibly expect. Drawing the sword, it does feel tighter than it should be but it certainly will not slip out if held at an odd angle. Lacking the tsuba to push with the thumb the sword could stand to be a touch looser but I feel this will wear away with time. I am not certain of this but the sword feels heavier in the hand, I am thinking that the tsuba adds a good amount of balance to the blade so when I picked the sword up it felt more like a two handed sabre than a katana with more weight forward than back. Overall I am very pleased with the sword and it is my hope that my friend enjoys it as much as I do. I hope this have been informative.
Our response
Saya can and do tighten or loosen depending on atmospheric conditions different from where it was made or assembled. If adjustments are needed, this article is helpful.