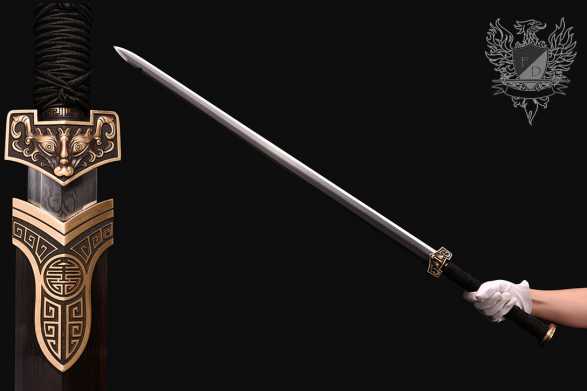 Forge Direct Imperial Dragon Jian

Be the first one to write a review
PERMANENTLY DISCONTINUED

No Longer Available
One of the most attractive and striking Han Dynasty swords ever made - the Imperial Dragon Jian features a meaty 1095 forged and folded blade with ornate Imperial Dragon themed brass fittings.
A relatively heavy two handed Jian, while some extra muscle may be needed to fully utilize this sword, as a piece of functional sword art this sword excels - for it is folded using a technique similar to pattern welding to produce a symmetrical 'Duramen' (heartwood of a tree) pattern that has to be seen to be believed.
Designed primarily for precision thrusts the blade is also capable of shearing power cuts.
Do not be fooled by cheap and nasty imitations, this sword is the real deal. Almost never seen out of China due to the uncertain market demand and high expense of production. However, with Forge Direct, you have a rare opportunity to order one of your own with FREE worldwide shipping right here at the SBG Sword Store!
How to Use
Designed for frequent cutting practice and/or display. Heirloom quality.
Blade length: 30.3" (77CM), Handle: 7.8" (20CM) Blade Width: 1.45" (3.7CM) Blade Thickness: 0.3" (0.8CM) Point of Balance: 5.9" (15CM) Weight without sheath: 3.52lbs (1.6KG)
Materials and Construction
Mastersmith Forged, Folded (Duramen Patterned) and Sharpened 1095 Carbon Steel blade with art finish polish. Premium black ebony and hand sculpted brass fittings.
FREE SHIPPING direct from the forge in Longquan, China via SF Express or UPS, typically within 6-8 weeks (though please allow for unexpected delays)..
Warranty Info
Each sword is guaranteed to be as described and 100% genuine product. Each sword is also covered by in full by the Manufacturers Warranty PLUS our extended LIFETIME Warranty against blade breakage.
Click here for detailed warranty information
Return Policy
Satisfaction Guaranteed.
We proudly stand behind every product we sell. If you are not pleased with your purchase you can return it to us within 30 days of purchase in
original, unused condition
for a full refund minus shipping and 10% restock fee.
Click here for more info on our guarantees