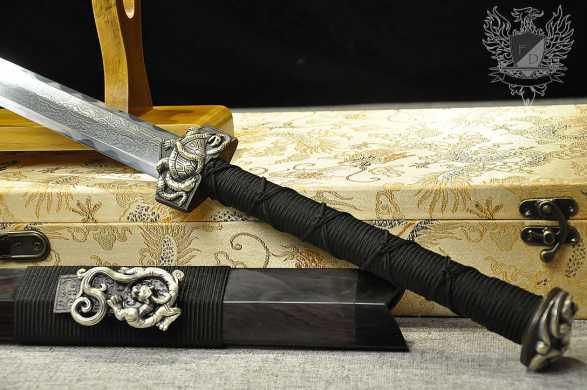 Forge Direct Four Beasts Sword

Be the first one to write a review
PERMANENTLY DISCONTINUED

No Longer Available
Known as the "Gentleman of Weapons" this stunning, mastersmith forged Jian is designed for extremely precise thrusting but is more than capable of delivering limb severing, shearing cuts.
This particular piece has an amazingly detailed, folded 1095 damascus steel blade that has also been differentially hardened on both edges to produce an extra dimension of visual appeal, but more importantly, serves a functional purpose of hardening the edge so that it can take and keep an extremely keen cutting surface.
The fittings are solid brass and highly symbolic, featuring the "4 beasts": The Azure Dragon of the East, the Vermillion Bird of the South, the White Tiger of the West and the Black Turtle of the North. These 4 beasts, also correspond with the 4 seasons and the 5 elements and the symbolism is repeated throughout all of East Asia including China, Korea and Japan - as well as neighboring Vietnam - but it all adds up on one thing: a highly traditional design that truly compliments this extraordinary Chinese blade.
Fast in the hand without being the least bit "whippy" - this sword is a modern day classic.
Do not be fooled by cheap and nasty imitations, this sword is the real deal. Almost never seen out of China due to the uncertain market demand and high expense of production. However, with Forge Direct, you have a rare opportunity to order one of your own with FREE worldwide shipping right here at the SBG Sword Store!
How to Use
Designed for frequent cutting practice and/or display. Heirloom quality.
Blade Length: 29.5" (75CM), Handle Length: 9.8" (25CM), Point of Balance: 4.72" (12CM), Weight: 2.86lbs (1.3KG)
Materials and Construction
Master Smith Hand Forged, FOLDED and Sharpened 1095 carbon steel blade with differentially hardened blade. Solid Brass and Ebony Hardwood fittings.
FREE SHIPPING direct from the forge in Longquan, China via SF Express or UPS, typically within 6-8 weeks (though please allow for unexpected delays)..
Warranty Info
Each sword is guaranteed to be as described and 100% genuine product. Each sword is also covered by in full by the Manufacturers Warranty PLUS our extended LIFETIME Warranty against blade breakage.
Click here for detailed warranty information
Return Policy
Satisfaction Guaranteed.
We proudly stand behind every product we sell. If you are not pleased with your purchase you can return it to us within 30 days of purchase in
original, unused condition
for a full refund minus shipping and 10% restock fee.
Click here for more info on our guarantees