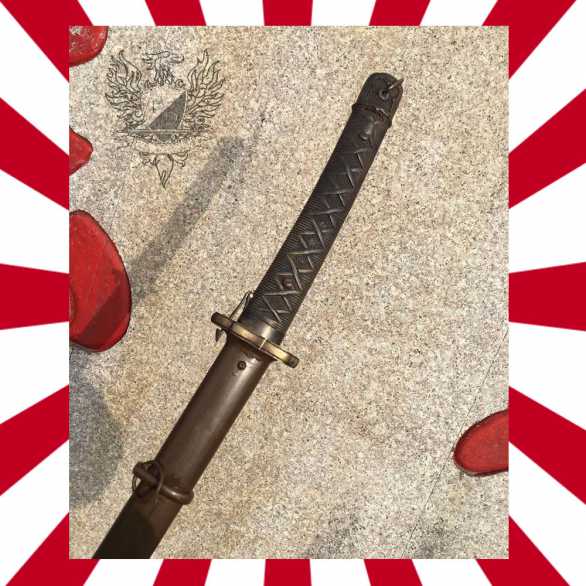 FD "Officers Gunto" Military Katana (discontinued)

Be the first one to write a review
PERMANENTLY DISCONTINUED
No Longer Available
The Forge Direct Gunto Katana is a replica of the extremely rare type of highly sought after WWII sword that took an ancient family heirloom blade, and mounted it in 20th century Japanese military sword fittings.
While most Japanese Gunto (Gun meaning 'army' and To sword - so 'Army Sword') were monotempered mass produced blades of average quality at best, every now and again treasures like these would be found on the battlefield and some were even priceless national treasures - and it is this kind of sword that we are recreating with our officers Gunto replica.
The blade of this sword is made from the highest quality T10 tool steel, and differentially hardened to produce an authentic hamon temper line. Fittings of the handle are brass over a wooden core, with a lockable push button release attaching it to the iron over wood core saya. As such, the whole construction is extremely solid and represents a 20th century evolution of the ancient Japanese sword.
How to Use
Suitable for backyard cutting, practice or display. Heirloom quality.
blade length: 28.3" (72cm) handle: 9.4" (24cm) blade width: 1.25" (3.2cm) blade thickness: .23" (0.6cm) weight without sheath: 2.97lbs (1.35kg) Point of Balance: 3.1" (8cm)
Materials and Construction
Differentially hardened Master Smith forged and sharpened T10 Tool Steel Blade with real hamon. Brass Fittings and brass, sculpted tsuka handle with wood core. Wood core sheathe.