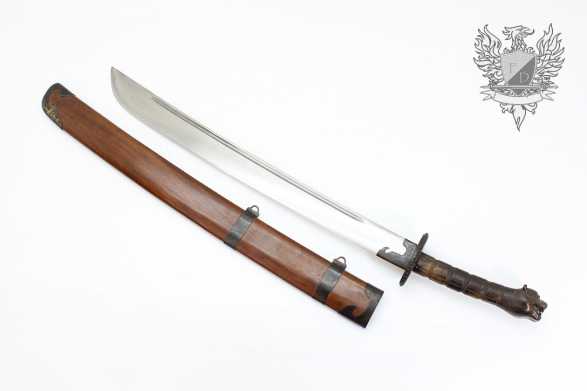 FD Dadao Chinese War Sword (discontinued)

Be the first one to write a review
PERMANENTLY DISCONTINUED

No Longer Available
50% Closeout Last Chance Discount
This sword has not been a popular seller - why - we don't know. But if it is price, with this special last chance offer we remove that barrier, offering this sword at 50% off the normal price until the end of October 2018.
If we sell a few, we may negotiate with the forge and see if we can tweak the price any. If it still doesn't sell, then we clear it out once and for all. So if you like it, now is your chance not only to pick it up at the best price it will ever be offered at - but also to save it for future sword buyers.
---
This later period, 17th century sword is both rugged and utilitarian, yet this version was most certainly not the blade of a rank and file soldier..
Made from Master Smith Forged and Folded 1095 Carbon Steel, the detailed and rich Damascus pattern of the steel is both beautiful and expertly executed. The wide (1.7") and thick (0.25") blade is counterbalanced by a solid brass cheetah head pommel handle cast as one piece, so despite the total weight of 3.3lbs, this brutish chopper is surprisingly spry, with a point of balance only 2.75" shy of the hilt..
An amazing display piece that would more than come in handy for any pending zombie apocalypse - do not be fooled by cheap imitations, this sword is the real deal. Almost never seen out of China due to the uncertain market demand and high expense of production. However, with Forge Direct, you have a rare opportunity to order one of your own with FREE worldwide shipping right here at the SBG Sword Store! Badassery at its finest, own a piece of East Asian history with this monstrous blade.
How to Use
Designed for frequent cutting practice and/or display. Heirloom quality.
blade length:25" (65cm) handle: 8.6" (22cm) blade width: 1.7" (4.5cm) blade thickness: 0.25" (0.65cm) weight without sheath: 3.3lbs (1.5kg) POB: 2.75" (7cm)
Materials and Construction
Master Smith Hand Forged, FOLDED and Sharpened 1095 carbon steel blade. Rosewood and Scabbard, High Quality Cast Brass Fittings and Handle.
FREE WORLDWIDE Shipping direct from the forge in Longquan, China via EMS (please allow 4-6 weeks for sword production and shipping)
Warranty Info
Each sword is guaranteed to be as described and 100% genuine product. Each sword is also covered by in full by the Manufacturers Warranty PLUS our extended LIFETIME Warranty against blade breakage.
Click here for detailed warranty information