Ryujin T10 Custom Katana - Mother of Pearl Elite Saya
Ryujin T10 Custom Katana - Mother of Pearl Elite Saya
3
Average rating:

(3)
LIMITED TIME PRODUCT AND SPECIAL OFFER: ONLY AVAILABLE FROM BLACK FRIDAY TO MIDNIGHT CYBER-MONDAY.

Classic Ryujin T10 tool steel blade with elite Mother of Pearl Inlaid Redwood Saya (valued at over $100 just by itself!) in red or black theme. Assembled to your specifications and shipped within 1 week!

IT'S BACK FOR BLACK FRIDAY AND CYBER MONDAY! LIMITED SPECIAL OFFER - the Ryujin Mother of Pearl Saya

- Assembled and Shipped within 1 week from Los Angeles!
(CLICK ON the THUMBNAILS FOR MAXIMUM SIZE, FULL DETAIL RESOLUTION PICS)
Available only until the end of June - select either a solid bodied or fullered blade from the classic Ryujin T10 tool steel series and bling it up with one of the the highest quality saya around, a stunning redwood sheathe with mother of pearl inlay which is valued at over $100 just by itself - but the whole package is the same price as our standard Ryujin Custom Katana!
This offer is only available in June as the Mother of Pearl Saya really is too expensive to be offered on any of the standard Ryujin products we are clearing it out with this amazing deal at wholesale prices. To make the whole design 'pop' while still making it uniquely your own, you have a choice of two tsuba types - the classic iron Musashi tsuba or the new iron Bamboo themed tsuba. Then you select the color of the ito wrap to go on the handle - either black or red, either of which matches the style and look of the elite saya, and is given an extra boost in beauty with solid brass, tsunami themed fuchi and kashira.
Makes a perfect gift for Christmas - especially when combined with the optional extra display box and/or sword stand.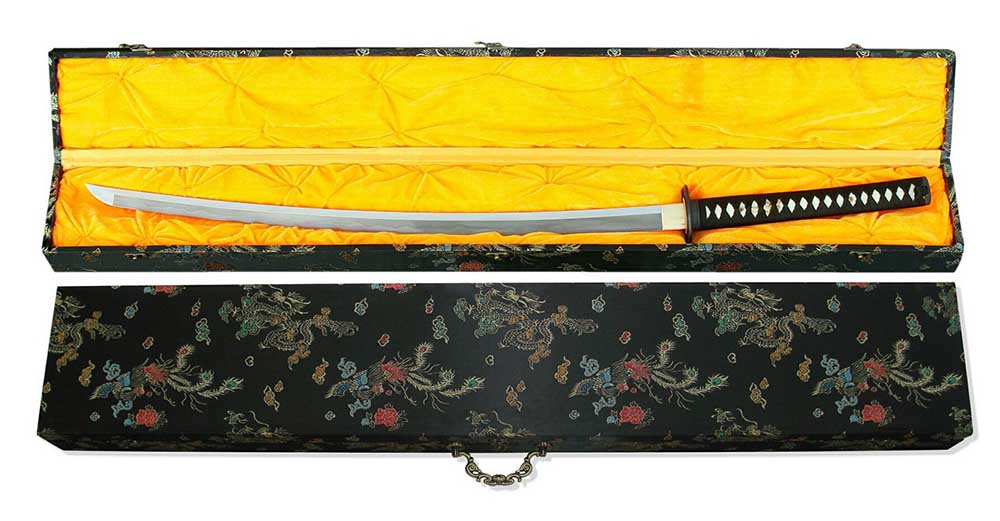 How to Use
Suitable for frequent backyard or dojo cutting. Traditional blade.
27.5" blade with 11" handle. Weight 2.3lbs (with bo-hi) 2.5lbs (no-hi version).
Materials and Construction
Differentially hardened fully sharpened T10 Tool Steel in your choice of solid bodied or fullered blades. Solid iron fittings with iron bamboo or iron Musashi themed tsuba. Colored Rayon wrapped ito over authentic rayskin in red or black on tsunami themed brass fittings handle. Premium quality wooden lacquered saya with mother of pearl inlay valued at over $100 just by itself!
Shipped from the Ryujin workshop in Los Angeles within 2 business days. $15 flat rate USA shipping for up to 2 swords via UPS or USPS, FREE shipping if 3 or more swords ordered at the same time. International shipping via USPS, $30 to Canada and $60 to other international destinations.
Click here for more shipping information
Warranty Info
Each sword is guaranteed to be as described and 100% genuine product. Each sword is also covered by in full by the Manufacturers Warranty PLUS our extended LIFETIME Warranty against blade breakage.
Click here for detailed warranty information
Return Policy
Satisfaction Guaranteed.
We proudly stand behind every product we sell. If you are not absolutely pleased with your purchase you can return it to us within 30 days of purchase in original condition for your choice of an exchange or refund (excluding shipping fees).
Click here for more info on our guarantees
Featured positive reviews:
Ryujin T10 Custom Katana - Mother of Pearl Elite Saya

Buy it if u can :)
07/18/2018
The one I bought was on sale for $230 a savings of $140. Based on the price I gave it 5 stars. Now for the sword.
The Blade wasn't perfect, it had a few noticeable scratches across it in several places, and the beveling of the tip was off set or different from side to side. Aside from that it was perfect. The tempering line was the gunome midare type and the polish was great. Very sharp
The scabbard was perfect in every way just as pictured.
The handle was a bit of a disappointment, as the fittings were not as pictured , they did not have the lotus blossom, and appear to be of a slight lesser quality. The wrapping was not as tight as I would like.
I was surprised to see that it came in a nice Ryujin cloth bag and a certificate of authenticity that included the serial # , the actual hardness ratings , and the stats of the sword.
I am very pleased with it , and would definitely buy another one if and or when they become available again.