Project X - Model 006 "Dragon" Katana Mk II - Custom Option
(1)
UNAVAILABLE/DISCONTINUED
The most ornate of all the Project X series swords
Premium Quality, Master Smith Forged Soshu Kitae Blade with a selection of ornate copper fitting sets. Due to complex nature of the Soshu Kitae lamination and the difficulty of making these blades to our high standards, please allow 3 to 4 months for completion.

About the Model 006 Dragon Katana Mk II
The "Dragon", model 006 of Project X Japanese, is perhaps the most ornate - while the other swords in the series have austere iron fittings - the Dragon is mounted in work hardened copper with genuine gold and silver paint. Fittings like these were made by highly skilled and highly specialized artisans and were so valued that the fittings were as much an heirloom as the blade, often passed down through the generations. Becoming increasingly ornate and detailed, only the highest ranked Samurai families possessed swords with such fittings, and in some ways they were almost 'fashion accessories' for the Edo period was a time of peace, with conflict only between dueling Samurai clans or dealing with bandits or robbers on the road.
To properly compliment the beauty of the blade, all fittings used are the best quality available - real silk ito wraps with hishigami triangles used for extra tightness and perfectly even lines, buffalo horn inserts on all saya, FULL premium quality rayskin wraps (frequently with at least one prominent emperor node) - in short, no expenses are spared to ensure the end result is the absolute best of breed for any sword near this price point.
As each sword in the Project X series is made to order, most models allow various customization options so you can personalize the design without losing its theme or accidentally creating a rather ugly or bad handling sword. Customization is free and you can either leave the design as the default, customize it a little or customize it a lot. The choice is yours and you really can't go wrong - and if you want to you can also mix and match components that you like from other swords in the series.
About Project X Japanese
Quite simply, Project X is a collaborative effort between Ronin Katana, SBG and Longquan's top sword forge - all working together to create arguably some of the the absolute best quality Katana ever made outside of Japan.

The blades are hand forged by Certified Master Smiths in the Soshu Kitae tradition (seven panel steel). This school was developed by the legendary and all time greatest Japanese smith Masamune, and combines panels of hard, medium, and soft steels.
TYPES OF KATANA LAMINATION

Soshu Kitae Lamination - far right. It is by far the most complex and desirable lamination technique.
The core of the blade is formed from softer, more malleable steel giving it exceptional flexibility. A layer of slightly harder steel is bonded to each side of the core to add support. The last layers are a very hard steel bonded to the top, bottom, and both sides of the core forming the ha (cutting edge) mune (back edge) and shinogi-ji (blade flats). This form of laminar construction provided for a sword that could be sharpened to a razor edge due to the hardened steed used for the ha, but was extremely resilient to battle damage due to its softer more flexible core.

As a by product of the process, the blade features not only a hamon, but also attractive lamination lines, resulting in a very active and attractive blade with interplay between the lamination lines and hamon. Like a fingerprint, each blade is unique and has its own distinctive patterning.

The quality of the swords in the Project X series do not end with the blade - each is complimented with premium fittings across the board with no expenses spared. For example, each sword in the series has a rare FULL Samegawa rayskin base for added tsuka core integrity and is wrapped with premium grade silk ito using the traditional and time intensive hishigami technique, twisting each knot alternatively. Combined with the full same wrap, the end result is an extremely tight and even handle binding. But the upgrades do not end there, all Project X Katana swords have every upgrade possible - such as additional coatings of lacquer on the saya for a richer, more durable sheen, buffalo horn saya fittings, thick, ultra strong sageo - solid iron fuchigashira - you name it, these swords have it, creating the ultimate complete package.

I personally endorse these swords as the best of the best available anywhere near this price point, and in September 2012 went to the forge in Longquan to oversee production and was very happy with the results (In the gallery you can see some pictures of me inspecting the finished blades).
After several years of occasional and sporadic offerings and a further 2 years of hard work trying to convince the forge to 'go direct' and allow customized, made to order and shipped direct to the customer - we finally had a breakthrough. And in mid 2019, the first trial run of a custom made to order began.

At around the $1,000 mark they are not for everyone - but the value for money factor is off the scale - typically you would pay at least twice as much for a sword like this, but that is not how SBG does business.. Instead, we mark up the price just enough to cover our costs and stay in business allowing discerning collectors to get the best around for considerably less than what the true market value would otherwise be for such a high quality sword.

Add in the ability to tweak and customize almost every aspect of the blade and the fittings and its not just amazing value, it's next level. In short:
If you want the best - THIS is it..
For more information please read the full article and overview of the Project here: Full Details and Project Overview
CUSTOMIZE IT!
Each Project X Katana is made to order and as such, most can also be customized to taste. Though instead of total free for all customization which can result in an ugly or unwieldy design - each product only comes with a carefully chosen selection of custom options that will enhance and personalize the theme without destroying it.
Most customizations are exclusive to that particular sword design, though if you want to go totally freestyle, simply email us with what you have in mind and we will see what we can do. Otherwise, to customize your sword, change the desired component from default to the item that you would like it to be changed to and submit your order.
Here are the customization options for model #006:
1) Custom Blade Length (measured from the munemachi to the kissaki)
2) Custom Length of Handle
4) Custom iron or work hardened copper Tsuba and fittings
5) Custom Menuki
6) Custom Saya
7) Bo-hi or Dragon Horimono
8) Optional Extra: Folded steel (in addition to Soshu Kitae lamination and Choji hamon)
CUSTOM FITTINGS
After you have selected your desired blade and handle length, it is time to select a tsuba. The tsuba presented below are all based on actual Edo period antiques owned by high ranking Samurai families and even Daimyo. Most are made from work hardened copper with real gold and silver highlights while others are iron. Historically, the copper sets were used to dress up the sword for formal occasions, while iron ones were used when combat was imminent.
Iron or Work hardened copper fitting sets

All of the tsuba below come with a complete matching set of fittings for a consistent theme. High resolutions of the front and back of each of these fitting sets is available HERE on a dedicated page on our store blog (link opens in a new window).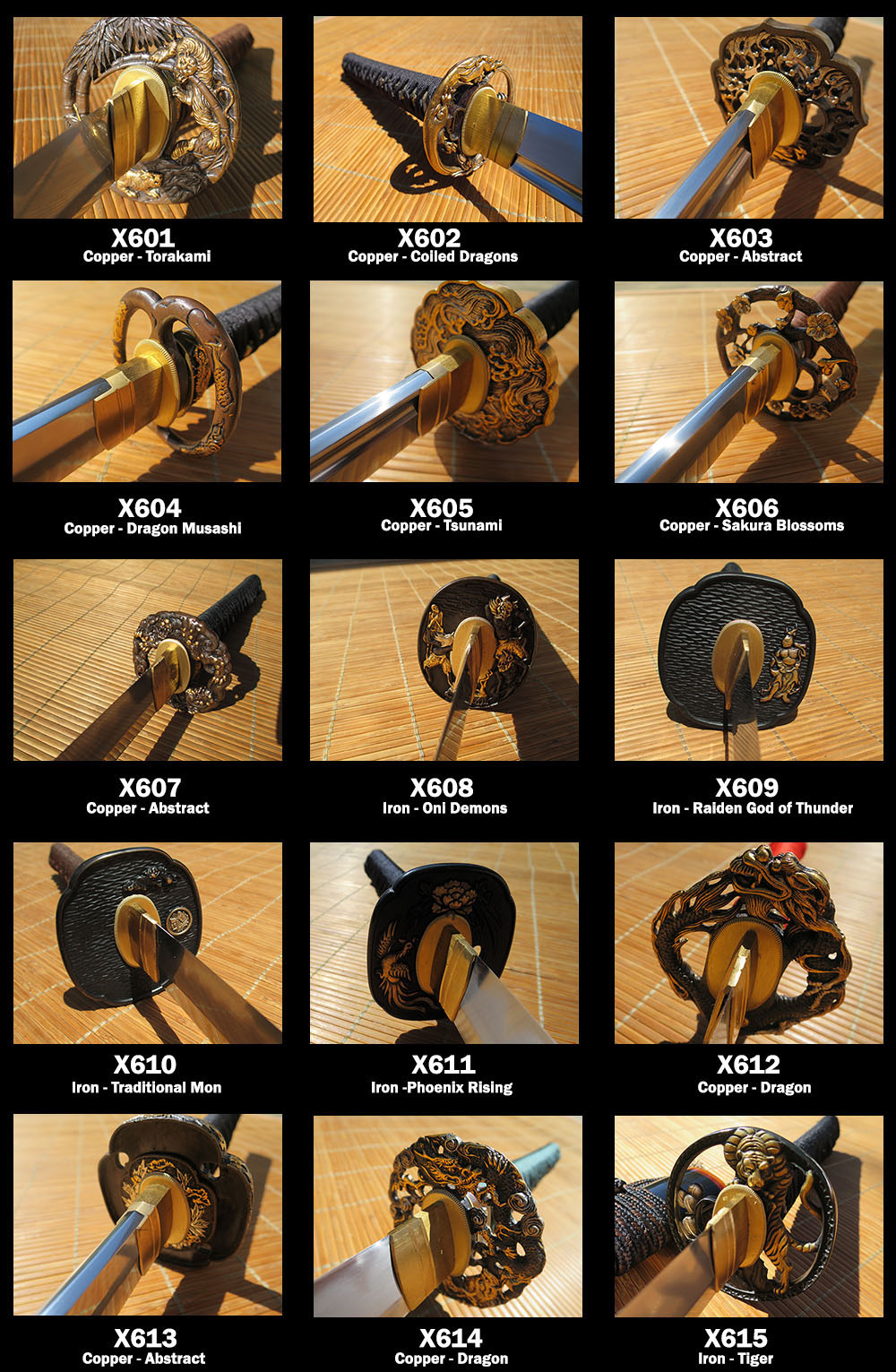 Custom Menuki (handle ornaments)
The choice of menuki (handle ornaments) was not covered by Banzasi regulations, though generally the subtler the better. By default this design comes with a brass dragon themed menuki set, but feel free to change it to something more personal from the selection below.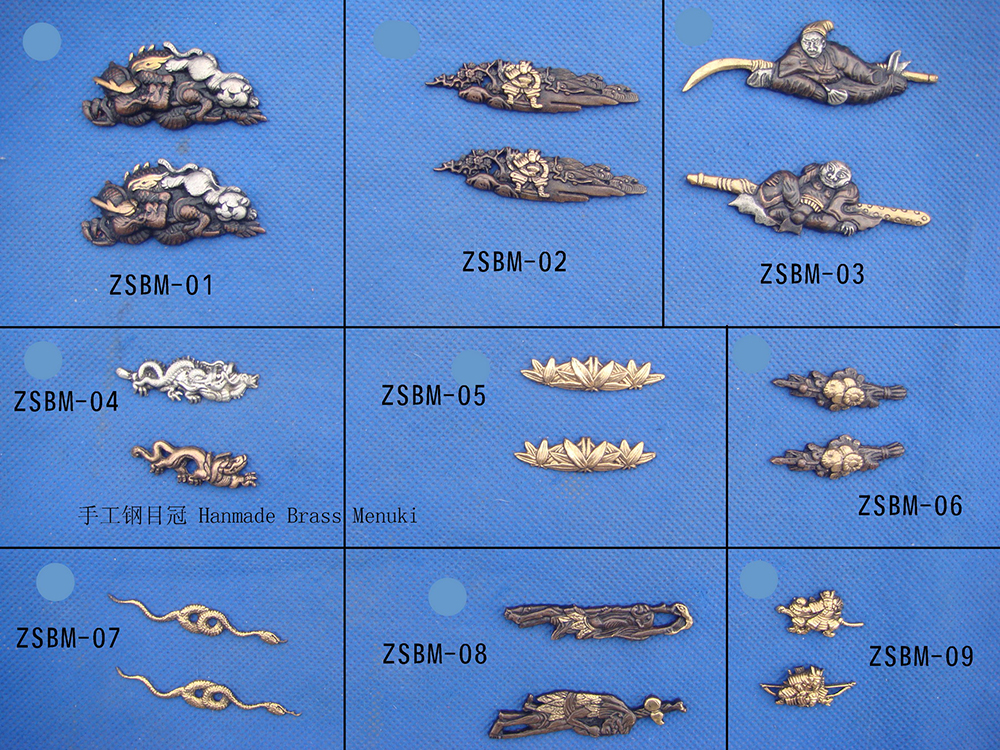 Optional Custom Saya
There are four Banzashi regulation saya choices for the Kenshi - all within Banzashi regulations, and all with premium black lacquer and real buffalo horn reinforcing the koiguchi. kurikata and kojiri. The default choice (1) is glossy black. (2) has a textured finish to minimize finger prints and scratches. Saya (3) has gold leaf inserts while Saya (4) has a hand painted mural in the classic e-maki style depicting a White Tiger facing off against a Dragon coming down to fight him from the clouds.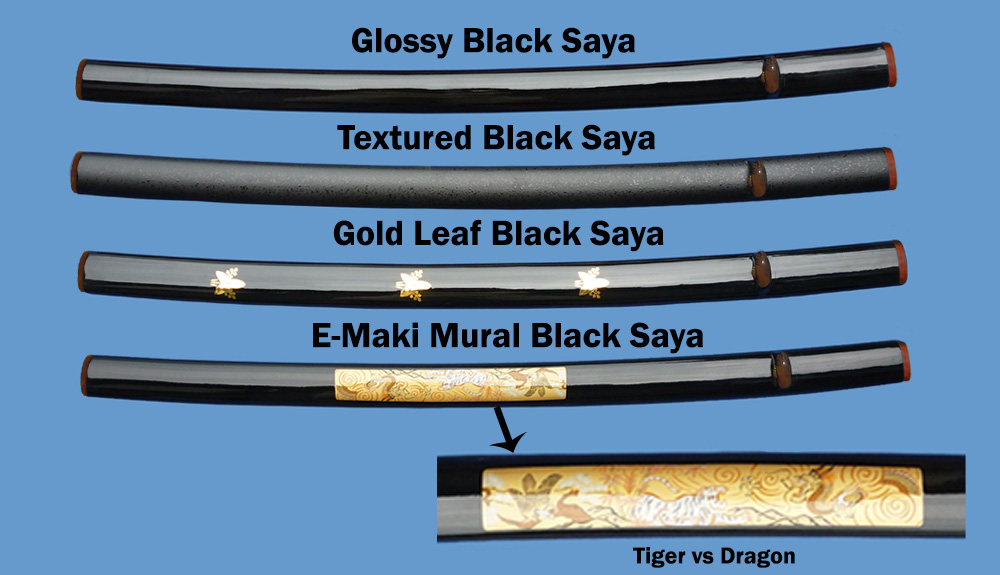 Bo-hi or No-hi
Select if you would like a blade with a bo-hi (fuller) which runs the full length of the blade and terminates in a traditional hand carved triangular pattern as opposed to the typical machine made rounded version. A blade with bo-hi tends to be slightly lighter and faster, making a louder wooshing sound (called 'Tachi Kaze') when it cuts through the air. A solid bodied blade without a bo-hi tends to deliver more powerful cuts and is the more durable construction method of the two.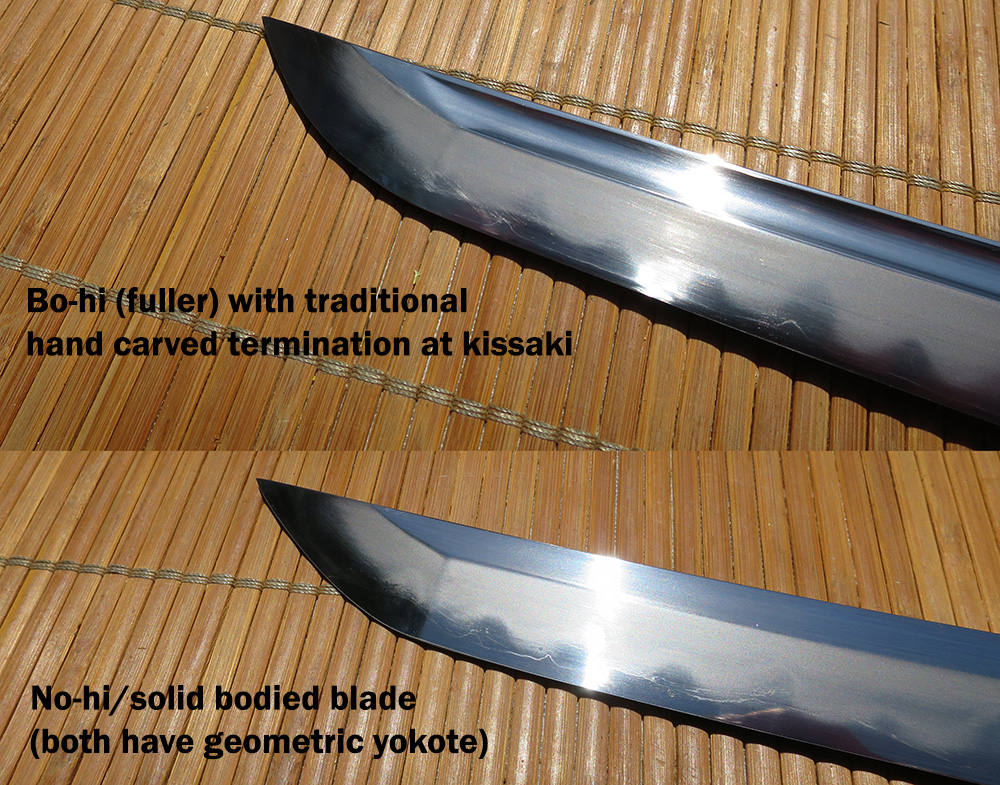 Black or White Rayskin
White Rayskin was more common than black, and when using a full wrap of rayskin underneath with large and clear nodes (and quite frequently large, prominent emperor nodes), the black version loses some of the beauty of the wrap, but the coolness factor of black on black fittings may make up for this - the choice is yours.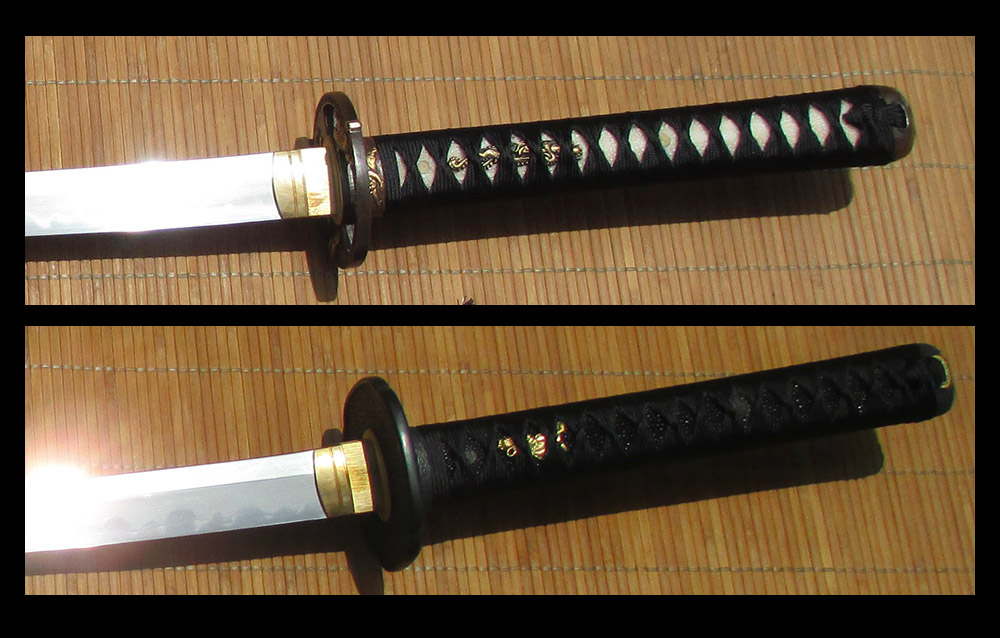 OPTIONAL EXTRA: Folded Steel
In addition to the Soshu Kitae lamination and Choji hamon, for an extra $125 the steel can also be folded to produce a subtle hada. While not necessary, this optional extra results in the MOST traditional construction technique possible, and because it is folded by a master smith, with none of the drawbacks commonly associated with low priced folded blades. Has no effect on functionality, but takes the whole sword to the next level and as close as possible to a genuine Japanese Nihonto.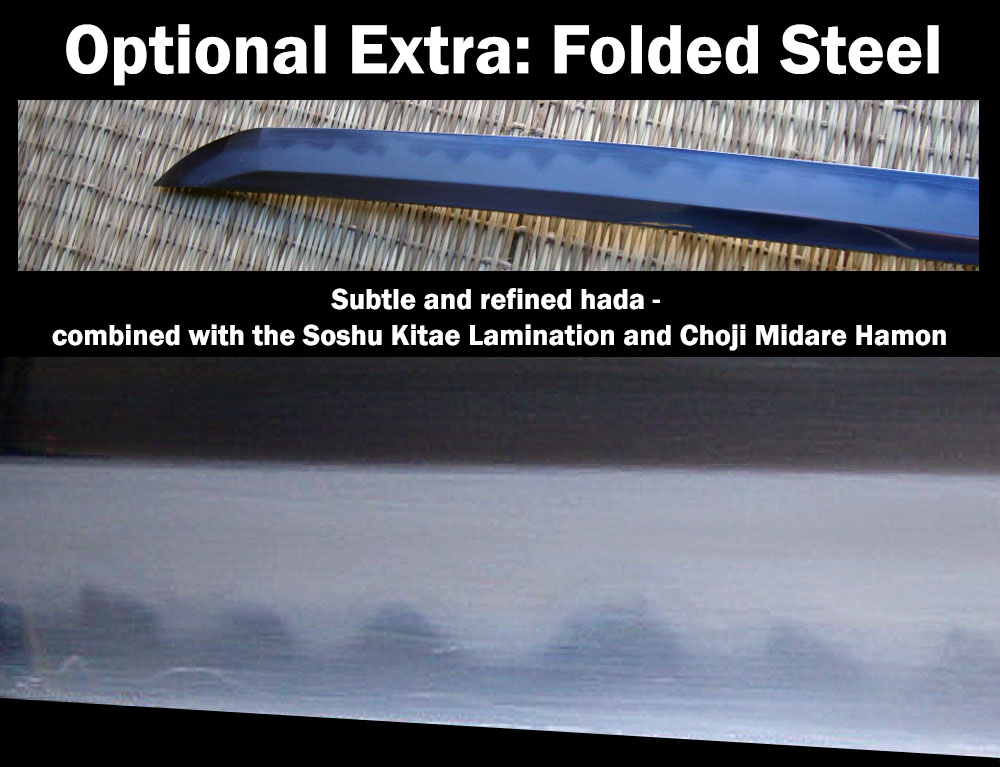 MORE Optional (Paid) Extras
None of the following optional extras are necessary to make a stunning looking, superbly handling sword design. But for those who want to push the envelope just a little bit more, we present the following extra optional customization selections. These additional options are not free as they add a significant cost to the base line of the sword which is reduced to be priced as low as possible to begin with.

Current Extras Available:
Additional FREE minor customizations and tweaks:
Some additional minor customizations are possible - though as our priority is getting you EXACTLY what you ordered, they should be kept to a minimum to ensure the process is as standardized as it can possibly be to avoid mistakes and keep prices as low as humanly possible. While the customizations offered are designed to ensure that each sword sticks to an aesthetically pleasing and historically plausible theme, if you want to mix and match - you can.
Possible additional customizations include but are not limited to:
Kanji engraving on the tang - of the smiths name or your choice of characters (up to 4 maximum)
Gyaku Menuki placement
Left handed saya mounting
Chu or Ko Kissaki (the default kissaki is a Dai Kissaki)
Using fittings from a different Project X Katana model (select 'other' and enter the desired fittings in the 'Additional Requests' field)
Unsharpened blade for iaido
Additional customizations requests and minor tweaks can be entered in the text box just above the order button. If you are not sure, please contact us before ordering (and the order can also be modified within the first couple of days after it is placed BEFORE the forge starts work on it).
CLICK HERE TO SEE ALL THE AVAILABLE COMPONENTS ON A PAGE ON OUR BLOG
(link opens in a new window)
CUSTOMIZATIONS THAT ARE NOT POSSIBLE
For this project to work, the only customization possible on the blade is the length of the blade and nagako (tang, relative to the length of the handle selected) and whether or not it has a bo-hi. Specific types of hamon or different lamination styles other than Soshu Kiate are not possible. The only exception is of course folded steel which is available as an optional extra for $125 (and of course also includes lamination and differential hardening of the blade for the most traditional construction possible).
If in doubt, please contact us before ordering to confirm - if possible please keep additional customization requests simple and limit to one or two at the absolute most. Unlike some other sellers who claim to offer fully customized swords and promise they can do anything you could possibly desire (and deliver something almost unrecognizable) - we prefer to keep it simple and just deliver what we promise.
How to Use
Suitable for sword practice in a traditional martial arts setting or high end display. Heirloom Quality.
Blade length (Nagasa): 29 inches (habaki to tip) Handle length: 10 inches Weight: 2lbs. 6 oz Motohaba: 1.25 in Sakihaba: 0.8 in Motokasane: 8mm Sakikasane: 5mm POB: 5" from tsuba
Materials and Construction
Certified Master Smith Forged Soshu Kitae Laminated blade, differentially hardened with real hamon and high end Japanese finger stone art polish to bring out the blade activity. Complimented with premium grade fittings. I.e. FULL Rayskin Wrap under silk ito tied using hishigami triangles for maximum tightness and strength. Work hardened copper fittings with gold accents based on actual antique swords. Double coated saya with real buffalo horn Kurikata, Koiguch and Kojirii with premium sageo.
FREE Shipping direct from the forge in Longquan. Made to Order with an estimated completion time of approx 3-4 months (though this is an ESTIMATE only). These are not 'fast food' swords, so if you need a sword in a rush, this is not the product for you.
Click here for more shipping information
Warranty Info
Each sword is guaranteed to be as described and 100% genuine product. Each sword is also covered by in full by the Manufacturers Warranty PLUS our extended LIFETIME Warranty against blade breakage.
Click here for detailed warranty information
Return Policy
Payments made on custom orders are non refundable and cannot be cancelled once work has commenced as they are made to order to YOUR personal tastes and the expenses incurred making it are non refundable to us as well. If there is a problem with your custom order we will work with you to provide a fair and satisfactory outcome, up to and including remaking the sword and in general going the extra mile to ensure that at the end of it all, you are pleased with your purchase.
Click here for more info on our guarantees
Featured positive reviews:
Project X Dragon Katana
09/25/2019
A bit of a long wait, but absolutely worth it! This is the closest to perfect sword I've had occasion to handle, much less own. I am most happy to have made this acquisition, and am grateful to SBG, Sara and Paul for making it possible.