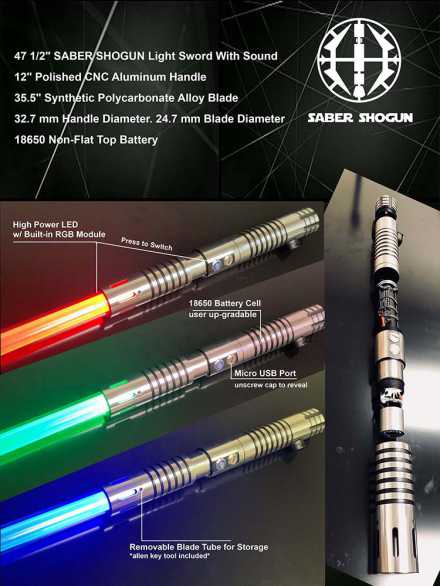 Saber Shogun Light Swords - 2200 Deluxe Model

Be the first one to write a review
DISCONTINUED/UNAVAILABLE

FREE SHIPPING IN THE USA
Battle Ready Light Saber - Tri-color (red, green, blue) deluxe version with sound!

Patent pending almost indestructible synthetic polycarbonate alloy tubing - easy re-charging, 2.5 hrs continuous use. Can withstand blows from a Machete and even being run over a car! Simply the most affordable, best value for money battle ready light saber on the market designed for frequent heavy contact. Competition level quality without the expensive price tag or confusing ordering process.

$

199.99
$249.99
You Save $50.00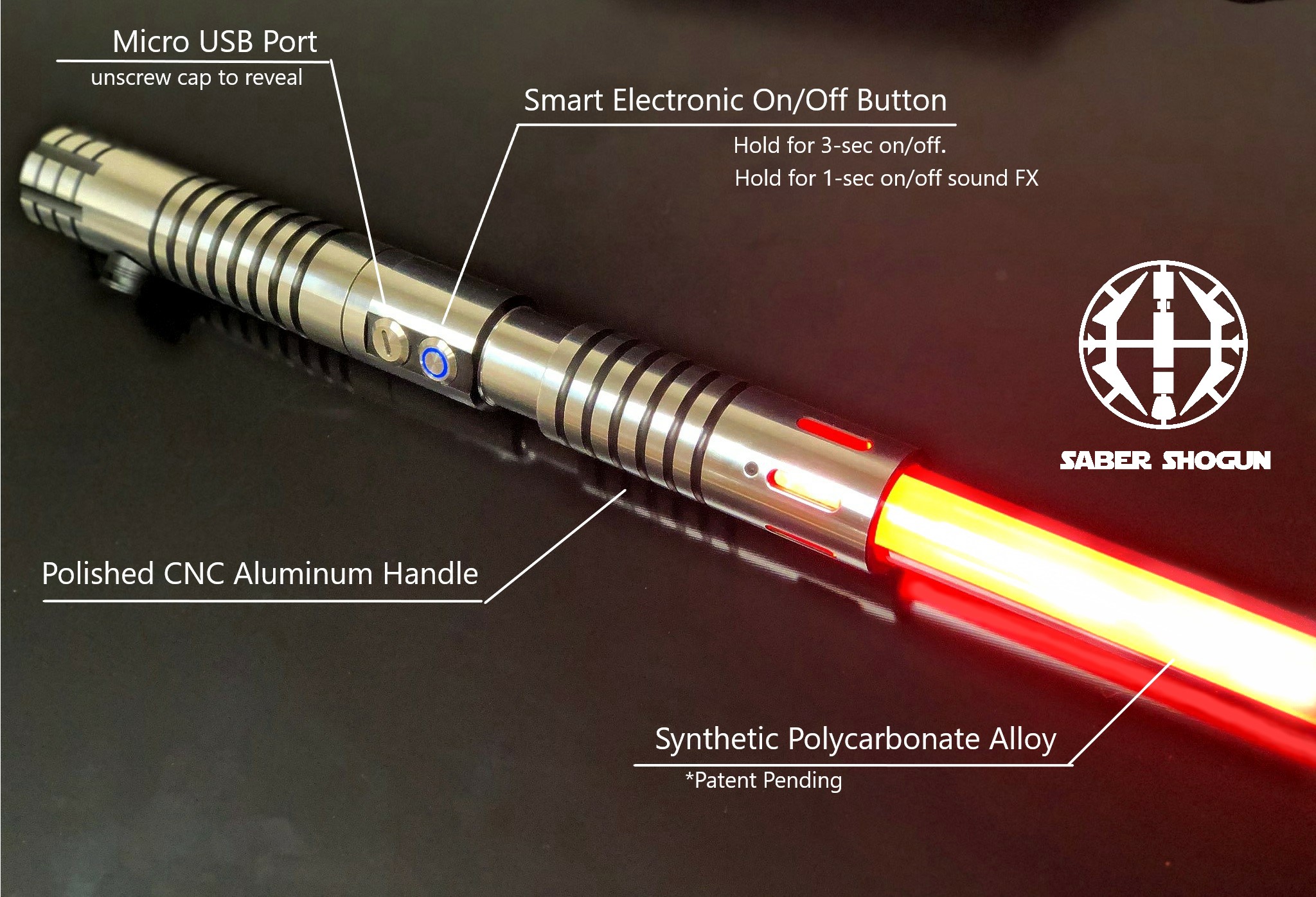 Finally a decent battle ready light saber that almost ANYONE can afford - Saber Shogun - brought to you by the same people behind the Ryujin Custom Katana, has been more than 3 years in the making. But all that hard work and tweaking the design has finally paid off with what is easily the toughest, most affordable light sword on the market.

The 'blade' is a hollow tube made from a patented synthetic polycarbonate alloy and is so tough it can handle being hacked at with a machete and run over by a car - so has no problems repeatedly clashing with hardwood Bokken or any type of HEMA waster (wood or synthetic).
While many other battle ready light sabers on the market several times the price are secured with either a friction fitted screw on clamp or two allen keys (included), the Saber Shogun Light Sword 2200 Deluxe model is secured with BOTH friction fit and THREE allen keys so it will not loosen or come flying out no matter how hard you use it..
Press and hold the power button for 3 seconds to turn on or off. But unlike most other sabers on the market which only come with one color - quick touch the power button to change the color from red for the hateful dark side warrior, blue for the righteous guardians and green for the more diplomatic and spiritual consular officials - the powerful LED light hits a mirror at the rounded top of the tubing to reflect it back down the length of the entire 'blade' effectively giving you 3 light swords in 1
In addition to light effects, the 2200 Deluxe version also comes with motion activated sound set to a 'medium' level of sensitivity. Hold it still and it hums menacingly. Change position or strike and it simulates the sound of battle.
The Aluminum precision milled CNC handle is both comfortable and can be unscrewed to get access to every component to upgrade or customize as desired. Powered by a 18650 non-flat top battery, it can easily be recharged anywhere with a Micro USB under a metal cap cover and will typically last up to 2.5 hours of use per full charge. Take along a standard cell phone charger and you can use it off the grid for hours on end..
With the almost unbreakable blade, secure fastening to the handle and - despite its amazing durability - weighing only 1.4lbs, the Saber Shogun Light Sword is fast, flexible, strong and perfect for competition use. Just make sure you wear some armor as getting whacked full force by one of these tubes is extremely painful. Can also be used for safe high speed training and is so much fun to use, constant dry handling will help to develop the muscles needed for swordsmanship and help muscle tone and weight loss at the same time.
The best 'beater' light saber on the market hands down - normally $249.99 but available at special introductory pricing of just $199.99 and includes a FREE LIFETIME WARRANTY against breakage during sparring or competition.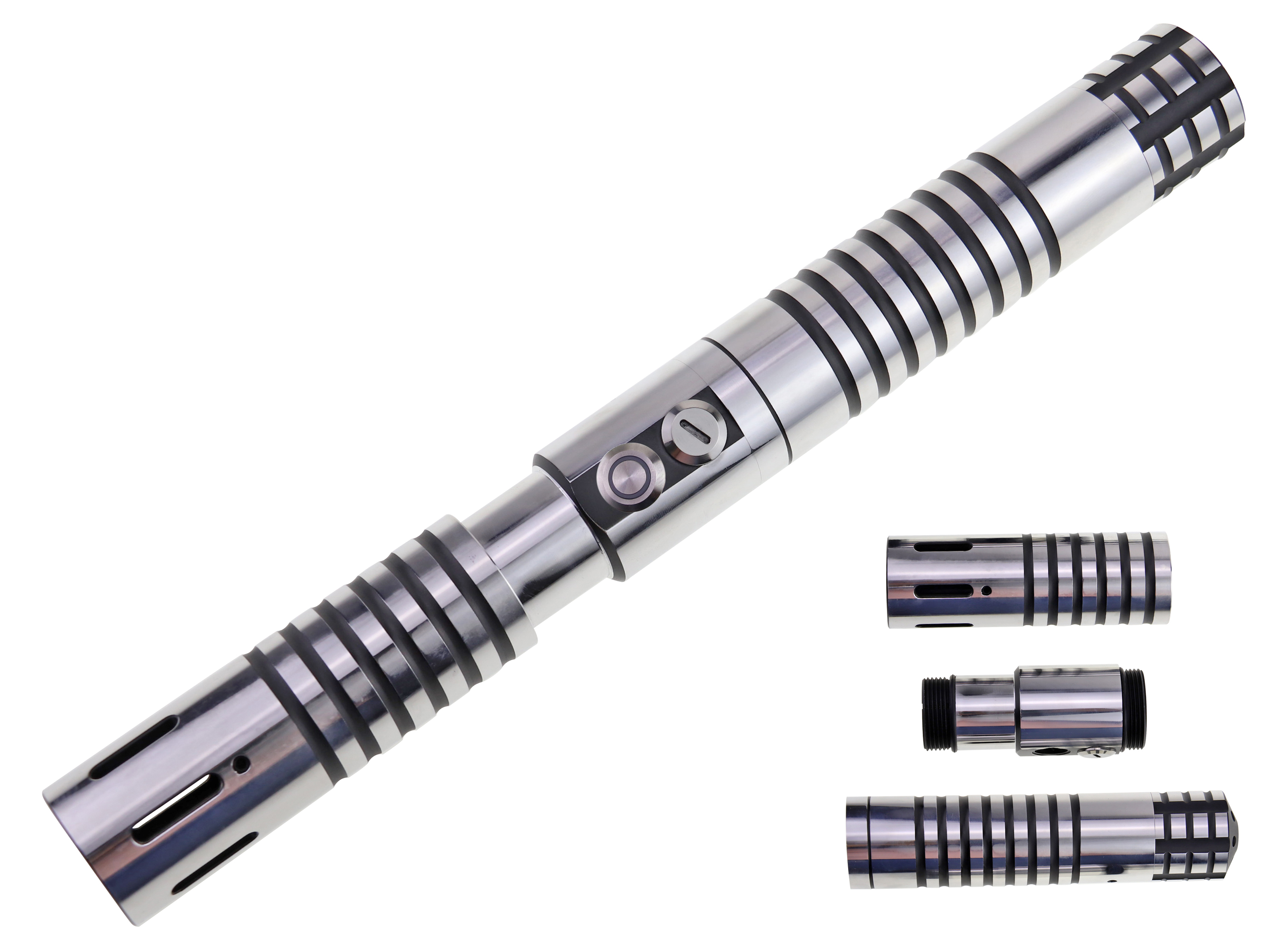 How to Use
Hold Power Button for 3 seconds to turn on/off. Press power button again to change colors. Screw on and secure tubing with three allen screws (allen key included). Can withstand hundreds of hours of heavy contact - competition level quality.
Click here for the full instruction sheet
IMPORTANT NOTE FOR INTERNATIONAL (NON US) ORDERS:
Due to air shipment policies we are unable to send the 18650 (non flat top) type with your purchase and this component must be sourced locally. We apologize for any inconvenience.
Overall length: 47 1/2" (inch), "Blade" length: 35 5/8", Handle length: 11 7/8", Point of Balance: 4" from handle, Weight: 1.4 lbs
Materials and Construction
Patented Synthetic Polycarbonate alloy tubing with powerful LED light in RGB (Red Green Blue) color options at the push of a button. Polished CNC aluminum handle. 18650 non-flat top battery with Micro USB under metal cap cover.
FREE SHIPPING IN THE USA - Shipped from the Saber Shogun warehouse in Los Angeles within 2 business days. International shipping via USPS, $30 to Canada per sword.
Click here for more shipping information
.
IMPORTANT NOTE FOR INTERNATIONAL (NON US) ORDERS:
Due to air shipment policies we are unable to send the 18650 (non flat top) type with your purchase and this component must be sourced locally. We apologize for any inconvenience.
Warranty Info
Each light sword is guaranteed to be as described and 100% genuine product. Each sword is also covered by in full by the Manufacturers Warranty PLUS our extended LIFETIME Warranty against blade breakage.
Click here for detailed warranty information
Return Policy
Satisfaction Guaranteed.
We proudly stand behind every product we sell. If you are not pleased with your purchase you can return it to us within 30 days of purchase in
original, unused condition
for a full refund minus shipping and 10% restock fee.
Click here for more info on our guarantees