Hanwei Musashi XL Katana

Be the first one to write a review
SOLD OUT

Extra Sharp 1566 Spring Steel Katana with Musashi themed fittings. Handle with care, it's so sharp that it is best for trick cuts and light targets up to and including tatami mats. MSRP $950 - FINAL CLOSEOUT SALE PRICE: $475 - ONLY AVAILABLE WHILE STOCKS LAST...

$

475.00
$659.98
You Save $184.98
out of stock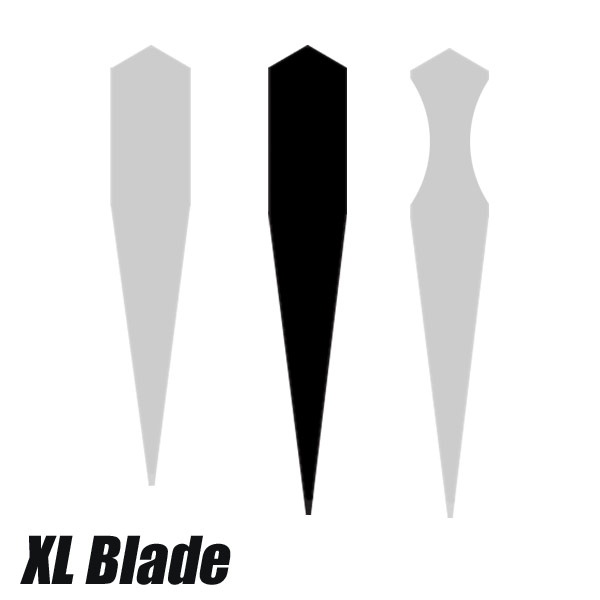 The Hanwei Musashi XL Katana comes with a very steep angled blade profile that makes it exceptionally sharp. As such, it is effectively a 3' razor blade optimized for cutting light and challenging targets such as empty water bottles (silent cuts), pool noodles, water filled bottles up to rolled and soaked tatami mats.
Made from differentially hardened 1566 steel it's a fast sword in the hand and comes with premium quality fittings: featuring genuine Same (Rayskin) on the Tsuka, with a tightly-woven leather Tsuka-Ito and the long tang is double-pegged for security. Named for one of the most renowned swordmasters in Japanese history and featuring the famous "double ring" iron tsuba, the Musashi XL katana is faithful to the original down to the famous double-ring iron tsubas.
Performance Series Katana Information
The Katana XL is significantly wider, producing a very thin edge that will sail right through traditional cutting targets such as multiple rolled and soaked tatami mats. The Katana XL Light has the XL's profile but is provided with bo-hi (groove or fuller), reducing the weight to the point where double cuts are possible but clean cuts on tameshigiri targets may still be made.
The traditional soaked tatami mat is the ideal target, but foam noodles and various water bottles can be an inexpensive substitute. The thinner blade profiles of the XL and XL Light are not meant for hard target cutting such as bamboo or wooden dowels.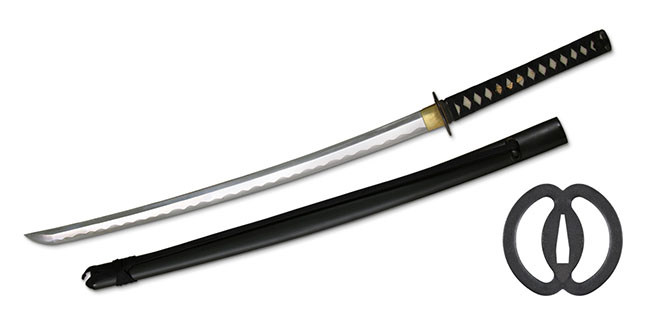 How to Use
Designed for fast cutting in a dojo setting. Built for martial artists.
Overall: 40 1/2" Blade Length: 28 ½" Handle Length: 11" Weight: 2lb 11oz Point of Balance: 5 1/2" Width at Guard: 1.44" Width at Tip: 1.14" Thickness at Guard: .25" Thickness at Tip: .16" Sori: 3/4"
Materials and Construction
1566 Carbon Steel, differentially hardened sharpened blade with real hamon. Leather ito wrap over real rayskin wrap. Iron fittings in Musashi theme. Extra glossy saya with premium hand woven sageo.
Shipping the newest stock direct from the manufacturers warehouse in Tennesse within 1-2 business days. $15 flat rate USA shipping for up to 2 swords via Fed Ex or USPS (depending on location), FREE shipping if 3 or more swords ordered at the same time. International shipping currently unavailable.
Click here for more shipping information
Warranty Info
Each sword is guaranteed to be as described and 100% genuine product. Each sword is also covered by in full by the Manufacturers Warranty PLUS our extended LIFETIME Warranty against blade breakage.
Click here for detailed warranty information
Return Policy
Satisfaction Guaranteed.
We proudly stand behind every product we sell. If you are not absolutely pleased with your purchase you can return it to us within 30 days of purchase in original condition for your choice of an exchange or refund (excluding shipping fees).
Click here for more info on our guarantees