Honshu Boshin Katana
(1)
TEMPORARILY UNAVAILABLE
Modern tactical style 1060 carbon steel Katana by Honshu. MSRP $221 Tough enough to obliterate a cinder-block (click for proof).
$

126.99
$221.00
You Save $94.01
Updated for the 21st century - the Hoshu Boshin Katana represents a seamless fusion between high technology and ancient, time tested personal weaponry in the form of the classic Shinogi Zukuri Katana (with a few modern tweaks).
The long 30-3/8" blade is made from expertly tempered, mirror polished 1060 carbon steel and is perfectly fitted into the low maintenance stainless steel hand guard that flows into a dismountable, ergonomic TPR (Thermal Plastic Rubber) handle for the perfect grip. Add to this a surprisingly good wood core, painted matt finished scabbard and while it may not appeal to those seeking a historically accurate sword (though, being dismountable, makes an EXCELLENT base for a custom sword project) it is easily one of the best made, most affordable tactical style blades on the market.
Here is the official blurb from the manufacturer:
The Honshu Boshin Katana fuses tradition and innovation to yield a masterwork of modern sword design. True to the legendary katana's roots, the Boshin boasts a 30 3/8" 1060 high carbon steel blade that's unrivaled in sharpness and strength. But this is no ordinary Katana. Trading traditional trappings for chic contemporary style, the cutting edge Boshin is an undeniably modern weapon. Textured TPR shrouds the handle for an ergonomic no-slip grip you can't get from conventional ray skin and cord. The handle is crowned with an oversized polished steel pommel, and the guard snubs fanciful ornamentation in favor of a practical pointed ellipse design. In keeping with the Boshin's clean, functional motif, the sleek wooden sheath is largely unembellished, save the genuine leather cord. Even among more expensive swords, the remarkably affordable Honshu Boshin Katana shines brighter than the rest. Wielding it is almost Zen-like – you just have to experience it for yourself!
Whichever way you look at it, for the price this is a high quality, robust blade in modern tactical style fittings with a high intimidation factor - zombies beware! MSRP $221 - our price, just $126.99.
HONSHU SERIES DESTRUCTIVE TESTING
Tough enough to obliterate a cinderblock!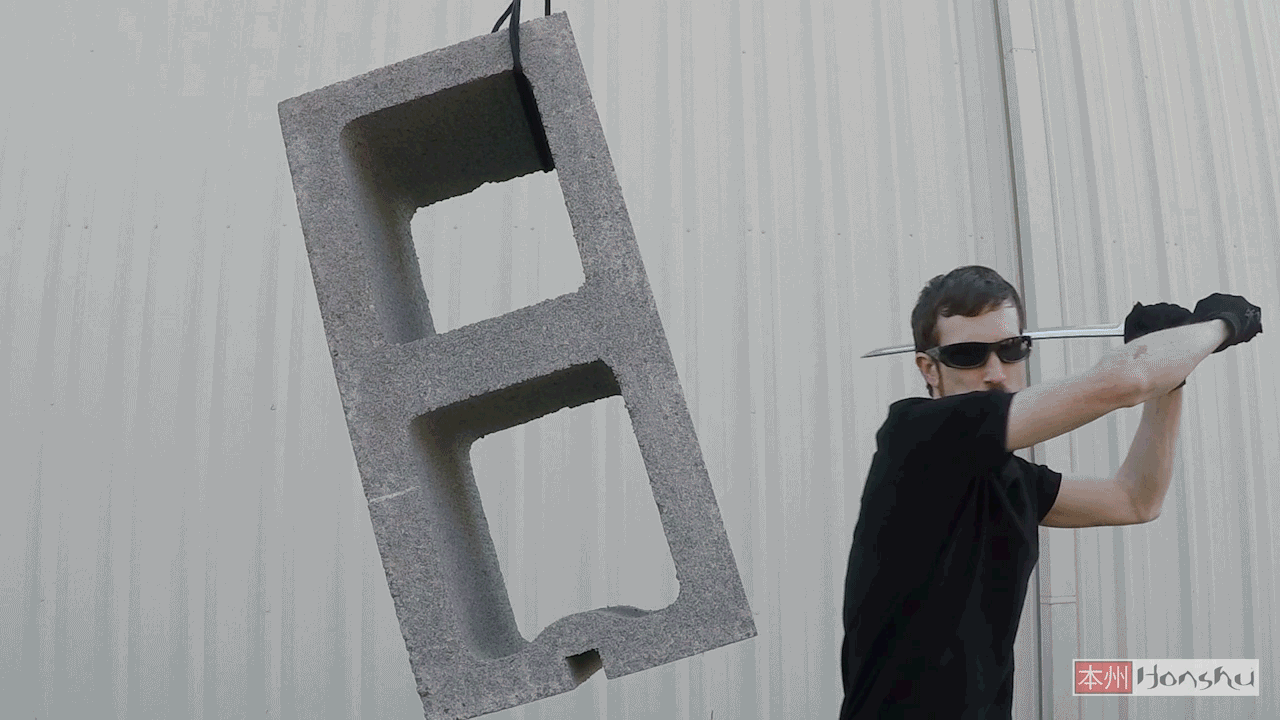 How to Use
Designed for frequent, heavy duty cutting practice.
Overall Length: 40-3/4", Blade Length: 30 3/8", Blade Width: 1-7/8", Grip Length: 9", Weight: 2 lbs 14 oz
Materials and Construction
Monotempered, sharpened 1060 carbon steel blade with partial fuller. Thermal plastic rubber (TPR) grip. Low maintenance satin finished stainless steel fittings secured with compression nut (full tang). Leather covered, wood core scabbard with steel throat and chape.
$20 Flat rate shipping direct from the manufacturers warehouse (United Cutlery) in Georgia within one week for 1-2 swords, FREE shipping if 3 or more swords ordered at the same time. International shipping currently unavailable. (
click here
for the workaround).
Click here for more shipping information
Warranty Info
Each sword is guaranteed to be as described and 100% genuine product. Each sword is also covered by in full by the Manufacturers Warranty PLUS our extended LIFETIME Warranty against blade breakage.
Click here for detailed warranty information
Return Policy
Satisfaction Guaranteed.
We proudly stand behind every product we sell. If you are not pleased with your purchase you can return it to us within 30 days of purchase in
original, unused condition
for a full refund minus shipping and 10% restock fee.
Click here for more info on our guarantees
Featured positive reviews:
Good, but not sharpened
03/23/2021
So I've been excited to receive this, and now that's it's arrived I can say aesthetically, it's great. I love the look, and the weight (definitely weightier than most other katanas I've held). The finish on the blade is fine, no scratches or nicks in the blade. The saya is as advertised, and the synthetic materials are serviceable. I've read reviews where people found the grip uncomfortable, so far I disagree, but I haven't been able to cut with it yet so I don't know how it will perform in action (see below).
The two downsides:
The blade rattles, badly, in the saya. It fits snuggly in the koiguchi, but the middle of the blade rattles LOUDLY with any movement. It's definitely not a deal breaker by any means, just annoying.
The second downside, and more troubling, is the blade arrived basically unsharpened. I'm used to swords not arriving razor sharp (nor would I want them so), but this is almost blunt. It doesn't cut paper, and dented rather than cut the outer-shipping box it arrived in. Luckily there's a guy in town who's good at sharpening, but it's disappointing to have to pay to have an edge put on it. I'm alright at sharpening or cleaning up an edge after use, but I would not be able to sharpen this without better tools.
After sharpening it may be worth it, but if you don't have the knowledge on how to put a full edge on a blade, and want to be able to cut anything, you might want to confirm with manufacturer that's it's been certified sharpened.
Final takeaways, if this more modern style appeals to you, like me, you'll love the look!
However it's basically non-functional out of the box, so beware!