Honshu Boshin Double Edge Sword with Scabbard

Be the first one to write a review
TEMPORARILY UNAVAILABLE

Modern tactical style 1060 carbon steel Kogarasu Maru style Katana by Honshu. MSRP $221 Tough enough to obliterate a cinderblock (click for proof).
$

126.99
$217.00
You Save $90.01
Updated for the 21st century - the Hoshu Boshin Double Edge Sword with Scabbard represents a seamless fusion between high technology and ancient, time tested personal weaponry in the form of the ORIGINAL Katana design, the Kogarasu Maru - a style of blade that incorporated the curved edge the Katana is most famous for, but also the piercing tip of earlier Chinese styled swords from the Tang dynasty. In other words, it is based on an experimental hybrid sword design that has been given a boost and taken to a level that the great sword makers of Asia had only ever dreamed of with the purity of modern crucible steel and the modular nature of the high tech fittings.
Here is the official blurb from the manufacturer:
The Honshu Boshin Double Edge Sword fuses tradition and innovation to yield a masterwork of modern sword design. The sword boasts a 30 1/2" 1060 high carbon steel blade that's unrivaled in sharpness and strength. Trading traditional trappings for sleek contemporary style, the cutting edge Boshin is an undeniably modern weapon. Textured TPR shrouds the handle for an ergonomic no-slip grip and the handle is crowned with an oversized polished steel pommel. The guard snubs fanciful ornamentation in favor of a practical pointed ellipse design. In keeping with the Boshin sword's clean, functional motif, the scabbard is wooden with a semi-gloss black finish and features black faux leather wrapping and cotton cord. Wielding the Honshu Boshin Double Edge Sword is almost Zen-like – you just have to experience it for yourself!
Whichever way you look at it, for the price this is a high quality, robust blade in modern tactical style fittings with a high intimidation factor - zombies beware! MSRP $217 - our price, just $126.99.
HONSHU SERIES DESTRUCTIVE TESTING
Tough enough to obliterate a cinderblock!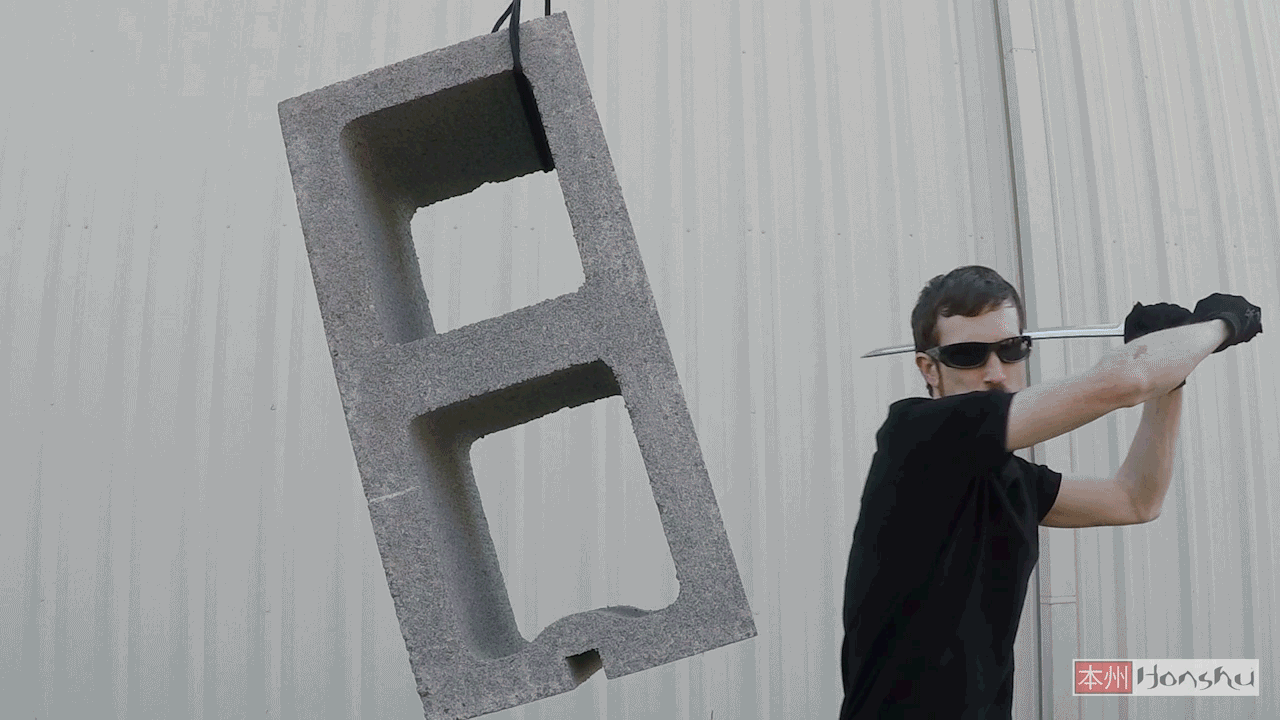 How to Use
Designed for frequent, heavy duty cutting practice.
Overall Length: 40 3/4", Blade Length: 30 3/8"
Materials and Construction
Monotempered, sharpened 1060 carbon steel blade with partial fuller. Thermal plastic rubber (TPR) grip. Low maintenance satin finished stainless steel fittings secured with compression nut (full tang). Leather covered, wood core scabbard with steel throat and chape.
$20 Flat rate shipping direct from the manufacturers warehouse (United Cutlery) in Georgia within one week for 1-2 swords, FREE shipping if 3 or more swords ordered at the same time. International shipping currently unavailable. (
click here
for the workaround).
Click here for more shipping information
Warranty Info
Each sword is guaranteed to be as described and 100% genuine product. Each sword is also covered by in full by the Manufacturers Warranty PLUS our extended LIFETIME Warranty against blade breakage.
Click here for detailed warranty information
Return Policy
Satisfaction Guaranteed.
We proudly stand behind every product we sell. If you are not pleased with your purchase you can return it to us within 30 days of purchase in
original, unused condition
for a full refund minus shipping and 10% restock fee.
Click here for more info on our guarantees