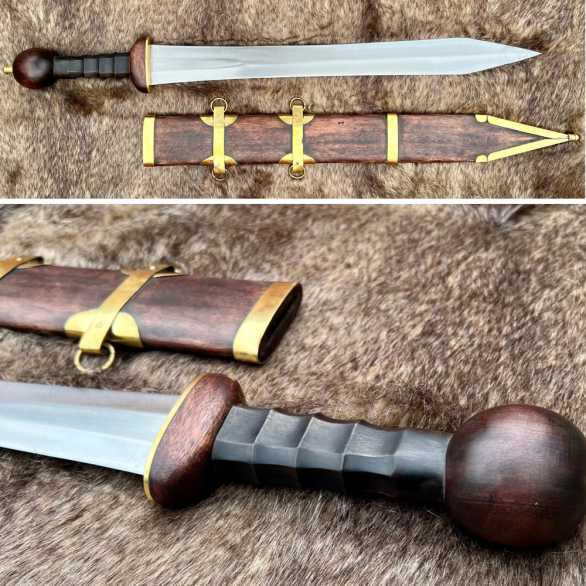 Kingdom of Arms Mainz Gladius

Be the first one to write a review
DISCONTINUED

FREE SHIPPING IN THE USA
5160 Spring Steel straight bladed Roman Gladius with Wood Core Leather Lined Scabbard. MSRP $722.00

The Mainz pattern Gladii or Gladius is thought to have developed from the leaf-bladed short swords used on the Celt-Iberian peninsula (what is now Spain) and adopted for use in the Republican Legions. Rather than fighting as individual warriors (like their competition, the Continental Celts) the Roman legions eventually developed a new way of fighting -- massing together with overlapping shields, using their short stabbing cutting swords to strike from behind this shield wall. As these battle tactics for the Legions changed, a shorter, broader stabbing/cutting sword had to be developed to use in combination with these newer types of shield and new styles of fighting.

The Mainz pattern is deeply waisted and has a long point section like the earlier gladius Hispaniensis, but is shorter and broader than its predecessor. Unlike the later Pompeii style, the Mainz pattern was still capable of delivering strong cutting blows, though its primary purpose was for thrusting. The gladius is known as "the sword that conquered the world".
The elite Kingdom of Arms Style pf this Gladius features a hand hammered 5160 carbon wasp waisted steel blade as the originals were made, full tang, heat treated and tempered as the originals, for a strong yet flexible blade that will hold a very sharp edge, with a hard wood handle. High polished steel spacer at the bottom of the handle for strength and durability. Fully Functional (Battle Ready)! Sword also includes a wood scabbard with brass accents. Truly a beautiful piece to hold.
How to Use
Fully functional sword designed for frequent test cutting practice
Blade length: 21.25" Handle length: 7.75" Grip: 4" Weight: 1lb 10 oz P.O.B. 4.75" below guard
Materials and Construction
5160 Spring Steel Sharpened Blade. Threaded pommel construction. Wood core handle. Leather lined wood core scabbard with brass accents. Premium Quality Construction.
FREE SHIPPING in the USA direct from the Kingdom of Arms warehouse in Jackson, Tennessee. International shipping currently unavailable (
click here
for the workaround).
Click here for more shipping information
Warranty Info
Each sword is guaranteed to be as described and 100% genuine product. Each sword is also covered by in full by the Manufacturers Warranty PLUS our extended LIFETIME Warranty against blade breakage.
Click here for detailed warranty information
Return Policy
Satisfaction Guaranteed.
We proudly stand behind every product we sell. If you are not pleased with your purchase you can return it to us within 30 days of purchase in
original, unused condition
for a full refund minus shipping and 10% restock fee.
Click here for more info on our guarantees