Kizlyar Supreme Trident AUS-8 - Black Titanium

Be the first one to write a review
IN STOCK - FINAL CLOSEOUT SPECIAL PRICING

Black Titanium coated AUS-8 Steel blade with Kraton Handle, ABS Base & Nylon MOLLE Compatible Sheath. Made in Russia.

FINAL STOCK LIQUIDATION - WELL BELOW WHOLESALE PRICING
$

75.00
$150.00
You Save $75.00
in stock
The shape of the handle, its grip and the relatively large guard provide additional safety when any Tactical Echelon knife is used in any fast and intense activity. With its double guard design, the Kizlyar Supreme Trident tactical knife can be pushed to the next level.

All Tactical Echelon knives have been highly praised by the military personnel in extensive testing and day-to-day use because they provide comfortable and secure carry exactly where and how the soldiers prefer, in addition to fast knife deployment and strength that can be relied upon.
Numerous accessories that are sold separately include a MOLLE belt that can be used for a quieter and even more comfortable knife carry on a thigh, also there is a choice of a few MOLLE-compatible pouches that can be installed directly onto the sheaths to carry a multi-tool, folding knife, sharpener, flashlight, survival kit, etc.
Included: Knife, multifunctional attachment Molle-compatible sheath, lanyard, international warranty certificate, gift box.
THE TACTICAL ECHELON LINE
Knives in Kizlyar Supreme's Tactical Echelon line features a Kraton handle with an ABS core in either D2 or AUS-8 steel. An exceptional nylon sheath is included that features MOLLE attachments front and back, an included paracord wrap and integral ABS sheath that holds the knife securely in any direction that can be easily removed and separated for cleaning.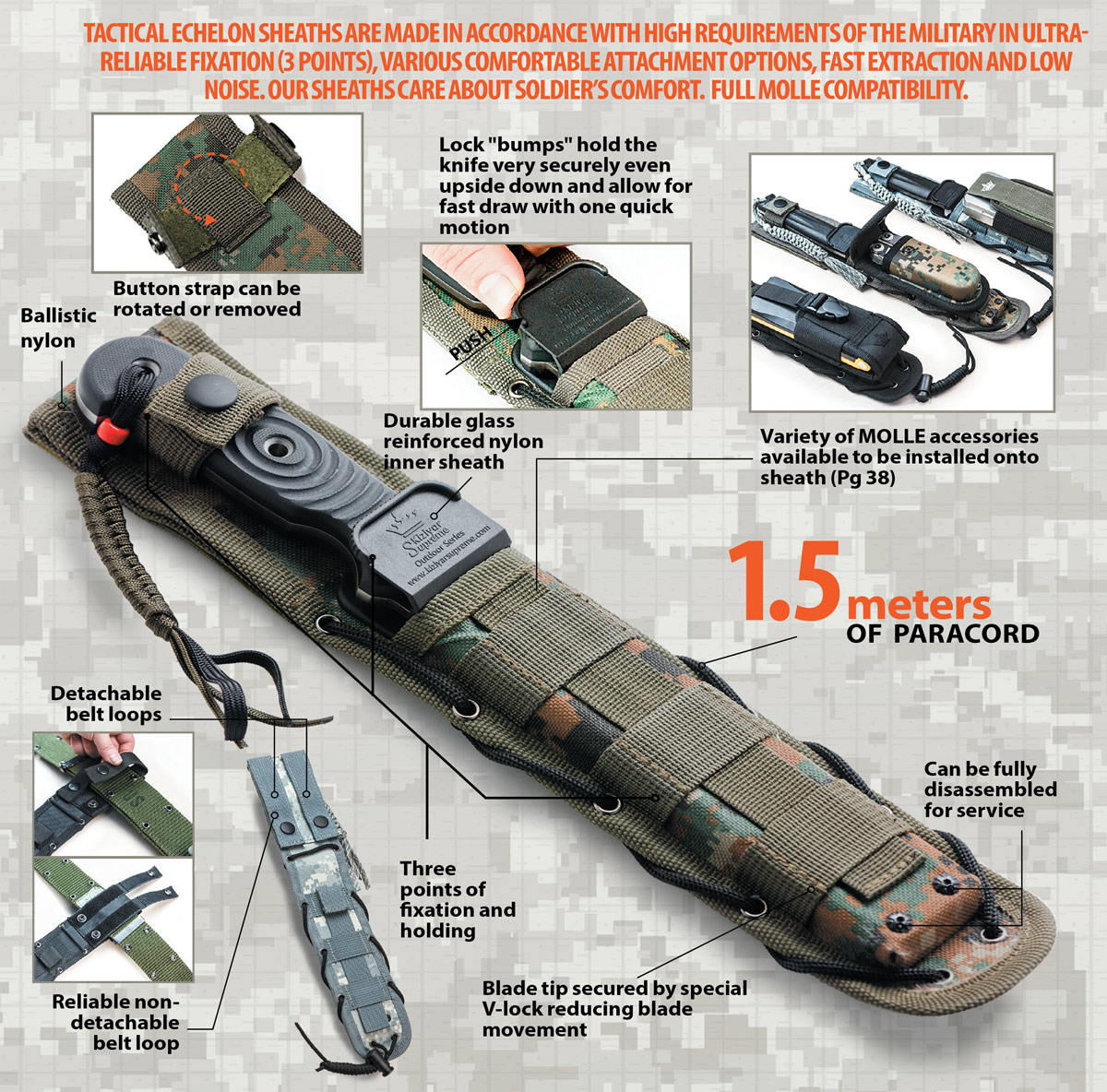 ABOUT KIZLYAR SUPREME - Superior Russian Knives
Kizlyar Supreme is a Russian knife manufacturer based in St. Petersburg utilizing the highest tech processes and materials available today to produce superior performance knives. They have been making substantial waves in the knife industry in Russia, Australia and Germany through innovative design and exceptional build quality at a fair price. Now available in the US from CAS Iberia after debuting at the 2013 Blade Show, knife enthusiasts in North America finally have the opportunity to see their entire line of Tactical, Outdoor, Neckers and Folding Knives. The brand is backed by a multinational team of talented designers and engineers from Russia, Germany, Australia and Japan.
Kizlyar Supreme's knives feature tried and true blade steels in semi-stainless tool steel D2 as well as stainless AUS-8 and 440C. Most blades are available in a satin finish or with a hard wearing black titanium coating. Handle materials include Micarta, G10 and Kraton with a hard ABS core.
Overall: 11 1/4" Blade Length: 6" Handle Length: 5" Weight: 10oz Thickness at Guard: 4.7mm
Materials and Construction
AUS-8 Steel, Titanium Coated Sharpened Blade with ABS base Kraton Handle and Nylon MOLLE Compatible Sheath.
Shipping direct from the distributors warehouse in Tennessee within 1-2 business days. Shipping in the USA is $5 for one knife, FREE if two or more or are ordered at the same time. Sorry, US orders only.
Click here for more shipping information
Warranty Info
Return Policy
Satisfaction Guaranteed.
We proudly stand behind every product we sell. If you are not absolutely pleased with your purchase you can return it to us within 30 days of purchase in original condition for your choice of an exchange or refund (excluding shipping fees).
Click here for more info on our guarantees