Scorpion Swords Custom Made Sword

Be the first one to write a review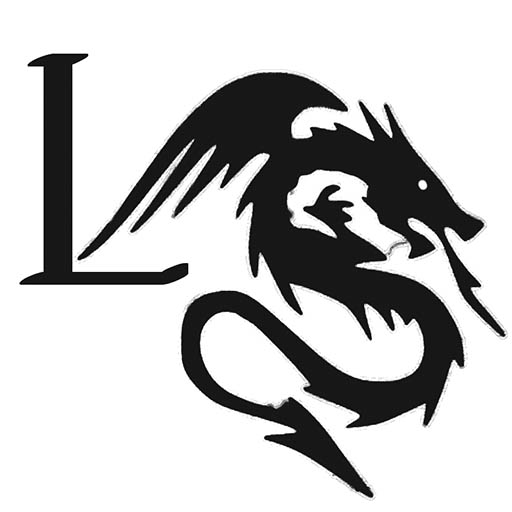 TEMPORARY ARCHIVED FOR RE-TOOLING
Design your own Legendary Sword!

The exact same methods we used to create our exclusive Scorpion Sword blades is now in YOUR hands. Submit your original design or use the online sword maker generator software.
$

374.99
$499.99
You Save $125.00
From the Legendary Swords Project
This is one of our most exciting projects to date -allowing you to use the exact same method we used to create our original designs for the Legendary Swords Project and create your own custom swords at a fraction of the normal price for a truly custom made product.
Even if you cannot draw or don't have a particular idea in mind, you can use our free Coronatite Sword Generator HERE and email us the combination you decide upon with any changes and leave the rest to us!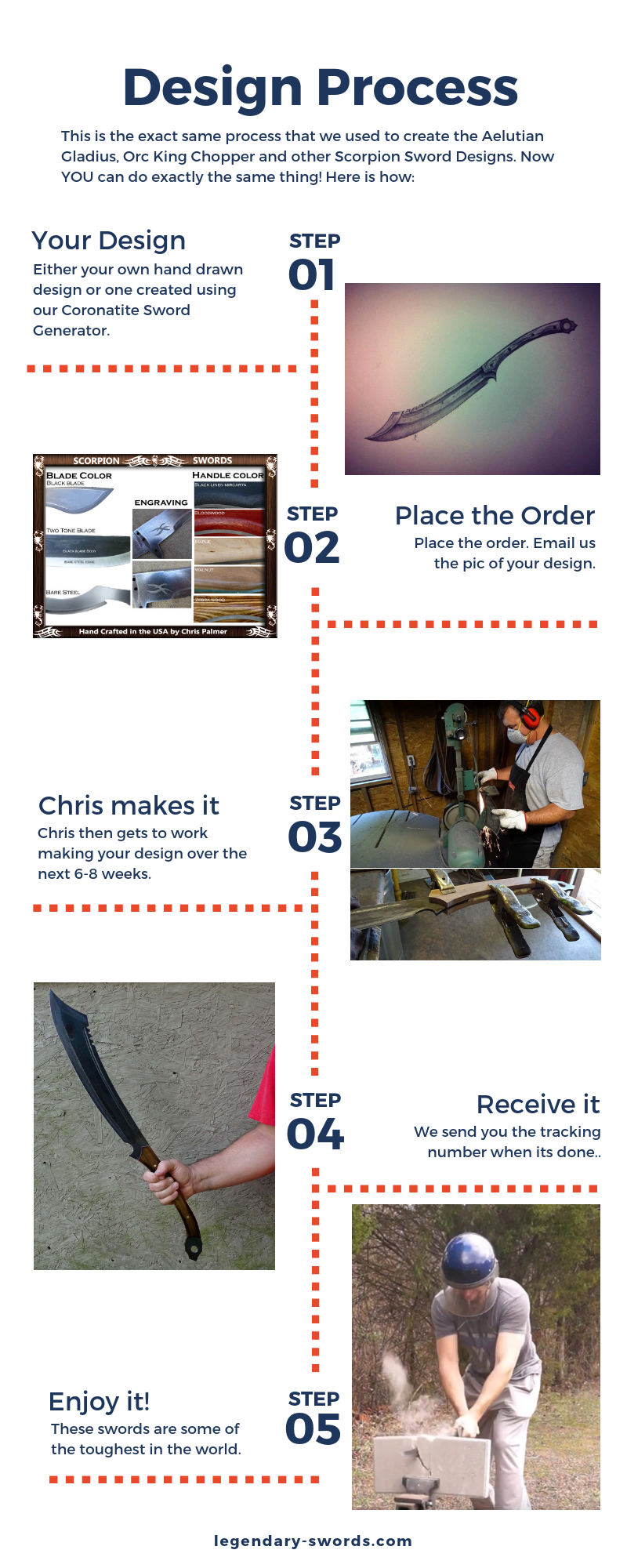 The Legend of Coronatite Blades
In the world of Eletreus, Coronatite is the unobtanium of steels - an inherently magical and rare mineral that for thousands of years has been used to create blades such as the Aelutian Gladius, the Sword of Danu and many other famous and powerful swords of legend. Swords made from Coronatite need no special magical enhancement to reveal their qualities of extreme durability and armor piercing capability - any good blacksmith can make one - though some are further enhanced by additional magic channeled into a rune or glyph. On the battlefield, Coronantite blades smash their way through most other non magical swords and have never failed even in the heat of the most intense combat situations.
The only limitation is length and mass - for the properties of Coronatite only become apparent when within quite strict tolerances and any blade forged from it that is much bigger or much smaller than the classic Gladius acts like a normal steel sword (albeit of high quality, but the armor piercing and extreme durability magical effects do not apply). However, within this limitation of size and mass, a Coronatite sword can take any shape or geometry, from leaf blades to single edged cutting swords - which is demonstrated aptly by the Coronatite Sword Generator - each and every one of the swords made using the generator fall within the mass of an activated Coronatite blade.
A CURIOUS SIDE NOTE WHERE FANTASY MEETS REALITY: The purity and quality of modern steel combined with a perfect heat treatment and a never fall apart sandwich tang hilt construction means that if you were to take one of these modern made blades back to the medieval era it probably WOULD be seen as a magical blade! It would damage and ruin a historical medieval sword and the shorter tempered blade is in reality close to indestructible - capable of splitting a cinderblock and blocks of solid granite with barely a scratch! Makes a great talking point and gives these replicas some real presence that no stainless steel wall hanger could ever hope to achieve.

HOW IT WORKS/How To Order
Scorpion Swords specialize in tough, no nonsense and fully functional blades based on ancient designs and swords and blades inspired by movies and video games. Have a look at the gallery below to see some examples of their work. They cannot make any swords bigger or hugely different than the style of sword shown below, but within this limitation there are still literally thousands of possible original configurations..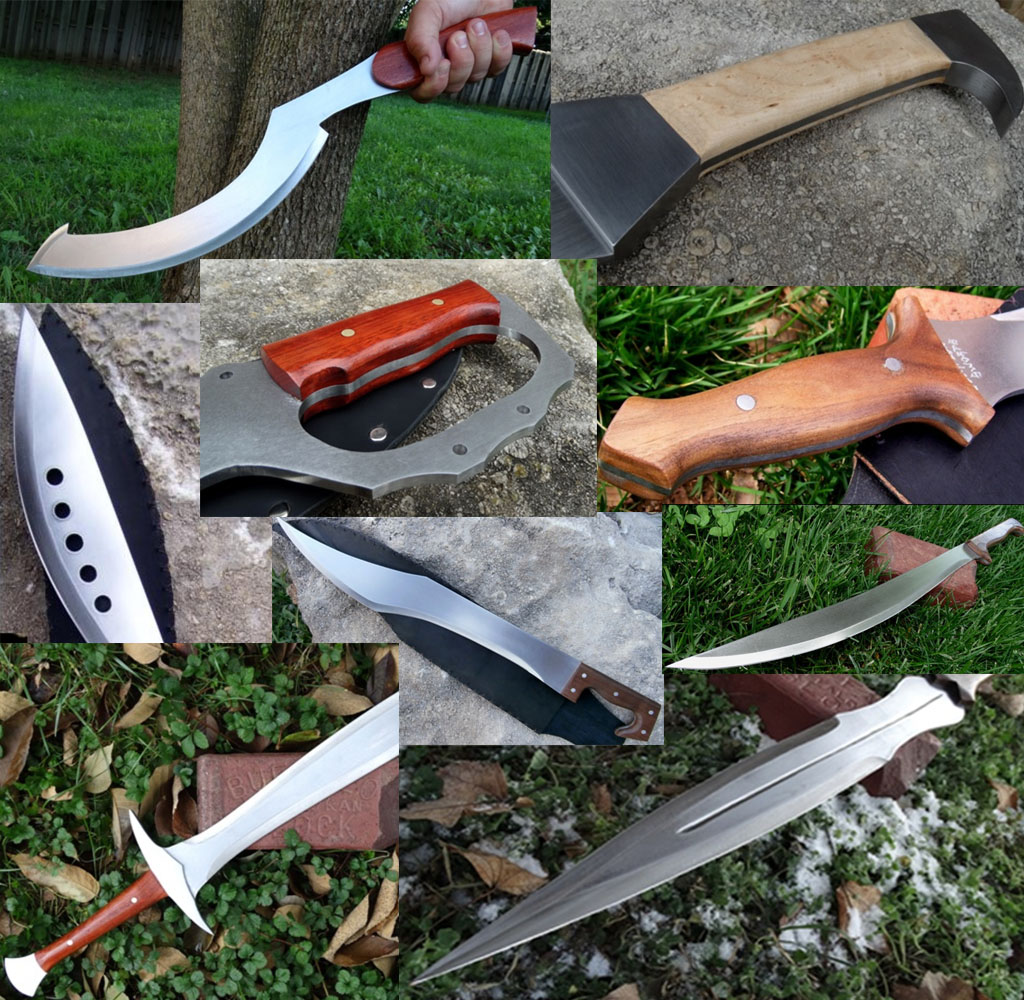 For this project, they will make you a sword using their ultra tough design style of sandwiched full tang construction and perfectly heat treated 1095 carbon steel blade. You decide on the shape and geometry of the blade and, working within their established sword design style, complete it with a solid full tang handle, and decide its dimensions within an overall length maximum of 30".
You can specify the color of the blade - either raw steel, blackened or a two tone effect, add some cool looking eletro-engraved glyphs or your initials, and choose what material you would like the handle to be made from. Choices include black linen mircarta (a solid choice popular with custom knife makers) or a selection of premium quality wood scales such as Zebra wood, Walnut, Bloodwood, Maple and Oak.
To get started - simply select the options you would like for blade and fittings as well as any notes you wish to include and place your order to reserve your spot. Then once you have the order confirmation, simply reply to it with any further instructions and an image file of the sword design you would like made.
The easiest and fastest way to design a unique blade is to use the Legendary Swords Coranitite Sword Generator and send us the pic of your handle and blade combination. But you can just as easily send us a similar styled image within the limitations of the project (maximum overall length 30" with full sandwich tang construction). If there is anything amiss, we will quickly sort it out with you and Chris will schedule your design in and it will be with you in approx 5-7 weeks!
Never before have custom swords been so quick easy and incredibly affordable. So enjoy the process and be sure to share some pics of your design on Facebook or the SBG forums - even using just the generator and simple selection options literally thousands of different designs are possible. Give the generator a try to see if you can't create a really original and cool looking blade and hilt combination..
BASIC CUSTOM OPTIONS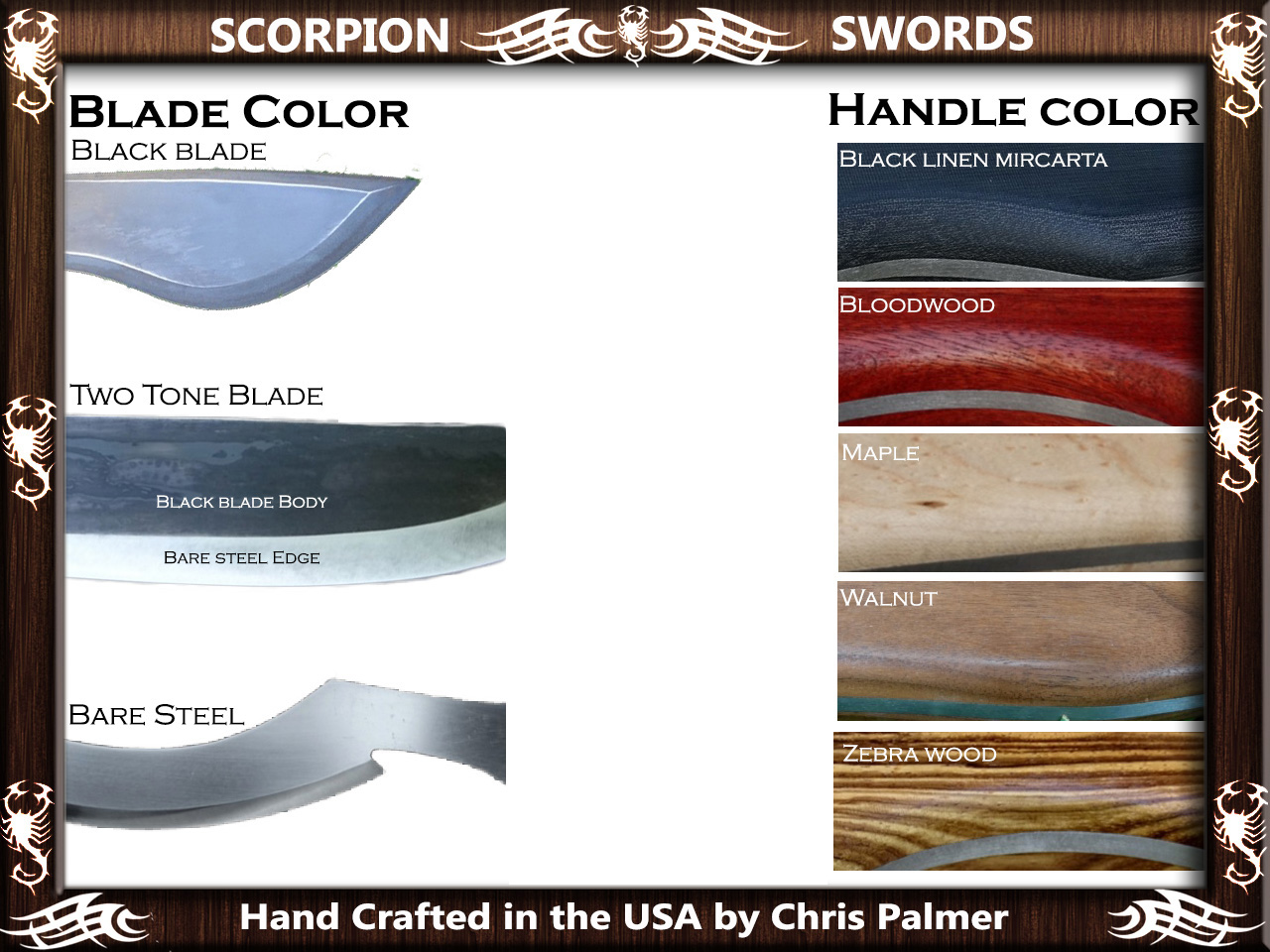 BLADE EDGE
Sharpened - all blades come sharpened by default
Unsharpened - if you want it as a training blunt or for safe(er) display
BLADE COLOR
Select from three blade styles:
2 Toned - Black body with silver steel edge for a two toned contrast
Black Blade - All Black, though the sharpened edges will have a sliver of the original steel showing
Bare Steel Blade - Original steel finish, plain and simple
HANDLE COLOR & WOOD TYPE
Choose the material for the handle:
Maple Wood Hilt - beige colored for a light white/bone colored look
Bloodwood Hilt - rich deep red
Black Mircarta Hilt - for a classic and hard wearing black handle
Walnut - Classic brown with the wood grain pattern
Zebra Wood - for a striped contrast
Other customizations include:
Add a lanyard hole - add a hole at the base of the handle to attach a lanyard (lanyard not included)
Optional upgrade - leather sheathe (the only custom option that is not free)
How to Use
Designed for frequent abusive cutting.
Maximum total sword length is 30" - anything longer cannot be properly heat treated.
Materials and Construction
Hand made in the USA from 1095 Spring Steel which is available with either raw steel coloration, two toned or blackened blade. Hilts made from premium woods and mircarta options. Optional leather sheathe upgrade for $39. Superior Heat treat process. Leather Sheathe (optional upgrade).
$20 shipping anywhere in the Continental USA from the Scorpion Swords Workshop in Springfield, Missouri. $60 to selected international destinations by USPS. Made to Order, please allow at least 8-10 weeks for completion and delivery.
Warranty Info
Each sword is guaranteed to be as described and 100% genuine product. Each sword is also covered by in full by the Manufacturers Warranty PLUS our extended LIFETIME Warranty against blade breakage.
Click here for detailed warranty information
Return Policy
Satisfaction Guaranteed.
We proudly stand behind every product we sell. If you are not pleased with your purchase you can return it to us within 30 days of purchase in
original, unused condition
for a full refund minus shipping and 10% restock fee.
Click here for more info on our guarantees