FREE SHIPPING IN THE USA AND CANADA!
While the Kuramono and the Torakami are designed to appeal to a broad range of customers, maybe you are the kind of person who wants a 'one of a kind' Katana?
Well if so, then this option is for you!!
We take the same T-10 blade as we use for the Torakami (with the superior 12 step sharpening process)- the same attention to detail of both blade, fittings and assembly that this line is famous for, and YOU do the rest!
Choose from 20 different sets of solid brass Koshirae (tsuba, fuchi/kashira and menuki), custom fitted to your choice of a fullered or non fullered blade. Add to it 84 different choices of synthetic silk ito, 5 basic saya styles, black or white rayskin and viola! You can have your own unique custom sword delivered to your door within 8 to 10 weeks!
Here's how to get started!
Select the Blade
First off simply select if you would prefer a sword with bo-hi: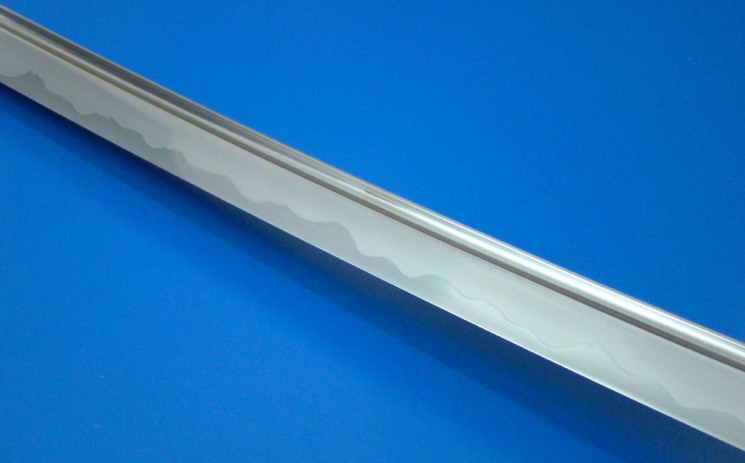 Or if you would prefer a standard (stronger and heavier) non fullered blade: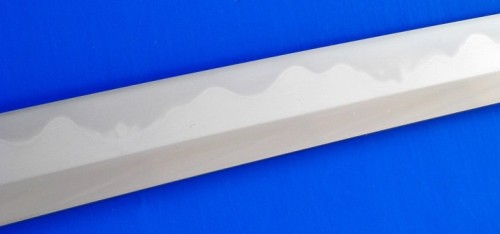 Select the Fittings!
Now comes the fun part - select from 20 HIGH QUALITY brass Koshirae sets as follows: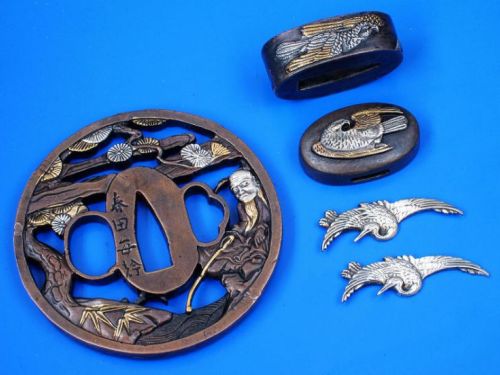 TOT079: "The Wizened Fisherman" (wise man fishing in a pine forest tsuba, Eagle Fuchi/Kashira and cormorant menuki).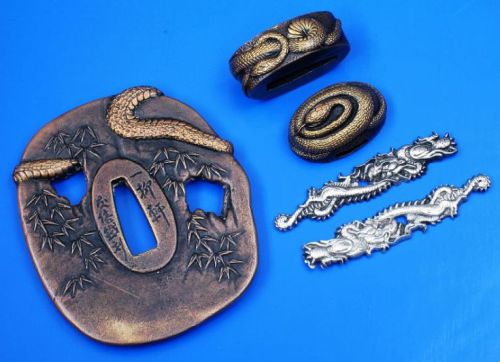 TOT080: "Bamboo Snake" (snake themed tsuba in a bamboo forest, coiled snake Fuchi/Kashira and Silver Dragon Menuki).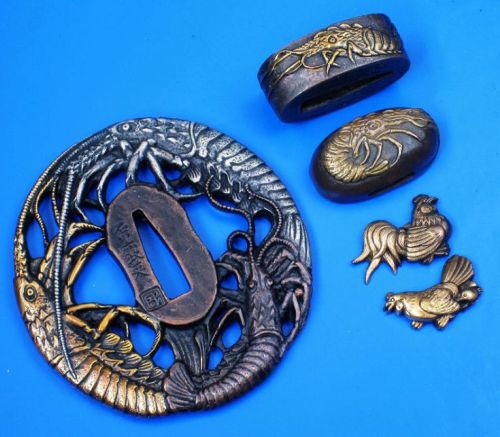 TOT081: "The Lobsters" (3 Lobster Tsuba, Lobster Fuchi/Kashira and crowing cock menuki)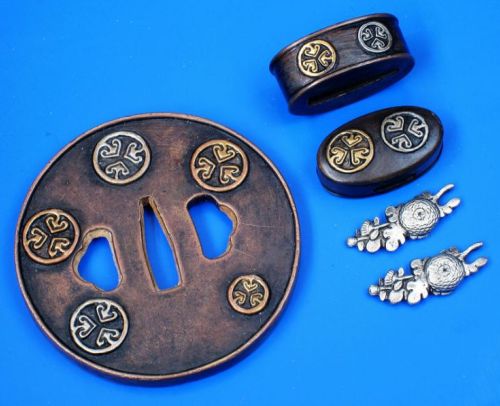 TOT083: "Traditional Crests" (Traditional Japanese Crest Tsuba and Fuchi/Kashira and Crysanthemum Menuki).

TOT084: "The Hunting Hawk" (Hawk hunting birds in a pine forest tsuba and general Hawk themed fittings).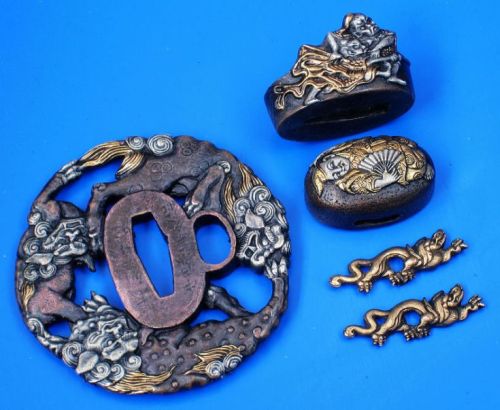 TOT085: "Visions in the Clouds" (three mythological beast tsuba, Oni struggling fuchi that overlays on the tsuka and brass dragon menuki)>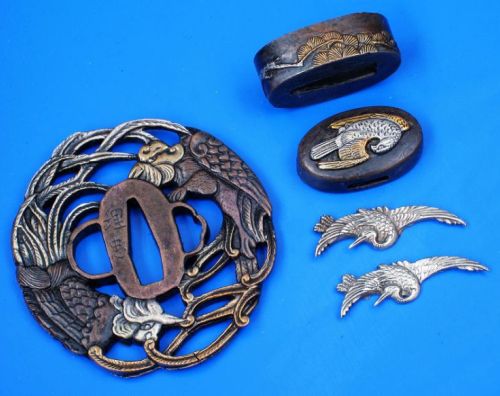 TOT086: "Phoenix Rising" (Mythological birds on the tsuba similar to a peacock and phoenix, with hawk Fuchi/Kashira and Cormorant menuki).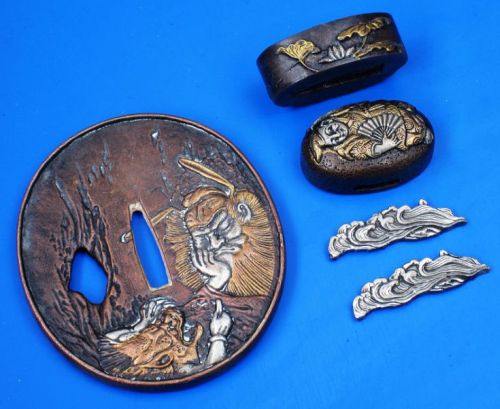 TOT087: "The sage" (Tsuba depicting a sage ignoring the temptations of a demon, Fuchi/Kashira lilypond and joker theme, silver wave menuki).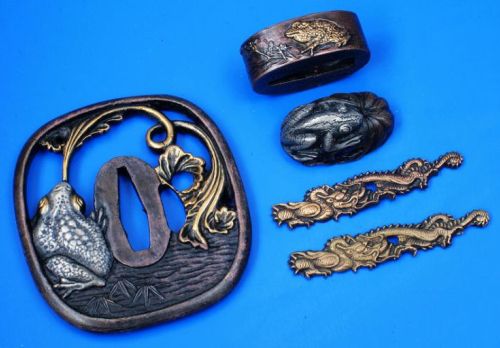 TOT088: "The Spitting Toad" (Toad spitting tsuba, Toad themed Fuchi/Kashira and Dragon themed menuki).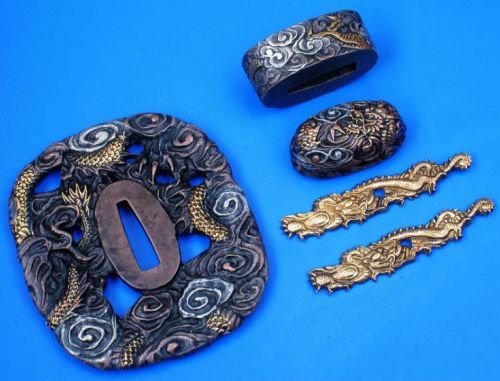 TOT091: "Cloud Dragon" (Cloud Dragon themed Tsuba and components).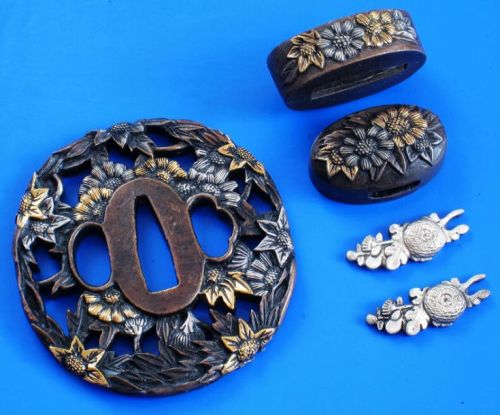 TOT094: "Japanese Flowers" (Traditional Japanese flower themed tsuba with all flower themed Koshirae).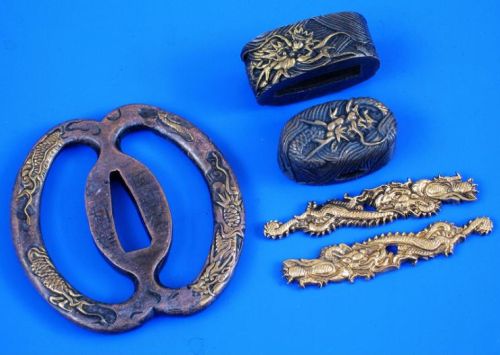 TOT096: "Dragon Musashi" (Musashi styled double C Ring tsuba with Dragon etchings, all other Koshirae also dragon themed).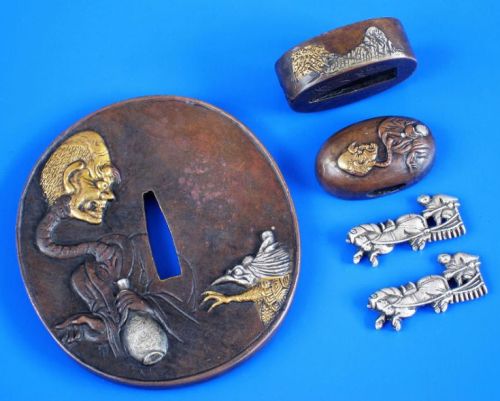 TOT099: "Rokurokubi" (Japanese long necked monster tsuba with matching Kashira and silver chariot menuki).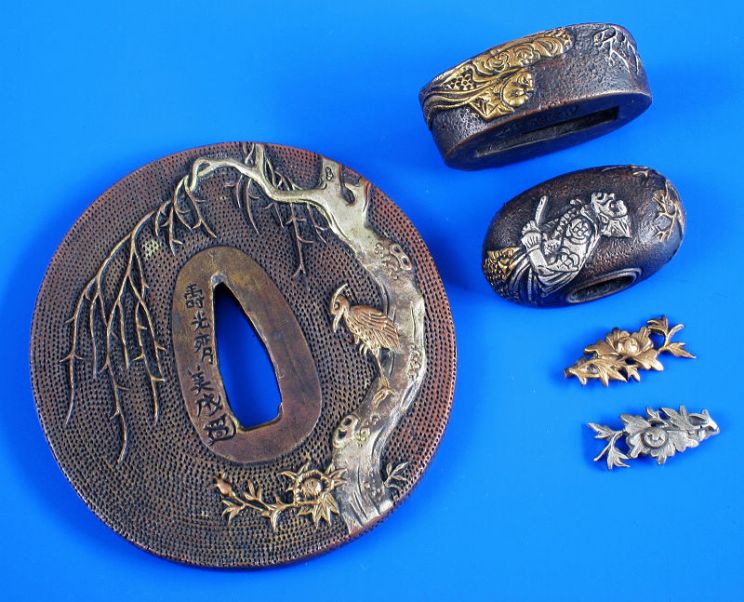 TOT100: "The weeping willow" (Willow tree themed components and a wandering Ronin Kashira with a sad, morose feel).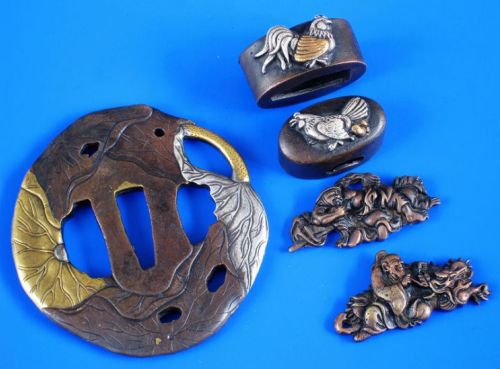 TOT101: "The Lotus" (Lotus themed tsuba, crowing cock Fuchi and Kashira, and very odd menuki!)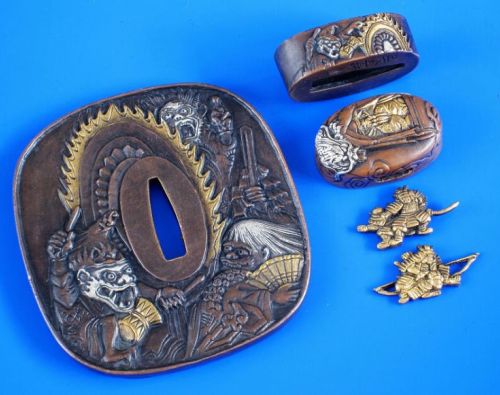 TOT102: "Oni Matsuri" (Monster festival themed Koshirae with a brave golden Samurai menuki armed with a bow to hunt them down).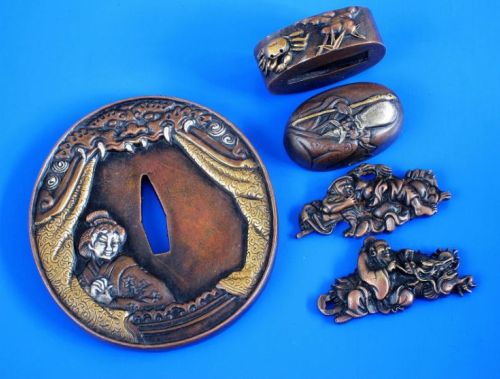 TOT104: "World of Illusion" (Geisha behind strange curtains, crab Fuchi and God of Longevity Kashira with odd Menuki. A very surreal set).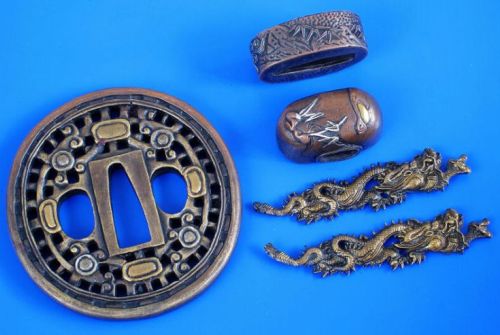 TOT105: "Aztec Dragon" (Tsuba reminiscent of an Aztec design, with abstract bamboo Fuchi/Kashira and Dragon Menuki).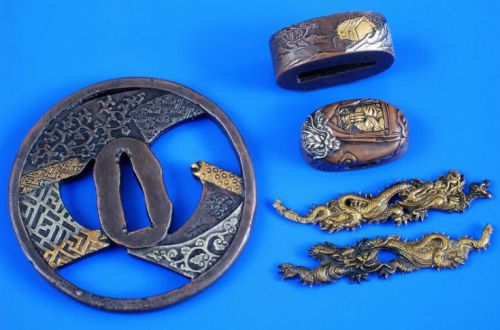 TOT106: "The Ancient Scrolls" (scroll themed tsuba with a desolate house Fuchi, Dragon Emperor Kashira and Dragon Menuki).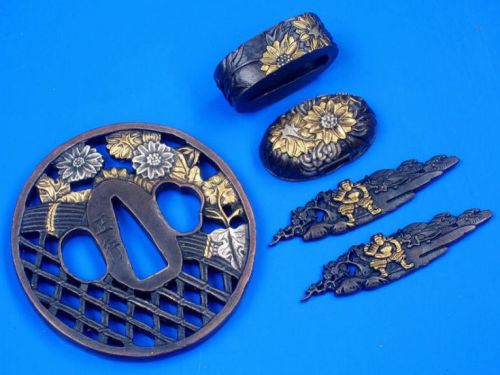 TOT111: "Japanese Gardens" (Japanese Garden tsuba with floral Fuchi/Kashira and Forest Samurai Menuki").
Choose the Ito and Sageo Wrap
Now that you have found a great looking set of Koshirae that suits your own personal style and taste, it's time to select a choice of Ito (handle) and Sageo (cord on the scabbard) wrap that brings out its character. You can also decide if you want to have natural white rayskin or have it dyed black to contrast your choice.
Please don't ask me what the colors shown are, there are simply too many choices, but if you are not sure just make a note in the comments section and we will get the forge to find a color that matches what you have in mind.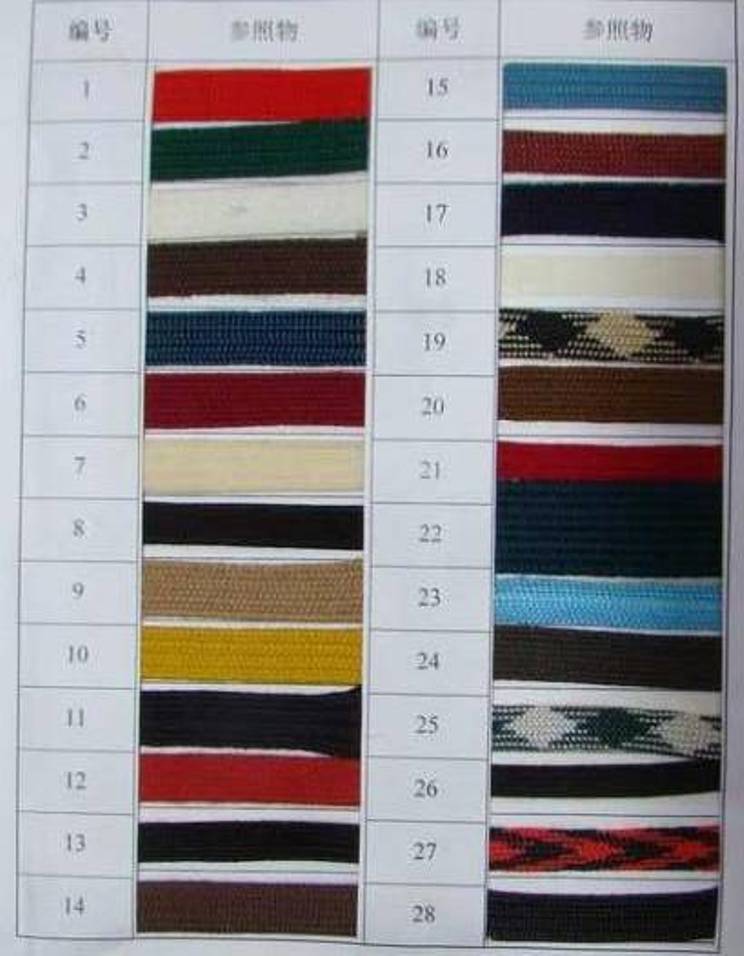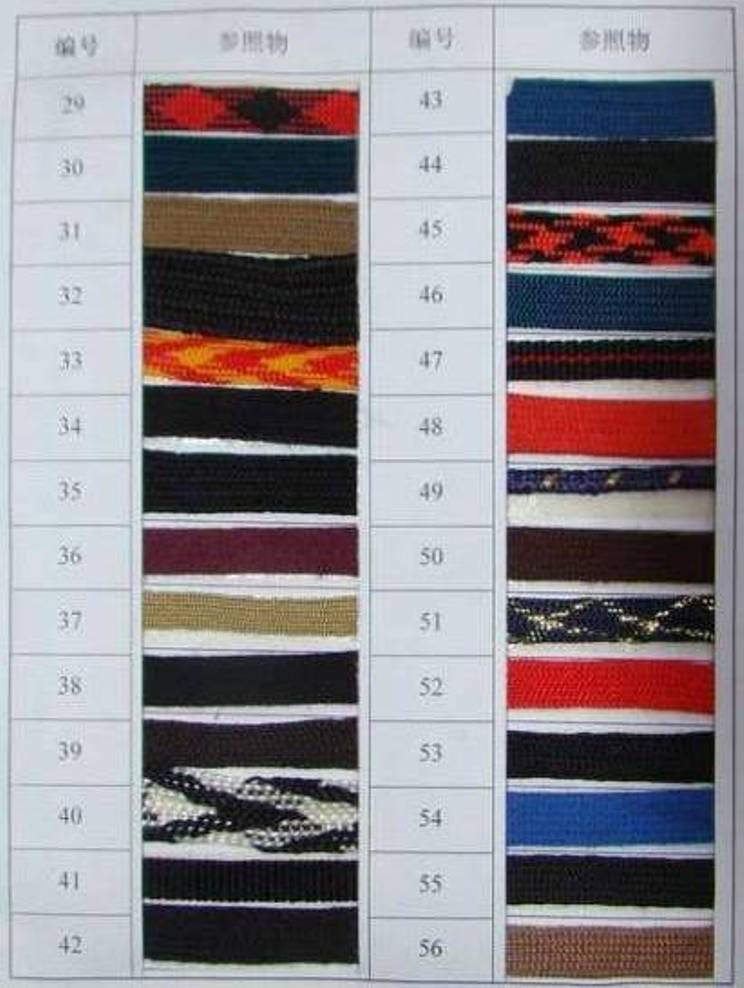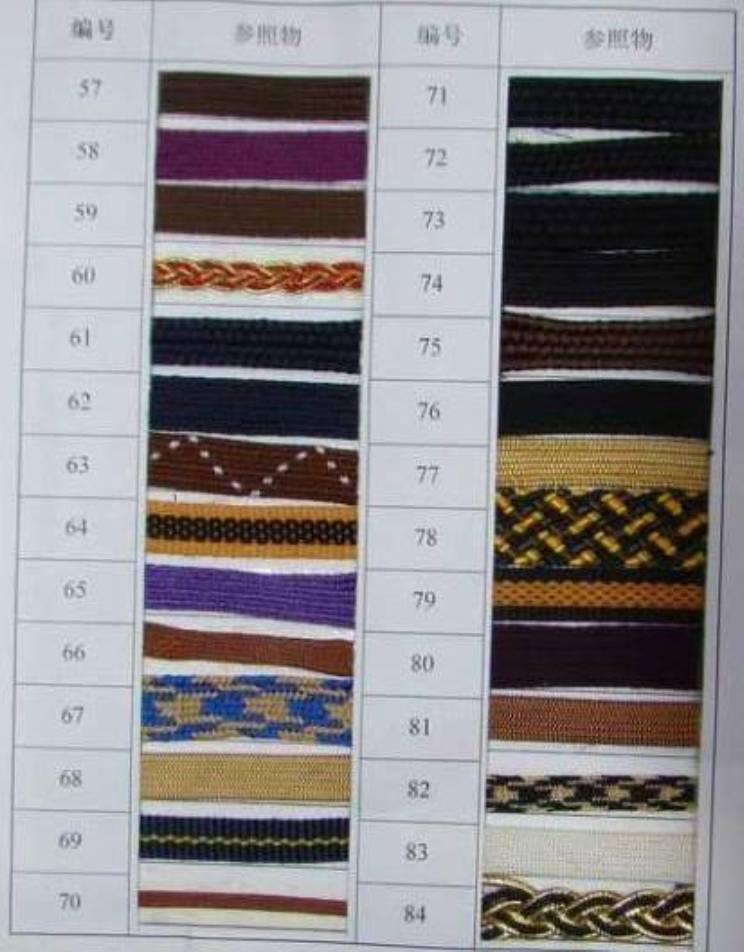 CHOOSE A SAYA COLOR
While we only have 5 basic colors listed here to give you an idea, you can specify a different color not shown here in the comments section (i.e. green, red, etc).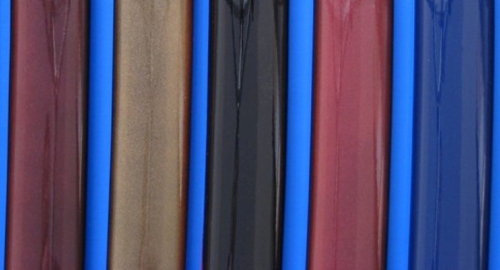 You can also pick a textured black saya like the ones used for the Kuramono and Torakami (but we cannot do a textured finish for any other color than black).
FINISHING UP
With the selection of a bo-hi or no-hi, unique Koshirae, a ridiculous number of ito colors, black or white same and a saya selection, it is possible to create a very unique, one of a kind HIGH quality custom blade at the fraction of the price you'd normally have to pay for something like this...
But what if you want more? Maybe you insist on real silk ito? Maybe you want a blade that has been folded, or laminated or a specific type of hamon? Maybe you want an engraving on the blade (Horimono) or full same wrap, or a specific blade geometry? Well, it CAN BE DONE! The pricing will of course depend on EXACTLY what you want, though each option you want to add will increase the base price a bit depending on what it is...
But considering all the possibilities, if there is something that you want made that the basic options here don't cover, feel free to contact me and I'll give you my best quote!
Otherwise, it's time to create your design from the options presented above!