Contact Us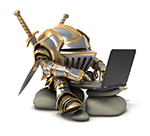 Got a question?
Trying to track an order?
Need to sort something out with customer service?
Or just not sure what sword will best match your own personal style or is the best choice for what you need it for?
Best way is to contact us by shooting us a quick email to our help desk support system and one of our team will get back to you super fast Mon-Fri (excluding weekends and public holidays).
For inquiries of a more general nature, you might find your question has already been answered on our FAQ and Support Knowledgebase page here
Not Getting a Satisfactory Reply?
Now while our small team of dedicated SBG staffers do their very best to provide the highest levels of customer service, if you feel that you are not getting prompt or helpful answers you can contact the owner of Sword Buyers Guide Limited, Paul Southren, directly HERE
Sword Buyers Guide Limited (International Head Office):
20th Floor, Central Tower, 28 Queen's Road, Central, Hong Kong
Tel: +852 2159 9444 Fax: +852 2159 9688
(link opens in a new window)