International Orders
BACKGROUND INFORMATION
It has been a very bad couple of years for International, American Sword Collectors. From a time when we once could ship any of our swords to almost anywhere, while the laws have not changed (both local and UN guidelined), the shipping services have. And even to this day we don't know the exact reason why..
ANONYMOUS ATTACKS ON OUR HOBBY?
From Freewheeling to a complete halt
The first 'attack' on international shipping happened many years ago, when USPS limited their maximum shipping size - and a 28" blade Katana just barely scraped in or was slightly too long, so was up to the post office visited if they would accept or reject it. Then Cheness was singled out for their use of Rayskin and could not ship internationally at all, the UK banned curved swords unless they were hand made and required a ton of paperwork to clear them (creating a nightmare to import).
But then things started to get strange, and there were times when there were sudden and intermittent customs blockages, stalled shipments, and swords being returned to sender despite being perfectly legal at both ends - and no-one knew what was going on or why. However it all came to a head in 2019, international sword shipments sent by USPS were consistently being rejected, confiscated or returned to the warehouse - but not across the board, and seemingly effecting some countries and shippers and not others, creating a very confusing and difficult to navigate landscape.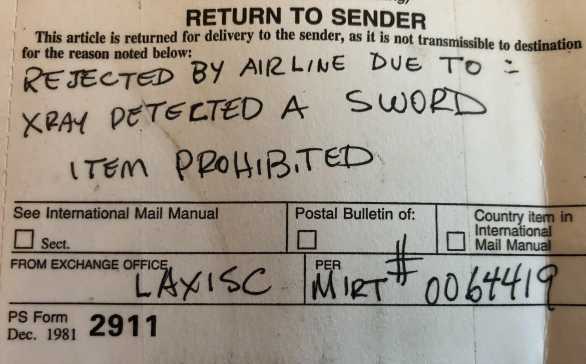 Once the dust began to settle, even though we could never find a directive or reason for all of this (and you cannot protest if you don't know who you are protesting against!) it became apparent that shipping was still possible - but most counties now required a courier service, and even some of those seemed to be somewhat random, allowing shipping in some cases and rejecting it in others for no clear reason. So instead of the old USPS prices of around $50-60 to ship a sword, the price jumped to around $200-300 per sword..
But there is some good news for some countries and some product lines - until recently we were completely stuck for ALL international orders on ALL our products - however the following countries can still ship a handful of brands directly to you by USPS for a flat rate of $60 a sword. The countries we are able to ship a small selection of products to are:
Argentina
Australia (excluding Victoria, please provide proof of AFIAK membership)
Brazil (expect high duties and tariffs)
Hungary
Germany (may require extensive paperwork and customs delays)
New Zealand
Peru
Philippines
Poland
South Africa
Switzerland
Thailand
The situation is a fluid one, and what is available to ship to international destinations NOW may change suddenly and without warning.
Special Note on Canada
In mid-late 2022 Canada Post started first restricting the length of their shipments so that Longswords and the like were no longer possible to send, and then followed this up with specific restrictions on sword shipments coming from the USA: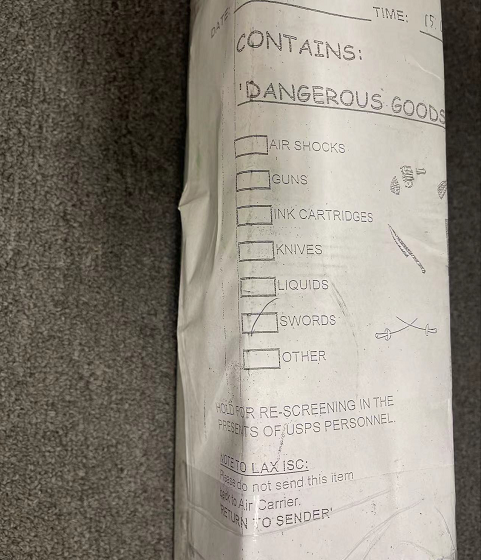 Because of this, we were forced to halt all Canadian shipments with the exception of Darksword Armory, Project X, Forge Direct Japanese and Forge Direct Chinese..
BUT THERE IS ANOTHER WAY!
(AND NOT ONLY THAT, IN MANY CASES IT IS CHEAPER THAN THE OLD WAY!)
If you want to ship a sword at prices similar to the old days, without all the hassle and worry, then we strongly recommend you recommend you use the services of a third party shipping service.
We have a list of such companies that do not explicitly include swords in their list of prohibited items and have been used by SBG members in the past (including myself). You can check them all out on the main website.
The Ultimate Work Around:
(link opens in a new window back to the main SBG site)
THE ONLY BRANDS FOR DIRECT SHIPPING FROM SBG VIA USPS
IMPORTANT NOTES & INFORMATION FOR INTERNATIONAL ORDERS
BY ORDERING DIRECTLY ANY SWORDS SHIPPED FROM OUR STORE, ANY AND ALL INTERNATIONAL CUSTOMERS IMPLICITLY AGREE TO THE FOLLOWING TERMS AND CONDITIONS:
Due to the cost and difficulty involved in shipping swords outside of the USA, if you wish to return a sword for refund - unless the item is D.O.A. or badly damaged in transit and requires an insurance claim - the cost of returning the sword must be borne by the customer and we cannot refund the original shipping costs. Reasonable precautions will be taken to ensure that the sword is packed well and inspected before shipment.
Customs duties, taxes and levies paid to import the sword are out of our control, not collected by us at the time of ordering, and are completely the customers responsibility. Likewise, if a sword is returned for refund, any import duties collected must be claimed with the relevant authority.
We are not liable for any swords confiscated or impounded by customs. While we will do our best to assist you import your sword if legal in your area, please ensure you are familiar with the import rules and regulations of your country.
Please understand we do not impose these regulations to be harsh or difficult. As a small business operating on low margins to give you the best deals possible, we cannot afford to continue to ship overseas if we are held liable for events outside of our control. We will work with you to try and achieve the best possible outcome if you have problems, but please understand that in many cases, there is only so much we can do and you need to be responsible for anything you import, knowing that there are some possible risks involved that we cannot always assist with.
(link opens in a new window)
© 2006-2023 Sword Buyers Guide Limited