International Orders
It has been a very bad couple of years for International, Non-North American Sword Collectors. And sadly, it just got a whole lot worse, at least temporarily...

We will advise you when the situation changes, but in the meantime we have once again had all intentional shipments being confiscated or returned to sender, and as a small business, simply cannot afford a second round of losses like this..
And even when things return to normal, as you will see below, normal was rather pitiful compared to only a couple of short years ago..
#LEAVE OUR SWORDS ALONE!
---
When we first started our store back in 2006, swords were quite easy to ship to any location where they were not a prohibited or restricted import. However over the years, many of our affiliated manufacturers and warehouses have had restrictions placed on them by the actual CARRIERS.
It started when USPS (the United States Postal Service) imposed a stricter length restriction on airmail parcels that effectively made most swords too long to ship anymore. But in early 2019, international sword shipments sent by USPS were frequently being rejected, confiscated or returned to the warehouse - but not across the board, and seemingly effecting some countries and shippers and not others, creating a very confusing and difficult to navigate landscape.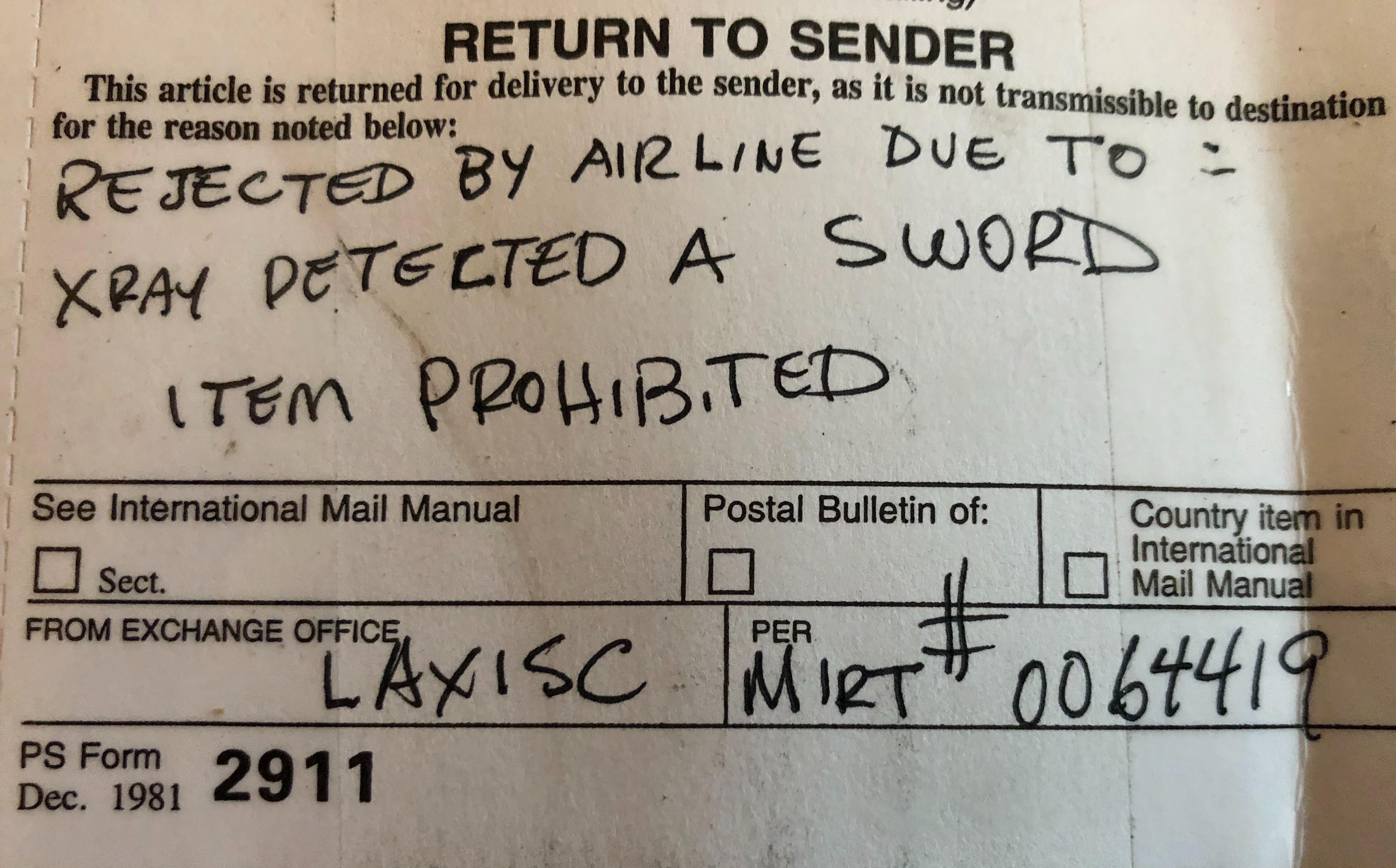 The situation is a fluid one, and what is available to ship to international destinations NOW may change suddenly and without warning. As such, if you are an international sword buyer and wish to get full access to every sword in our store, we STRONGLY recommend you use the services of a third party shipping service as explained on the main website by following the link below (being careful to avoid any product description which includes the keywords "sword, martial arts equipment or historical replica" all of which have been updated as no go for shipping by airmail).
(link opens in a new window)
Because of the ridiculously high cost of sending swords by DHL, UPS or other private courier companies (typically around US$200 per sword compared to $60 for USPS) if it cannot ship by USPS, we will not send it overseas.
In the meantime, below are the countries which we can ship selected product lines to:
Argentina
Australia (excluding Victoria, please provide proof of AFIAK membership)
Brazil (expect high duties and tariffs)
Canada (many other brands can be shipped to Canada not listed here as they are shipped overland)
Costa Rica
Germany (may require extensive paperwork and customs delays)
New Zealand
Philippines
Poland
South Africa
Thailand
United Kingdom (may require extensive paperwork and customs delays)
And below, the lines themselves (which as noted, may be subject to change at very short notice).
International Friendly Sword Lines

IMPORTANT NOTES & INFORMATION FOR INTERNATIONAL ORDERS
BY ORDERING FROM OUR STORE, ANY AND ALL INTERNATIONAL CUSTOMERS ARE AGREEING TO THE FOLLOWING TERMS AND CONDITIONS
Due to the cost and difficulty involved in shipping swords outside of the USA, if you wish to return a sword for refund - unless the item is D.O.A. or badly damaged in transit and requires an insurance claim - the cost of returning the sword must be borne by the customer and we cannot refund the original shipping costs. Reasonable precautions will be taken to ensure that the sword is packed well and inspected before shipment.
Customs duties, taxes and levies paid to import the sword are out of our control, not collected by us at the time of ordering, and are completely the customers responsibility. Likewise, if a sword is returned for refund, any import duties collected must be claimed with the relevant authority.
We are not liable for any swords confiscated or impounded by customs. While we will do our best to assist you import your sword if legal in your area, please ensure you are familiar with the import rules and regulations of your country.
Please understand we do not impose these regulations to be harsh or difficult. As a small business operating on low margins to give you the best deals possible, we cannot afford to continue to ship overseas if we are held liable for events outside of our control. We will work with you to try and achieve the best possible outcome if you have problems, but please understand that in many cases, there is only so much we can do and you need to be responsible for anything you import, knowing that there are some possible risks involved that we cannot always assist with.
(link opens in a new window)
© 2006-2020 Sword Buyers Guide Limited