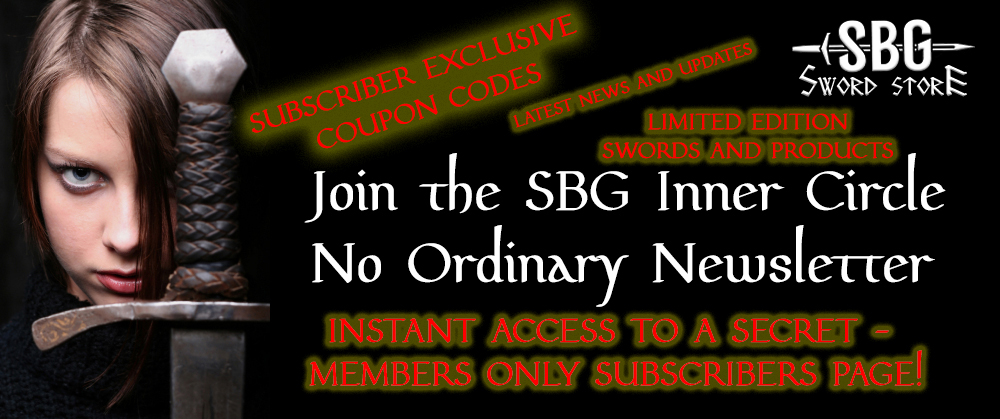 CONGRATULATIONS!
You may have just found the most important and exclusive page in our store and are now just one click away from entering the SBG "inner circle!"
About a year after the Sword Buyers Guide was first created, in 2006 the owner of SBG, Paul Southren, soon found that to be able to get to the truth of the sword industry, he had to get directly involved not just in buying and testing, but in manufacturing, designing and developing products that people wanted, but no-one else was making - and in all those years I have learned a lot along the way.
I am more than happy to share with you these 'secrets' I have discovered, and pass on the best deals imaginable - not sometime in the future, but literally minutes from now!
This is most definitely NOT your average store newsletter.
For a start, we only send it out when we have some REAL deals for you - it's not just a random spammy list like thing sent out every few days or weeks.
Here's just a taste of some of the things you will receive:
Inner Circle exclusive and secret discount coupon codes reserved for members only.
Early Access to Limited Quantity products that the rest of our site visitors may never even see.
First dibs and special members only pricing on the hottest, latest swords.
Get up to date with what's new, what's been restocked, and what's about to hit the shelves.
Be the first to know and get a REAL and candid 'look behind the curtain' seeing new products and projects in develop months in advance of their release - and be the first to get a chance to reserve them before they are thrown to the wolves..
And a real 'game changer' get access to a special 'subscribers only' page of BRAND NEW or extremely rare or low quantity items at prices that cannot be found anywhere else on the site or the internet as a whole
Now at this point, most store newsletters are so desperate to grab your details they will promise you a measly 5% discount for signing up so they can spam you to death (usually after raising their prices 5% to cover the cost!). But this is SBG, and as you know, at SBG we do things a little differently...

Instead, if you sign up TODAY we will email you a link to give you IMMEDIATE access to the Subscribers Exclusive Discount Page where all the members only deals are as our welcome package to you. What's available there varies all the time, but at its best when fully stocked up with fresh new products - well, you may well be just one click away from seeing some deals that will leave your head spinning..
Seriously, if you love REAL swords do yourself a favor and subscribe - you can unsubscribe at any time and rest assured that your email address will never be shared with anyone else and see for yourself what makes our store newsletter different from the rest (its SBG after all!).
So what are you waiting for?!?!?! Sign up now and get IMMEDIATE access to some of the best sword and knife deals you will ever see on the net, followed in due course by even more special VIP deals, limited edition or limited quantity items and much, much more..
You will be glad you did, I guarantee it..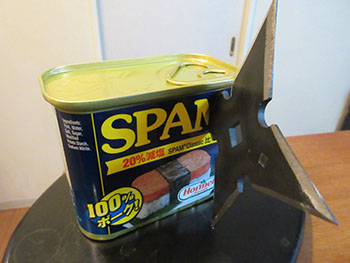 ZERO SPAM TOLERANCE POLICY: I/we respect your privacy - and hate spam as much, or maybe even more than you do (I mean, do you hate it so much that you would throw a genuine Japanese $100 Shuriken into a can of genuine Japanese spam? That's how much I hate spam!).
So do not worry, your email address is kept strictly confidential and will not be shared with third parties. Nor will WE ever spam you with boring email after email every week. We only send out our store newsletter when we really have something to share with you.
(link opens in a new window)
© 2006-2021 Sword Buyers Guide Limited