NOT your average sword store newsletter.
For a start, we only send it out when we have some REAL deals for you - it's not just a random spammy list like thing sent out every few days or weeks.
Here's just a taste of some of the things you will receive:
Inner Circle exclusive and secret discount coupon codes reserved for members only.
Early Access to Limited Quantity products that the rest of our site visitors may never even see.
First dibs and special members only pricing on the hottest, latest swords.
Get up to date with what's new, what's been restocked, and what's about to hit the shelves.
Be the first to know and get a REAL and candid 'look behind the curtain' seeing new products and projects in develop months in advance of their release - and be the first to get a chance to reserve them before they are thrown to the wolves..
Sign up today. You will be glad you did, I guarantee it..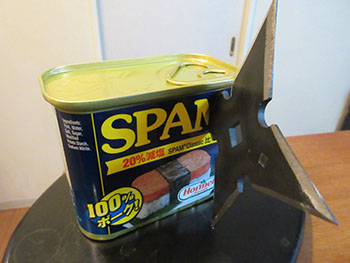 ZERO SPAM TOLERANCE POLICY: I/we respect your privacy - and hate spam as much, or maybe even more than you do (I mean, do you hate it so much that you would throw a genuine Japanese $100 Shuriken into a can of genuine Japanese spam? That's how much I hate spam!).
So do not worry, your email address is kept strictly confidential and will not be shared with third parties. Nor will WE ever spam you with boring email after email every week. We only send out our store newsletter when we really have something to share with you.
(link opens in a new window)
© 2006-2023 Sword Buyers Guide Limited