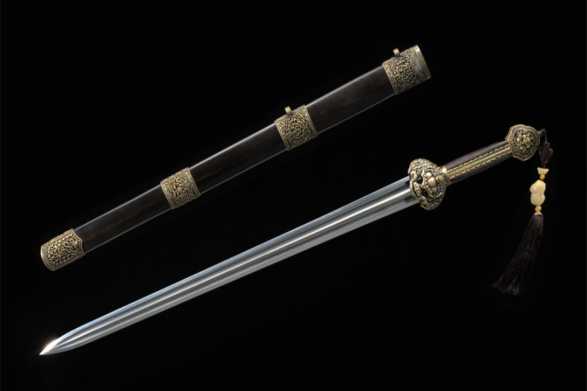 FD Jian of Emperor Yong Lo (discontinued)

Be the first one to write a review
PERMANENTLY DISCONTINUED

No Longer Available
This has to be one of our favorite swords of all time - and was created specifically for the forge direct project based on a $10,000 museum quality sword we were shown to highlight what was possible on our first visit to Longquan to visit the master smiths personally back in 2012.
The original it is based upon was a sword owned by the Ming Dynasty Emperor Yong Lo and presented to Tibet and dated to the year 1403AD. Emperor Yong Lo was singlehandedly responsible for changing Chinese History, moving the capital to Beijing, directing the construction of the Forbidden City and greatly expanded the Imperial Examination System - making him arguably one of the most influential Emperors ever.
Our version of this sword strips away the more expensive embellishments and focuses on the core of this amazing piece. The blade is folded 1095 carbon steel and results in a strong, sharp and amazingly effective cutting and thrusting sword that is both stunningly beautiful yet 100% functional. The fittings are made from solid copper with ebony wood of the highest quality, with the blade flowing like a tongue of steel from the mouth of a Chinese monster face and the pommel features a chiselled Chinese Dragon.
Simply an amazing piece suitable for high level martial arts practice, cutting and display - do not be fooled by inferior imitations - this is the real deal and available for just a little over a 10th of the price we were originally looking at when we first encountered this stunning design!
How to Use
Designed for frequent cutting practice and/or display. Heirloom quality.
26cm handle, 71cm blade, blade width 4.8cm, 7.5mm thickness, weight 1.55kg (3.41lbs)
Materials and Construction
Master Smith Hand Forged, FOLDED and Sharpened 1095 carbon steel blade. Solid Copper and Ebony Hardwood fittings. Semi-precious gems for eyes.
Each sword is guaranteed to be as described and 100% genuine product. Each sword is also covered by in full by the Manufacturers Warranty PLUS our extended LIFETIME Warranty against blade breakage.
Click here for detailed warranty information