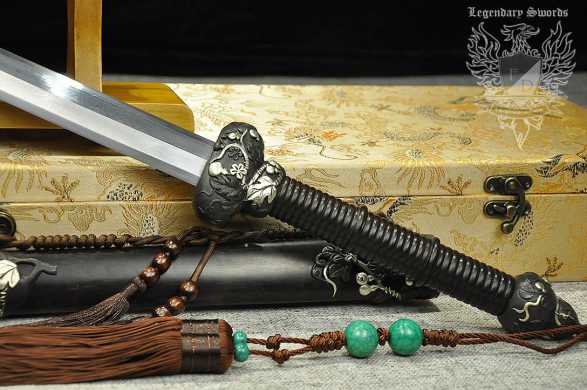 FD Octagonal Profile Pattern Welded Calabash Sword (discontinued)

Be the first one to write a review
PERMANENTLY DISCONTINUED

No Longer Available
Hand forged Master Ye "Michael" Jie, a certified rank 1 master smith recognized and smithing swords at his family forge in the ancient city of Longquan, Zhejiang province, this complex sword is a testament to his skill as a blade smith.
Based on an Ancient Chinese sword design in use over 2000 years ago, the blade is hand forged from 1095 carbon steel and masterfully folded using a special technique known as 'revolving pattern welding' to produce a particularly vivid and clear mirror image styled Damascus pattern. The blade is then given a final art polish to bring out the stunning detail and sharpened until it is paper cutting sharp.
The edges of the wide blade runs parallel before terminating in a sharp point a few inches from the tip, and combined with the Octagonal cross sectional geometry, creates a sword that excels in the cut. Weighing just 2.86lbs with a point of balance 4.72" from the guard this is a fast and agile sword which can generate tremendous speed and force, further enhancing its cutting ability.
Designed to be used with two hands, the handle is nearly 10 inches long and is carved from premium ebony hardwood with prominent ridges to assist the grip. The fittings are a matching set, made from cast brass and hand finished with gilded silver highlights in a Calabash (white gourd) theme throughout - which in Chinese folklore is a good luck charm offering protection against evil spirits and a long life with many offspring.
Do not be fooled by cheap and nasty imitations, this sword is the real deal. Almost never seen out of China due to the uncertain market demand and high expense of production. However, with Forge Direct, you have a rare opportunity to order one of your own with FREE worldwide shipping right here at the SBG Sword Store!
How to Use
Designed for frequent cutting practice and/or display. Heirloom quality.
Blade length: 29.92" (76CM), Blade width: 1.37" (3.5CM) Handle: 9.84" (25CM) Weight without sheath: 2.86lbs (1.3KG) Point of Balance: 4.72" (12CM)
Materials and Construction
Mastersmith Forged, Folded (revolving pattern welded style) and Sharpened 1095 Carbon Steel blade with art finish polish. Premium black ebony and cast brass fittings.
FREE WORLDWIDE Shipping direct from the forge in Longquan, China via EMS (shipping in December 2017)
Warranty Info
Each sword is guaranteed to be as described and 100% genuine product. Each sword is also covered by in full by the Manufacturers Warranty PLUS our extended LIFETIME Warranty against blade breakage.
Click here for detailed warranty information