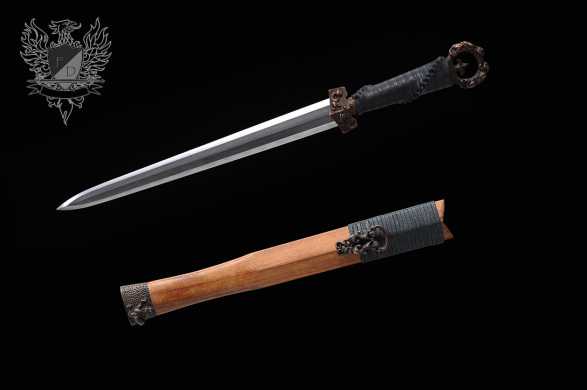 FD Red Ebony Dagger (discontinued)

Be the first one to write a review
PERMANENTLY DISCONTINUED

No Longer Available
Fast and lightweight, yet with some serious stopping power - this fully functional replica of the famous Red Ebony dagger cannot fail to impress. With a stunning Damascus patterned 1095 master smith forged blade, this makes the ideal unobstrusive display piece and is a great opportunity to be able to buy one of these amazing blades for a relatively modest outlay. Fittings are themed in a traditional imperial Chinese motif, cast from brass over premium quality rosewood.
Do not be fooled by cheap and nasty imitations, this sword is the real deal. Almost never seen out of China due to the uncertain market demand and high expense of production. However, with Forge Direct, you have a rare opportunity to order one of your own with FREE worldwide shipping right here at the SBG Sword Store!
How to Use
Designed for frequent cutting practice and/or display. Heirloom quality.
Blade length: 11" (28CM), Hilt (guard and handle): 3.93" (10CM) Point of Balance: 0.3" (1CM) Weight without sheath: 0.77lbs (0.35KG)
Materials and Construction
Mastersmith Forged, Folded and Sharpened 1095 Carbon Steel blade with art finish polish. Premium rosewood and hand finished, sculpted brass fittings.
FREE SHIPPING direct from the forge in Longquan, China via EMS (USA & Canada). Other international locations, $60 shipping (excluding Europe - currently no shipping options for Europe)
Warranty Info
Each sword is guaranteed to be as described and 100% genuine product. Each sword is also covered by in full by the Manufacturers Warranty PLUS our extended LIFETIME Warranty against blade breakage.
Click here for detailed warranty information