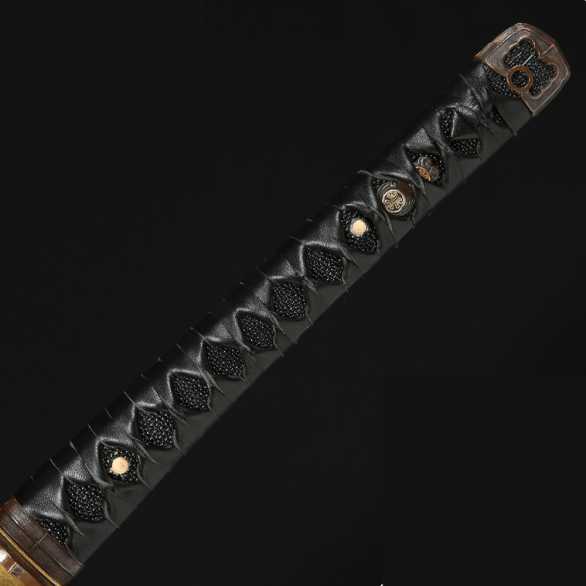 Forge Direct Optional Extra - 'Bad Boy' Genuine Black Leather Ito
(1)
UNAVAILABLE TO ORDER
June 23, 2020 - Unable to Order due to backlog caused by Covid-19 and on temporary but indefinite hold.
UPGRADE YOUR FORGE DIRECT ORDER
Upgrade from silk to genuine cow leather - function over form, extremely tight and ergonomic.
IMPORTANT NOTE: Can ONLY be applied to Forge Direct Japanese Swords and not sold separately
$

49.00
$95.00
You Save $46.00
They may not be the most beautiful looking leather wraps compared to those done in cow leather by the artisans at Project X (our highest end premium custom Katana line), but that said, maybe I am just being too picky. At the end of the day, they are super tight, hard wearing and very practical. Some suede from the inner lining is visible here and there occasionally but this also adds to the ergonomic shape and improves grip.
Looks especially mean when combined with black rayskin, but works equally well with white.
How to Use
Simply add to cart at the same time as you order your custom sword
Made from genuine cow leather
Featured positive reviews:
Very pleased
09/18/2020
I upgraded my Muramasa katana with this leather ito. Looks great. Very little suede exposed. Wrapped tight and pretty symmetrical. For me, the most important part was the feel. The grip is better than any other ito I've held. Great for practitioners. Highly recommended if you like a thicker grip.