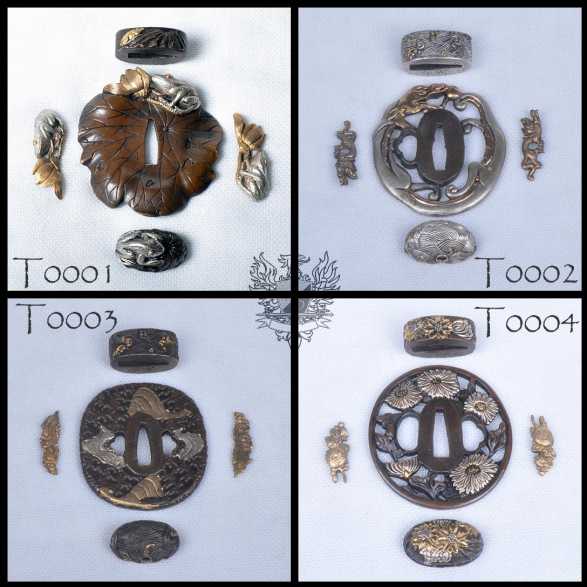 Forge Direct Optional Extras - Premium Matching Tsuba and Fitting Sets
(1)
UPGRADE YOUR FORGE DIRECT ORDER
A special selection of full Koshirae sets made from work hardened copper with real gold and silver highlights. Includes tsuba, fuchi, kashira and menuki - all based on actual historical antiques.
IMPORTANT NOTE: Can ONLY be applied to Forge Direct and Project X Japanese Swords and not sold separately. Due to ongoing supply chain issues ordering these sets may delay your order by up to 8 weeks..
$

29.00
$50.00
You Save $21.00
The standard tsuba and iron fuchi kashira available are extremely strong and practical. But if you want a sword with a stronger theme or something that really stands out, then we have available a huge selection of premium quality work hardened copper Koshirae (sword furniture) sets available for a small additional fee that covers the extra expense at our end (these same sets are available online from $49 to $99 plus shipping depending on where purchased).
Each set is a complete theme - tsuba (hand guard), fuchi (blade collar), kashira (end cap) and menuki (handle ornament). Because they are not made in house but rather purchased by the forge specifically for your order, parts from one set cannot be mixed and matched with parts from another.
When selecting one of these tsuba, please select the 'custom upgrade option' in the dropdown menu when you order your sword.
To see even larger images and descriptions of every Forge Direct Component, please visit this dedicated page on the store blog.
While not as strong as iron, work hardened copper is the next best thing and there are no zinc alloy or other weak or inferior components used in any of these tsuba. Not sold separately.
How to Use
Simply purchase at the same time as you buy the sword you would like the set to be applied to. Please note: in some cases the more exotic or less popular sets may add additional time to your order.
Due to ongoing supply chain issues ordering one of these sets may increase your lead time by up to 8 weeks
Featured positive reviews:
Worth the extra cost
09/18/2020
I got set T0021 on my Muramasa katana. Fit is perfectly tight. Looks better than most hardware that I've seen. To move up you probably need to buy a much more expensive sword such as a Citadel. The quality is well beyond the small upcharge.