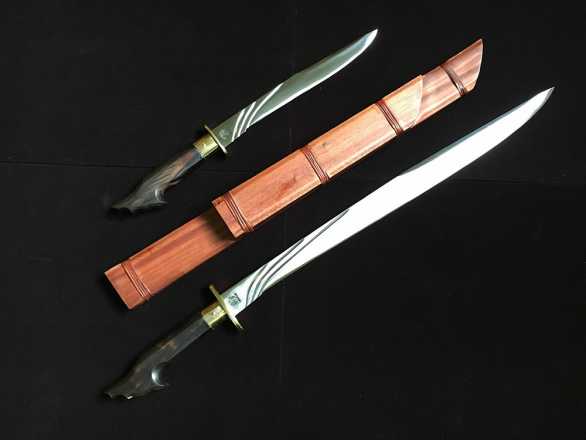 BCI Espada y Daga

Be the first one to write a review
SOLD OUT

Pair of Blades in 5160 Spring Steel - the Espada y Daga
This blade is commonly called buneng ken kutsilyo (sword and knife) usually used for "pangkayas" (for scrapping) in the Ilocos region; its smaller width and tapering blade shape releases vibration after impact on wood (for example, bamboo). The influence in design of Spain's Espada Ancha is evident on overall look of the blade. The use of this blade in martial arts is traced to the movements of the European fencing that the Spaniards called "Escrima". The Filipinos' study of the offensive movements evolved sword-and-knife techniques for fighting systems called Arnis and Eskrima in long, middle, and long range encounters.
BLADE: 5160 Carbon steel, a set weapon ( a sword and a knife blade) selective tempered to its applicable hardness for the sword (machete hardness)and knife ( for utility knife hardness) , grooves signifies the "BATEK/BATIK"(ancient marks/Tatoos Of Maharlikan(filipino) Warrior.
HANDLE: beautifully hand curved " Kamagong" or ebony with good grip design to hold hand comfortably. Fittings in Brass parts
SHEATH: Mahogany, Kiln and cured to aged; Natural finish to show wood grain and authenticity and uniqueness of each piece. beautifully hand curved with rattan wrap in each scabbard partition to ensure and prevent the scabbard to split.
How to Use
Designed for true martial arts applications, brush clearing or display
ESPADA Blade Length: 21" (53.34 cm) Handle Length: 7" (17.78 cm) Point of Balance: 4.75" (12.07cm) from guard Weight: 1.44 (654g) DAGA Blade Length: 11" (27.94cm) Handle Length: 6.25" (15.88) Point of Balance: 1.25" (3.18cm) from guard Weight: 0.76lbs (346g)
Materials and Construction
5160 Spring Steel Sharpened Blade. Kamagong Ebony Wood Handle and Mahogany Scabbard. Brass Fittings. Premium Quality Construction.
Shipped from the BCI warehouse in Connecticut, USA. USA $20 Flat rate shipping for up to 2 swords and FREE shipping for 3 or more. $30 shipping to Canada (flat rate, per sword). $60 to selected international destinations by USPS.
Click here
for additional information on shipping.
Warranty Info
Each sword is guaranteed to be as described and 100% genuine product. Each sword is also covered by in full by the Manufacturers Warranty PLUS our extended LIFETIME Warranty against blade breakage.
Click here for detailed warranty information
Return Policy
Satisfaction Guaranteed.
We proudly stand behind every product we sell. If you are not pleased with your purchase you can return it to us within 30 days of purchase in
original, unused condition
for a full refund minus shipping and 10% restock fee.
Click here for more info on our guarantees