Darksword 1326 - Black Prince Sword (sharpened)
(1)
MADE TO ORDER

FREE SHIPPING IN CANADA AND THE USA!
One of the most recognizable 14th century Oakeshott Type XVa Longswords. Made to order, typically ships in 6-8 weeks.

The English Prince Edward of Woodstock, Prince of Wales, lived from June 15, 1330 to June 8, 1376. He is a well known historical figure; well known for his chivalrous (and occasionally non-chivalrous) actions, and for never being crowned king despite being the eldest son of King Edward III – he died before his father, and the crown passed to his son Richard instead. Edward would also later come to be known by a nickname of indeterminate origin – "The Black Prince," a name well known to scholars in the fields of art, history, literature and theater.

This popularity was surely affected when a sword that was discovered in the mid 20th century was identified by Ewart Oakeshott as the Sword of the Black Prince. Thought to have been stolen from Edward's tomb centuries earlier, became one of the most recognizable artifacts of 14th Century Medieval swords. The sword has a long, tapered diamond shaped blade that is ideally suited for thrusting, while still remaining able to make powerful cuts.

The hilt itself is extremely attractive and authentic, with a blackened mild steel crossguard and genuine leather wrap handle.

The handle is elongated to provide more leverage, which in combination with the large pommel results in excellent tip control. The original has a Type XVa blade, which is faithfully reproduced here. Edward's "Black Prince" title may have come from his distinctive armor, which according to some sources was blackened steel (although the title may also have come from his temper, mercilessness to his enemies or derision towards the lower classes in spite of his chivalrous beliefs).

The pommel and guard are how the original would have appeared in Edwards hands.Click here for the full review and destructive testing results on SBG
Unlike Darksword blades we sold in the past, the sword is automatically also given a thorough sharpening until it is paper cutting sharp (normally costing an extra $35) and is also shipped FREE in North America - giving you the very best deal possible.
This sword comes with a wood core scabbard as standard with the option to upgrade it to include a premium quality sword belt with suspension system - allowing it to be worn or for an extra flourish when not in use hung on the wall (see below for a comparison).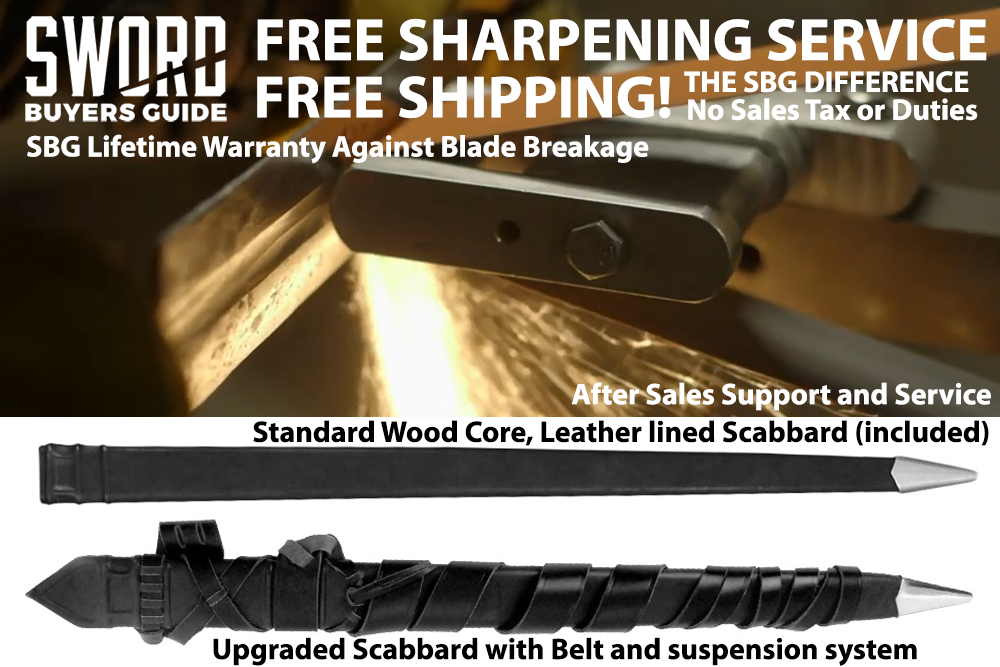 How to Use
Sharpened and Battle Ready - suitable for heavy duty backyard cutting and display.
Blade Length: 39" Handle Length: 8" Point of Balance: 2" Weight: 3lbs 2oz Hollow ground blade
Materials and Construction
5160 Hand Sharpened Spring Steel Blade, Dual Tempered with an edge HRC of 60 and core HRC of 50. Mild Steel Fittings. Wood core leather wrapped handle and scabbard with optional upgrade to wearable belt and suspension system.
IMPORTANT NOTE: Made to order, typically ships in 6-8 weeks
FREE SHIPPING to the USA and Canada from Manufacturers warehouse in Quebec, Canada via Fed Ex. We apologize for the inconvenience, but due to the extreme shipping costs Darksword Armory swords can no longer be shipped outside of North America (USA and Canadian Orders only).
Warranty Info
Each sword is guaranteed to be as described and 100% genuine product. Each sword is also covered by in full by the Manufacturers Warranty PLUS our extended LIFETIME Warranty against blade breakage.
Click here for detailed warranty information
Return Policy
Satisfaction Guaranteed.
We proudly stand behind every product we sell. If you are not pleased with your purchase you can return it to us within 30 days of purchase in
original, unused condition
for a full refund minus shipping and 10% restock fee.
Click here for more info on our guarantees
Featured positive reviews:
Great value and sharp
03/23/2021
I am going to just do bullet points, pro and con:

Sharpness out of box: Very sharp. I know DSA has had bad press about swords not being sharp enough, but the one I got was very sharp indeed.

POB: 3" below guard. That is impressive for a 50" sword.

Point of Percusion: 20" from guard

LOA: 49.8"
LOB: 39"

Handle: Grip is well made, the stitching is not proud. It is not slippery or sticky, there are no gaps between pommel or guard and the handle.

Feel in the hand: I tested this against a 38" arming sword for weight, balance, agility. I could not tell the difference. The sword is quick, not blade heavy.

OA build: It is really nicely made. The only issues I have is the peen is a bit too proud on the edges, and there is a bit of gap in the guard where the blade passes through. Blade is evenly polished, not exactly mirror finish, but polished and not satin. Guard and pommel have no unfinished edges.

This is a hollow ground blade, so it is stiff. Hollow ground blades are not going to cut as well as they can thrust. The concave nature of hollow grind means that as the blade passes through an object, the angle of attack of the steel increases. If you want to simply cut mats then a broad Type XVIIIc, diamond cross section blade would be better because the angle of attack will be even through the cut . All that being said this is one bad ass long sword.

Scabbard: The scabbard alone should cost $400. It is very well made, and of very nice quality leather. The suspension system is well made too. On the down side this suspension system is a 12-13th century system and does not match what would have been used in the latter 14th century. But I can overlook it since it is such a nicely made article.